Collect "Bonus Checks" from a Stock That Already Yields 9.2%?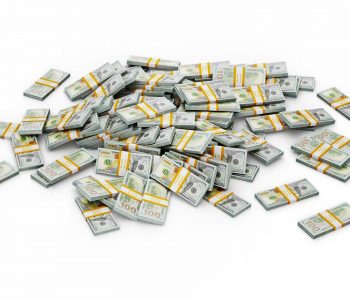 This High-Yield Stock Looks Interesting
Owl Rock Capital Corp (NYSE:ORCC) may not be a popular stock, but after seeing its latest dividend announcement, I doubt anyone would deny the company's appeal to income investors.
On November 4, Owl Rock Capital's  board of directors declared a cash dividend of $0.31 per share for the fourth quarter of 2020. The dividend will be paid on January 19, 2021 to shareholders of record as of December 31, 2020. (Source: "Owl Rock Capital Corp. Reports Third Quarter Net Investment Income Per Share of $0.33 and NAV Per Share of $14.67," November 4, 2020.)
With Owl Rock Capital stock trading around $13.50 per share at the time of this writing, the latest quarterly dividend translates to an annual dividend yield of 9.2%.
Considering most dividend stocks these days don't even yield half as much, the payout from ORCC stock definitely deserves investor attention.
Now, I know that high-yield stocks are not really the go-to choices for risk-averse investors. In fact, they're often associated with dividend cuts, especially during this year's recessionary environment caused by the COVID-19 pandemic.
Owl Rock Capital, however, hasn't cut back its payout: the company's newly declared quarterly cash dividend is the exact same amount as in the previous quarter and for the year-ago period. (Source: "Dividends," Owl Rock Capital Corp, last accessed November 20, 2020.)
Better yet, if an investor gets into Owl Rock Capital stock right now, the $0.31-per-share dividend won't be the only payment they collect in January. They can also look forward to a "bonus check."
Of course, I'm talking about special dividends.
You see, Owl Rock Capital Corp is a business development company (BDC). When the company decided to go public in 2019, its advisor agreed to put in a fee waiver. That fee waiver lasted until October 2020.
Due to this waiver, Owl Rock was able to declare six special dividends since its initial public offering (IPO), with the last one—an amount of $0.08 per share—to be distributed alongside its January 2021 regular dividend.
In other words, ORCC stock investors will be getting a total payment of $0.39 per share in January—made up of a $0.31-per-share regular quarterly dividend and an $0.08-per-share special dividend.
Obviously, because Owl Rock Capital's advisor did not extend the fee waiver, the company likely won't be able to pay any more special dividends. This is not a surprise. By definition, special dividends are not meant to be recurring. Plus, in today's low-yield environment, who would complain about a regular dividend policy that comes out to a 9.2% yield?
The big question, of course, is whether Owl Rock Capital Corp can maintain its current level of regular dividends.
Well, according to the BDC's latest earnings report, it generated net investment income of $0.33 per share in the third quarter of 2020—an amount that was in excess of its regular quarterly dividend rate.
Now, keep in mind that, in the 2020 third quarter, the fee waivers I mentioned earlier were still in place for the company. Because those waivers expired in October, Owl Rock Capital's future earnings won't benefit from them.
In fact, management has said before that they expect the company's net investment income to be lower than its regular quarterly dividend after the expiration of the fee waiver. (Source: "Owl Rock Capital Corporation (ORCC) CEO Craig Packer on Q2 2020 Results – Earnings Call Transcript," Seeking Alpha, August 5, 2020.)
Does that mean the dividend is in danger?
Well, Owl Rock Capital plans to reduce leverage to boost its earnings power. In the BDC's latest earnings conference call, the chief operating officer and chief financial officer, Alan Kirshenbaum, said, "We continue to make good progress toward earning our dividend and are on track to achieve our target leverage by the second half of 2021. We expect to continue to pay our regular dividend of $0.31 per share and would anticipate returning a modest amount of capital in the interim." (Source: "Owl Rock Capital Corporation (ORCC) CEO Craig Packer on Q3 2020 Results – Earnings Call Transcript," Seeking Alpha, November 7, 2020.)
Bottom Line on Owl Rock Capital Corp
And there you have it. Owl Rock Capital Corp's special dividend in January 2021 will be the last round of the "bonus checks" Owl Rock Capital stock investors get, at least for the time being.
But if the company can maintain its generous regular dividend policy as management projects, it would still be a solid opportunity for yield-seeking investors.