Collect an 8% Yield from Enviva Partners (NYSE:EVA) High-Dividend Stock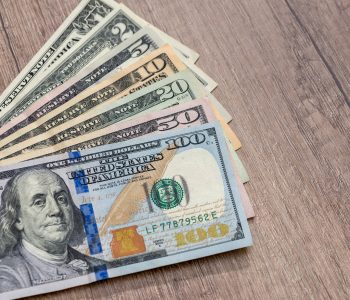 This High-Dividend Stock Raised Its Payout Every Quarter Since the IPO
Interest rates are already rising, and the latest U.S. Federal Reserve minutes just hinted at another rate hike in June. Should investors of high-dividend stocks be worried? Well, if a high-dividend stock can keep raising its payout, as Enviva Partners LP (NYSE:EVA) has been doing, the situation may not be as bad as it seems.
Enviva Partners is a master limited partnership (MLP) that is in the business of processing wood fiber into wood pellets, a type of biofuel that can be used to replace coal in power generation. Headquartered in Bethesda, Maryland, Enviva is the largest supplier of utility-grade wood pellets in the world, with annual production capacity of almost three million metric tons.
Wood pellets may not seem like a big deal here in the U.S., but they are widely used in Europe. As a matter of fact, more than 40% of renewable energy production in the European Union (EU) comes from solid biomass. With regulations pushing for more adoption of clean energy, the demand for industrial wood pellets is expected to grow at a compound annual growth rate (CAGR) of 17% through 2021.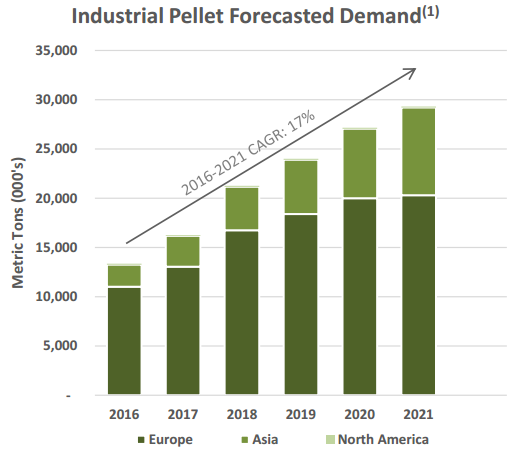 Source: "Enviva Partners, LP Business Overview," Enviva Partners LP, last accessed May 26, 2017.
Attractive Distributions Backed By a Solid Business
The first thing you'll notice about Enviva Partners is its handsome distributions. Paying $0.5550 per common unit on a quarterly basis, the partnership has an annual yield of eight percent.
This high-dividend stock is also backed by a solid business. As I mentioned earlier, the regulatory environment is certainly in favor of the wood pellet industry. What's more is that Enviva's production plants—located in Virginia, North Carolina, Mississippi, and Florida—are fully contracted. The majority of the wood pellets produced by the partnership are sold through long-term take-or-pay agreements with creditworthy customers in the U.K. and Europe.
Right now, the weighted average remaining term of the partnership's off-take contracts is 9.8 years. Enviva also has a contracted revenue backlog of $5.6 billion. A contracted production profile adds stability to the partnership's cash flow, which is a good thing for income investors.
Growing Payout
Keep in mind that, since Enviva is structured as a MLP, it is legally required to distribute almost all the cash it generates to investors in the form of dividends. So, if business keeps on getting better, EVA stock investors will likely see even bigger dividend checks rolling in every quarter.
In fact, the partnership has already started raising its payout. Enviva Partners completed its initial public offering (IPO) in May 2015. Since then, it has raised its distribution rate every single quarter. From its first quarterly distribution of $0.263 to the current $0.555, the partnership's per-unit payout has more than doubled. (Source: "Enviva Partners, LP Dividend Date & History," NASDAQ, last accessed May 26, 2017.)
Also Read:
Top 5 Retirement Stocks to Consider for 2017 and Beyond
MLP Stock List: Earn Reliable Income from These Energy Partnerships
And if you are wondering whether Enviva's dividend growth is too aggressive, note that, in 2016, the partnership generated $67.8 million in distributable cash flow. This translated to a distribution coverage ratio of 1.28 times, leaving a margin of safety. (Source: "Enviva Partners, LP Reports Strong Financial Results for Full-Year 2016 and Affirms 2017 Guidance," Enviva Partners LP, February 23, 2017.)
The Bottom Line on This High Dividend Stock
Among the hundreds of MLPs trading in today's market, Enviva stock is a special one. It has a solid business model and no direct exposure to oil or gas prices. Adding in its handsome distributions, this high dividend stock deserves the attention of income investors.