Collect an 11.2% Yield From the U.S. Government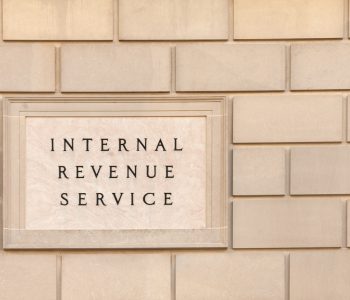 iStock.com/Natalia Bratslavsky
Earn an 11.2% Yield From the IRS
When it comes to taking our money, no one does a better job than the government. Income taxes, property taxes, gasoline taxes…
For many households, payments to "Uncle Sam" make up the biggest expense.
Wouldn't it be nice to get a little bit of this money back? Well, one little-known loophole now allows Americans to collect quarterly income checks from the U.S. government. It's a great way to earn a big dividend yield from one of the most reliable tenants around.
The U.S. government is the country's largest employer, with 4.2 million workers. To put that number into perspective, this figure is larger than the number of employees working at Walmart Inc (NYSE:WMT), Amazon.com, Inc. (NASDAQ:AMZN), and Kroger Co (NYSE:KR) combined.
All of these government employees need to work somewhere. But rather than owning office space itself, federal agencies lease most of their buildings from private-sector firms. At last count, the U.S. government was renting over 56,000 properties nationwide.
These deals can be lucrative. Agencies usually sign long-term rental agreements, to begin with. Plus, they tend to pay their bills on time. And because the government has plenty of taxpayer cash on hand, employees don't fret about how much gets paid in rent.
One of Uncle Sam's biggest landlords is Government Properties Income Trust (NASDAQ:GOV). The partnership buys office buildings, leases them out to government agencies, and pays out the profits to shareholders. At last count, the business owned 105 properties across 30 states.
Government Properties Income Trust's tenants include agencies such as U.S. Immigration and Customs Enforcement (ICE), the Federal Bureau of Investigation (FBI), and the Centers for Disease Control and Prevention (CDC). The Internal Revenue Service (IRS) makes up the partnership's largest renter by square footage, accounting for nearly 10% of rental income.
These agencies play a critical role in the day-to-day operations of the federal government. For that reason, they're not going "out of business" anytime soon, and you can always count on the rent coming in on time.
| | | |
| --- | --- | --- |
| Agency | Rentable Square Feet | % of Rental Income |
| Citizenship and Immigration Services | 448,607 | 5.4% |
| Internal Revenue Service | 1,041,806 | 5.2% |
| U.S. Government | 406,388 | 3.0% |
| Federal Bureau of Investigation | 304,425 | 2.2% |
| Bureau of Prisons | 180,173 | 2.1% |
(Source: "Form 8-K," Government Properties Income Trust, August 2, 2018.)

Since Government Properties Income Trust trades publicly, you can buy units of GOV stock on the Nasdaq. Each unit represents a fractional share in the business, so the more units you own, the larger your slice of the partnership's income.
For investors, this can create quite the income stream. Government rent payments get converted into distributions, which have rolled in like clockwork since Government Properties Income Trust opened shop in 2009. The business currently pays out an annual yield of 11.2%, which makes for one of the biggest distributions around.
Never mind the potential for ongoing capital gains. The company has concentrated most of its portfolio in dense urban centers where new construction is difficult. These properties tend to appreciate the most in value over time, which provides a big boost to shareholder returns.
This one-two punch provides a nearly unbeatable combination. If you want to start collecting some money from Uncle Sam for a change, I'd suggest taking a second look at GOV stock. Few businesses make as much money as government landlords.