Collect 19.1% in Royalty Income Starting December 1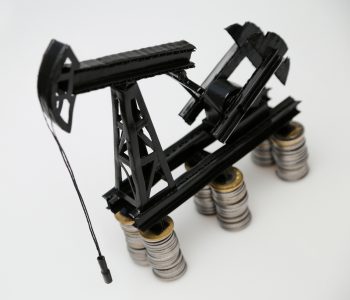 iStock.com/stereostok
Lock In This 19.1% Yield
Business is booming for royalty owners these days.
Regular readers have heard the idea of collecting oil well royalties. These companies don't drill for oil and gas themselves. Instead, they buy interests in producing wells, then collect ongoing income that can sometimes last for decades.
For investors, it's the safer, more lucrative way to invest in the energy business. Major royalty owners pay out yields ranging from seven percent to even 27%. With oil prices back over $50.00 a barrel right now, these businesses have started to really mint money, and in turn have posted amazing share price performances over the past few months.
Take Chesapeake Granite Wash Trust (NYSE:CHKR), for example. This firm owns 40,500 gross acres across Washita County, Oklahoma. On this land, the company collects royalty income from 70 producing wells, with the potential for another 120 in development.
And those assets generated a ton of cash flow. Drillers, not Chesapeake, must front the cost to drill and complete new wells. This means investors can just kick up their feet, collecting their share of the profits.
You can see the advantages of this model in the company's financial results. In 2016, Chesapeake raked in $12.4 million in revenue and converted $10.4 million into operating income. That comes out to an incredible 83% profit margin.
And business looks even better for 2017. In the first half, Chesapeake brought in $8.3 million in revenue and $6.7 million in operating income. According to Bloomberg, analysts expect Chesapeake to gross $17.5 million in revenue with earnings of $14.9 million this year.
Where does this money go? Management funnels almost every penny of profit back to investors. Most drillers reinvest their earnings to grow production, but Chesapeake is content to just milk its operations.
This philosophy has created a cash machine. Last quarter, Chesapeake paid out $0.10 per unit in distributions, which comes out to a forward yield of 19.1%. Management has scheduled to mail out the next round of distributions in a few weeks, with payments expected to arrive on Friday, December 1.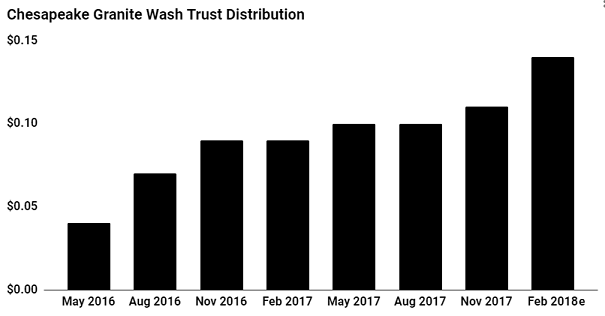 Source: "Chesapeake Granite Wash Trust,"  Google Finance, last accessed October 23, 2017.
For owners, these royalties will keep rolling in for another 15 years. Based on the current agreement, Chesapeake will continue operations until 2031. After that, the trust will sell off its remaining oil wells and pay out the proceeds to investors.
Of course, big yields come with big risk. Unlike normal dividend stocks, royalty payouts swing with energy prices. And over time, these distributions will decline as the wells run dry.
But if you can stomach the highs and lows, oil well royalty trusts like Chesapeake can make tidy income streams.