Coca Cola Co (NYSE:KO) a Dividend Machine That Turned $40 into Over $10 Million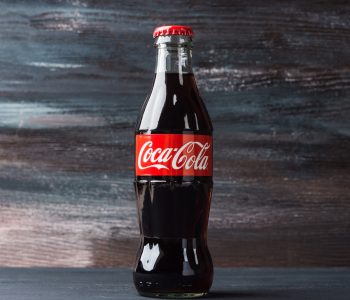 iStock.com/Mindstyle
From $40.00 to $10.0 Million, Here's How It Happened
That's no misprint. One company was able to turn a $40.00 investment into more than $10.0 million. And instead of letting you guess what the company was, I'll tell you right away: it's Coca-Cola Co (NYSE:KO).
In 1919, a group of businessmen bought Coca-Cola Co for $25.0 million. In the same year, the company went public on the New York Stock Exchange (NYSE). Its initial public offering (IPO) price was $40.00 per share.
Here's the magical part: if an investor had bought just one share of Coca-Cola stock for $40.00 at its IPO, the investment would have grown to more than $10.0 million with dividends reinvested.
The story was first brought to the financial world's attention by legendary investor Warren Buffett. Buffett did not buy Coca-Cola shares back in 1919 (he was born some 11 years after Coca-Cola's IPO). He invested in Coca Cola much later, starting in the late 1980s. But, over the years, that investment still made him billions of dollars.
A few years ago, Buffett noted that if an investor had bought $40.00 worth of Coca-Cola stock when it first went public, it would now have a value of more than $5.0 million after stock splits and reinvested dividends. Later, Coca-Cola updated this figure, revealing that with dividends reinvested annually, one share of KO stock in 1919 would be worth somewhere around $9.8 million.  (Source: "The Coca-Cola Company Board of Directors Recommends Two-for-One Stock Split," Coca-Cola Co, April 25, 2012.)
Given that the company made the statement in 2012, and that KO stock has gone up quite a bit and has paid more dividends since then, the $40.00 investment in 1919 would be worth well over $10.0 million today.
Of course, in this calculation, we haven't really considered the change in price levels from 1919 to today. But even after adjusting for inflation, $40.00 in 1919 would have the purchasing power of $585.29 in 2017—not quite enough to get you the latest "iPhone." (Source: "Calculate the value of $40 in 1919," DollarTimes, last accessed July 18, 2017.)
From $585.29 to over $10.0 million, though; that's still hitting the jackpot!
Patience Can Be a Valuable Virtue
Everyone knows that finding the right stocks is critical. What's less talked about, however, is the importance of patience. Back in the 1960s, the average holding period of stocks was more than eight years. Today, it's less than six months.
Now think about that. If an investor had bought $40.00 of Coca-Cola stock at its IPO in 1919 and decided to sell after a mere six months, would they have gotten $10.0 million? Of course not.
A Dividend Stock Worth Owning Forever
I want to point out that it might not have been an easy decision to buy shares of Coca-Cola stock when it first went public. In fact, investing in IPOs is known to be a quite risky business. However, to make extraordinary returns, you don't really need to invest in Coca-Cola's IPO.
Case in point: Warren Buffett spent more than $1.0 billion buying KO stock in late 1988 and early 1989. As the stock chart below shows, this turns out to be one of the greatest investment stories of all time.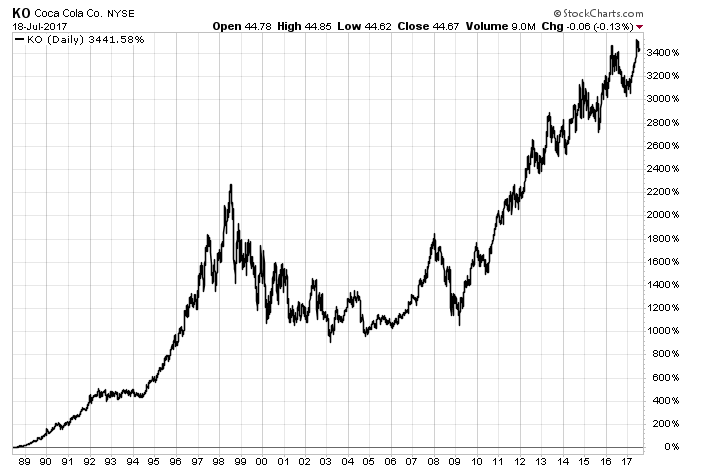 Chart courtesy of StockCharts.com
The key to note here is that, by 1988, Coca-Cola had already become a household name. It was by far the most dominant player in the beverage business. In 1987, the stock was added to the Dow Jones Industrial Average (DJIA). Investing in KO stock back then was a great move, but it certainly wasn't as difficult or as risky as trying to find the next tech unicorn.
Other than delivering astronomical capital gains, Coca Cola stock has also been one of the best dividend stocks for income investors.
Right now, the company pays $0.37 per share on a quarterly basis, giving KO stock a handsome annual dividend yield of 3.3%.
Furthermore, Coca-Cola is known for dividend stability. It has been paying uninterrupted quarterly dividends since 1920 and has raised its payout every year for the past 55 years. (Source: "Investor Info: Dividends," Coca-Cola Co, last accessed July 18, 2017.)
Today, the company is still running a wonderful business. It offers more than 500 brands of beverages to billions of people in over 200 countries around the world. What's more, 1.9 billion servings of Coca-Cola's drinks are consumed on a daily basis.
Past performance does not guarantee future results. But, for investors who still believe in the power of the buy-and-hold strategy, Coca-Cola stock is definitely a name worth considering.