The Coca-Cola Co: One of the Best Dividend Stocks in the World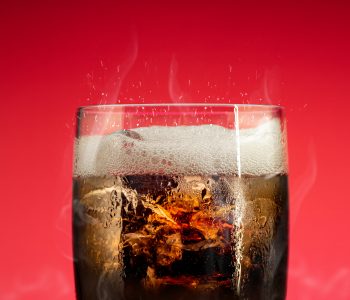 iStock.com/Lemon_tm
How to Spot the World's Best Dividend Stocks
Today I want to highlight some of the best dividend stocks in the world.
Longtime readers know I love capital-efficient companies. Because they don't have to front large amounts of money on plants, properties, or equipment, these businesses generate ample free cash flow.
That allows management to spend more money on distributions or buybacks, which results in better returns over time for investors. Some of my best dividend stock picks—such as Yum! Brands, Inc. (NYSE:YUM), Dunkin Brands Group Inc (NYSE:DNKN), and Walt Disney Co (NYSE:DIS)—fit into this category.
Another one is The Coca-Cola Co (NYSE:KO). The $222.4-billion operation owns a large portfolio of beverage brands. Most people recognize the company's soda brands like "Coke" and "Sprite." But management has acquired a sprawling empire of consumer products over the decades including "Minute Maid" juice, "Powerade" sports drinks, "Dasani" bottled water, and "Costa" coffee.
So how does Coca-Cola make its money? Most people assume the company generates revenue from beverage sales. The real story, in fact, is more interesting. Rather than selling soda directly to customers, Coca-Cola collects royalties from bottling companies that actually make, can, and distribute the company's soft drinks around the world.
Coke sells syrup for the same reason that Yum! Brands and Dunkin Brands sell franchises. It puts the capital costs of actually running the business on the shoulders of local partners. Bottlers, not Coca-Cola, pay for the cost of building plants. Bottlers, not Coca-Cola, pay for the trucks needed for distribution. Bottlers, not Coca-Cola, have to pay for most of the employees involved in running the operation.
This arrangement has created a cash machine. Last year, Coca-Cola's gross margins topped 63%. Over the past five years, the business has generated $0.27 in average annual profit on every dollar of equity invested into operations. I can only think of 10, maybe 11, operations in the world that profitable. (Source: "The Coca-Cola Company – Analysis – Profitability," MSN Money, last accessed July 9, 2019.)
How do Coca-Cola executives spend all of this money? They give it back to investors. Management has boosted the distribution on 10 occasions since the 2009 financial crisis, more than doubling the payout during that period.
Over the past five years, Coca-Cola has spent $39.8 billion in combined dividends and stock buybacks. (Source: "Coca-Cola Co. – Financials – Cash Flow Statement," MarketWatch, last accessed July 8, 2019.)
As you can see in the below stock chart, Coca-Cola shareholders have cashed in. Since late 2015, Coca-Cola stock has delivered a total return, including dividends, of 54%. That beats the pants off the gain from the broader S&P 500, with much less risk.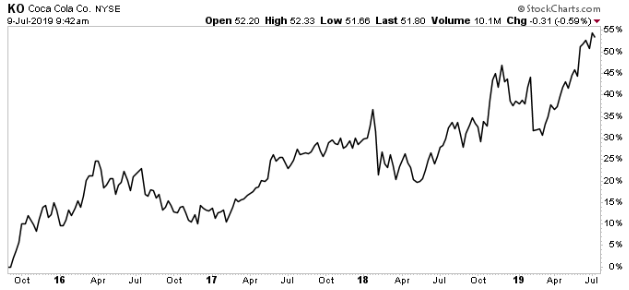 Chart courtesy of StockCharts.com
If you think about this idea for a minute, it's no surprise that capital-efficient businesses make for the best dividend stocks.
Take two firms in the same industry. One company has structured itself as a royalty firm with zero capital costs. The other is a typical corporation that has to reinvest most of its profits back into properties, plants, and equipment.
Over the long haul, which firm do you think is most likely to have rewarded its shareholders better? The answer, of course, is the company that doesn't have capital costs.
Coca-Cola presents a textbook example. Sure, the company could make more money through vertical integration—industry lingo for owning every part of the supply chain from bottling through to distribution and retail.
But this would require a massive investment on the part of shareholders. By focusing on only the most profitable part of the business (selling syrup to partners), Coca-Cola can enjoy maximum profits while spending minimal capital.
Over time, that should result in jaw-dropping returns for shareholders.