CME Group Inc: This Income "Toll Booth" Just Hit an All-Time High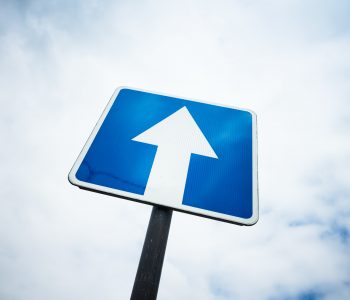 iStock.com/eugenesergeev
Up 370% on CME Group Inc, With a Lot More Upside Ahead
This month, we revisit a financial giant that blasted through a volatile month for stocks.
Regular readers know that we've often compared the stock exchanges to a toll booth. A toll booth owner borrows a lot of money upfront to build a bridge, then kicks up their feet collecting tolls, paying back their loans with devalued dollars over time. It represents a classic wealth building formula that has created countless fortunes over history. Similarly, stock exchanges build expensive trading networks, then collect steady fees over time.
Case in point: CME Group Inc (NASDAQ:CME). The company owns a collection of exchanges which trade derivatives on everything from stocks and bonds to commodities and foreign currencies. In essence, this business serves as a gatekeeper for the world's financial markets. If you own a business that needs to hedge some sort of financial exposure, you have no choice but to pay a fee to CME. Based on volume, the company ranks as the largest exchange for trading derivatives based on volume.
How much money does this business make? A lot. In 2018, CME Group Inc reported an operating margin of 62%. In the fiscal fourth quarter of 2018, the company earned $1.0 billion in revenue and $649.9 million in operating profit.
That puts CME in a great position to return mountains of cash to shareholders. Today, management pays a quarterly distribution of $0.75 per share, which comes out to a yield of 1.5%. Executives supplement this income further through special dividends issued at the end of each year. The board approved supplemental payments of $1.53 per share in late 2014, $2.40 in 2015, $2.65 in 2016, $2.80 in 2017, and $1.00 in 2018. (Source: "CME Group Inc. (CME)," Yahoo! Finance, last accessed June 14, 2019.)
That income stream, as you can see in the chart below, has allowed CME stock to power through periods of stock market volatility. Over the past five years, shares have soared 240%. In June, traders bid up the stock price to a fresh all-time high.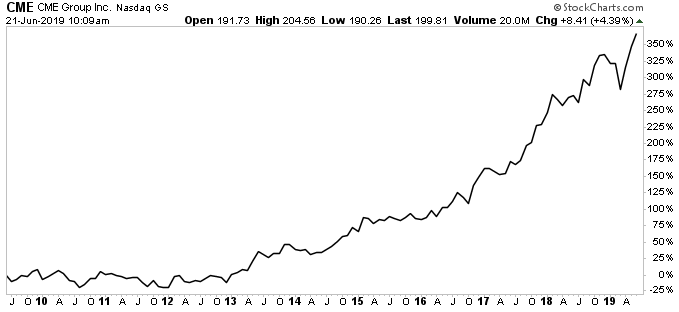 Chart courtesy of StockCharts.com
The Bottom Line on CME Stock
I expect those returns to keep rolling in. The CME Group Inc has a massive backlog of future business contracts—called the "open interest" in industry lingo—for which buyers or sellers have not yet closed their positions. This figure jumped 30% last quarter to a record 150.4 million contracts, which illustrates the growing need for companies to manage risk globally. Inevitably, those outstanding contracts will translate into revenue as those positions get closed out. (Source: "CME Group Reaches New Open Interest Record of 150.4 Million Contracts," Yahoo! Finance, June 12, 2019.)
Clearly, investing in "toll bridges" can be a lucrative strategy.