Clorox Co: This Pandemic-Proof Dividend Stock Is Soaring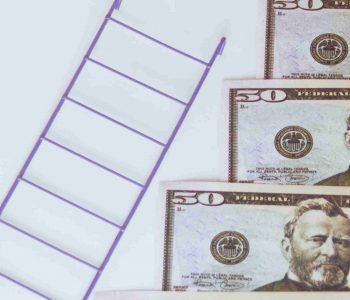 This Dividend Stock Looks Special
For most of its history, Clorox Co (NYSE:CLX) was known for being a dividend-paying company from a defensive industry. And yet, in recent months, CLX has been soaring like a hot tech stock.
Consider this: at the beginning of this year, Clorox stock was trading at $152.61 apiece. Today, it's at $223.13, marking a gain of 46.2%.
To put that in perspective, the S&P 500 Index returned just 5.3% year to date.
It's even more impressive if you take a look at the way the stock was surging. We know that the U.S. stock market had a major tumble in March, a time when almost every ticker was dropping to the floor. But, as the chart below shows, this market-wide sell-off did not have much impact on the share price of Clorox Co. Instead, CLX stock just kept climbing higher and higher.
Clorox Co (NYSE:CLX) Stock Chart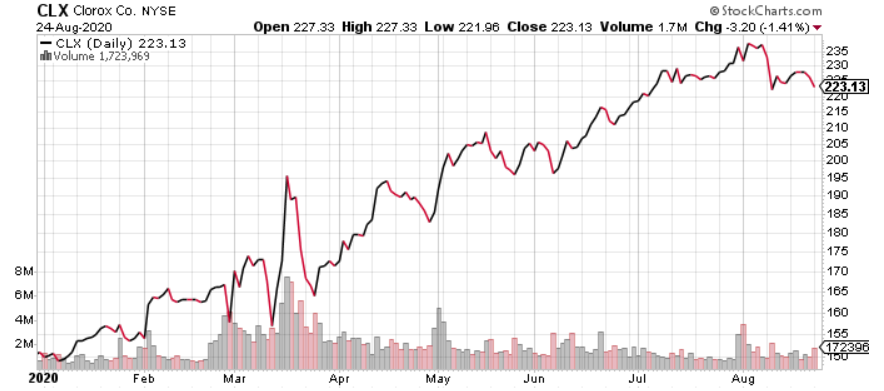 Chart courtesy of StockCharts.com
There was a very good reason why Clorox stock managed to substantially outperform the market—it makes cleaning products.
You see, other than sending shockwaves across the economy, the COVID-19 pandemic has changed many aspects of our lives. One of the consequences is that people started to use disinfecting products way more often than before. And with the fear that shops might stay closed, consumers started stocking up on these supplies. This resulted in a tremendous increase in demand for the company's namesake disinfecting wipes, bleach, and fabric sanitizer.
As a matter of fact, the demand was so strong that, months after the coronavirus outbreak, Clorox wipes were still sold out everywhere. (Source: "Clorox wipes are sold out everywhere — these are the next best thing," Digital Trends, August 14, 2020.)
At the same time, Clorox also has a portfolio of well-known brands outside of cleaning products, such as "Brita" water filtration products, "Hidden Valley" dressings, "Glad" bags and wraps, and "Kingsford" charcoal, just to name a few. Again, as consumers loaded up on supplies, the demand for these items got a boost as well.
Just take a look at the company's latest earnings report and you'll see how pandemic-proof the business really is.
In the fourth quarter of Clorox's fiscal year 2020, which ended June 30, it generated almost $2.0 billion in revenue, marking a 22% increase year-over-year. Growth was across the board, as every one of the company's operating segments delivered double-digit sales increases. Excluding a two-point impact from foreign exchange headwinds, the company's organic sales rose 24% for the quarter. (Source: "Clorox Reports Q4 and Fiscal Year 2020 Results, Provides Fiscal Year 2021 Outlook," Clorox Co, August 3, 2020.)
Top-line growth translated to the bottom line. In the June quarter, Clorox earned net income of $310.0 million, or $2.41 per share, representing a substantial improvement from the earnings of $241.0 million, or $1.88 per share, generated in the year-ago period.
In other words, in a period where a lot of companies experienced double-digit sales and earnings declines, Clorox managed to deliver double-digit growth on both its top and bottom line.
With this kind of performance, it shouldn't come as a surprise that Clorox Co has the ability to return cash to shareholders during this challenging time.
In May, the company announced a 4.7% increase to its quarterly dividend rate to $1.11 per share. Looking back, you'll see that CLX stock has paid increasing dividends for over four decades. (Source: "Dividend," Clorox Co, last accessed August 25, 2020.)
The dividend has remained safe, too. In Clorox's fiscal year 2020, it generated diluted earnings of $7.36 per share, while paying four quarterly dividends totaling $4.24 per share. This translated to a payout ratio of 57.6%, leaving a wide margin of safety.
Going forward, I expect Clorox's sales to continue at an elevated level. This is because, during the lockdown, consumers were using cleaning products mostly at home. Now, as offices, malls, and schools start to reopen, people will be disinfecting these public spaces, too. So, the demand for Clorox's core products should remain strong.
According to the company's own outlook, management expects a flat to low single-digit increase in sales in Clorox's fiscal year 2021.
Bottom Line on Clorox Co
As CLX stock soared to new heights, its annual dividend yield got subdued; it's currently around two percent. While yield hunters won't be taking a second look at Clorox stock, the company's durable business model and reliable dividend policy still make it worth considering for long-term income investors.