Why City Office REIT Is a Top Dividend Stock: A Yield of 7.8%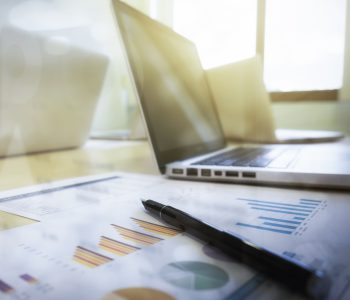 Today's chart highlights one of the biggest things I look for in a top dividend stock: room for growth.
Now, I know what you are asking: "Aren't consistency and stability far more important than growth when it comes to income investing?" Yes, they are. But all else being equal, I'd prefer my dividend stocks to have a long runway for growth. After all, there is nothing more powerful than a company that pays consistent dividends and has the potential for huge price appreciation.
In other words, I look at growth as the proverbial "cherry on top" of my dividend ice cream.
Regular readers know that I have a name for these market-crushing picks: stable dividend-growers (SDGs).
Not only do SDGs have a decent history of consistent dividend payments, but they also have plenty of room to grow. Because of this, SDGs tend to be smaller in size.
Well, I think I've found a rather attractive SDG for readers to look into: City Office REIT Inc (NYSE:CIO). Let's dive right in.
Heart of the City
For readers who are unfamiliar with City Office, it is a real estate investment trust (REIT) that focuses on high-quality office properties. The top dividend stock owns 19 office complexes with a total net rentable area of 4.5-million square feet.
While that seems like a lot of real estate, City Office is actually pretty small compared to many other commercial real estate companies. For example, more well-known office stocks like Boston Properties, Inc. (NYSE:BXP) and Dream Office REIT sport valuations in the billions. City Office, on the other hand, only has a market capitalization of about $360.0 million.
As I touched on earlier, this small size is why I like City Office so much. Even if City Office only grows to become a modest $1.0-billion business, that would mean a 180% gain for today's buyers.
And that doesn't include dividends. Talk about upside potential.
Besides being small, there are other reasons that City Office is likely to grow.
See, management concentrates its operations in the Southern and Western United States. Specifically, the focus is on Boise, Dallas, Denver, Orlando, Phoenix, Portland, and Tampa.
Why? Well, generally speaking, all of those cities share some bullish characteristics:
Strong population growth
Favorable employment growth estimates
Relatively low-costs for businesses
Close proximity to major universities and government offices, and
Favorable occupancy trends
So both City Office's size and geographic markets provide a juicy risk/reward trade-off.
But is management doing all it can to bring out that potential? Well, judging from results earlier this month, I'd certainly say so.
Solid Performance
In Q1, City Office posted net operating income of $15.8 million. That represents a strong 24% jump from the year-ago period. Furthermore, occupancy for the quarter clocked in at a solid 90.2%.
On the acquisition front, management closed the acquisition of 2525 McKinnon in Dallas. The property is 111,334 square feet, cost about $47.0 million, and is expected to produce an initial income yield of 6.1%. The company also sold two "non-core" office buildings in Portland for roughly $19.0 million.
Thus, management seems to be operating the current portfolio rather efficiently, all while making smart acquisitions.
"We began 2017 on a strong note, continuing to focus on both growth and value creation in our portfolio," said Chief Executive Officer James Farrar. "Our results reflect increasing cash flows at our properties and the robust fundamentals of our key target markets." (Source: "City Office REIT Reports First Quarter 2017 Results," City Office REIT Inc, May 16, 2017.)
Passing the Cash
As CEO Farrar touched on, the biggest bright spot of City Office's performance has been its cash flow generation. As income investors, this is good news. After all, a company pays out dividends from its cash flow, not its accounting income.
In the REIT world, funds from operations (FFO) is the cash flow metric of choice.
In Q1, City Office generated core FFO of about $7.8 million. That works out to about $0.26 per share. Now compare that to dividends paid of $0.235 per share and you get a payout ratio of 90%.
To be sure, that payout ratio is a bit higher than I'd like to see. But given the growing nature of City Office's cash flow and geographic markets, I don't expect a dividend cut anytime soon.
"In short, we think that there is a long runway for our strategy of investing in midsized metropolitan areas, primarily in the Southern and Western U.S.," said Farrar in a conference call. (Source: "City Office REIT's (CIO) CEO Jamie Farrar on Q1 2017 Results – Earnings Call Transcript," Seeking Alpha, May 5, 2017.)
Top Dividend Stock at a Great Price
That brings us to City Office's stock price, which has clearly underperformed over the past 200 days or so.

Source: StockCharts.com
So why the worry over this top dividend stock?
Well, it relates back to the somewhat tight dividend coverage that I talked about in the previous section. Analysts are a bit concerned that management might have to cut the dividend.
But as I mentioned, I think those worries are largely overblown. Most importantly, I think the risks are baked well into the valuation.
In fact, City Office now boasts a whopping dividend yield of 7.8%. That is more than double the average yield of the real estate sector (three percent), as well as the S&P 500 (2.1%).
It's not every day that you find a stock with such solid growth potential and such a high dividend yield.
The Bottom Line on City Office REIT Inc

And there you have it, my fellow Income Investors: some reasons why I think City Office REIT Inc is a top dividend stock.
As always, please don't view this write-up as a formal recommendation. Instead, use it as a jump-off point for more research. After all, City Office is no sure thing. The current dividend coverage is tighter than we'd like, and like all real estate companies, City Office uses plenty of debt.
That said, City Office's high dividend yield and exciting growth prospects make it a total return play you might want to follow.