Cineplex Reports Record First-Quarter Results, Hikes Dividends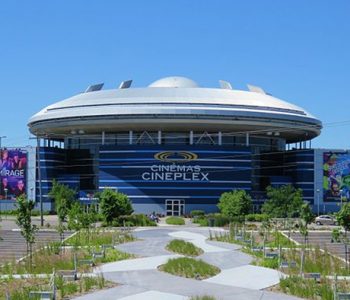 If you thought that a cold winter would deter Canadians from going to the movies, you'd be wrong. Cineplex Inc (TSE:CGX), the company that owns and operates most of the movie theaters in Canada, just released a tremendous earnings report and raised its dividends.
On Tuesday, May 3, Cineplex released its financial results for the first quarter of 2016. At the top line, the company generated CA$378.9 million in revenue, representing a 30.8% increase year-over-year. (Source: "Cineplex Inc. Reports Record First Quarter Results, Announces Dividend Increase and Amended Credit Facilities," Cineplex Inc, May 3, 2016.)
Cineplex's bottom line was even better. In the first quarter, the company earned net income of CA$21.5 million. That translated to CA$0.34 in diluted earnings per share, doubling the CA$0.17 earned per share in the year-ago period.
The company makes most of its money from the box office, so when you see a big jump in revenue, you know more people went to the movies in Canada. In fact, Cineplex just reported an all-time quarterly attendance record of 20.6 million patrons. Moreover, its box office revenue per patron (BPP) also reached a first-quarter record of $9.36.
A slew of blockbuster movies helped Cineplex achieve those record results. First up was Star Wars: The Force Awakens, which was released in December of last year but continued to bring in revenue in the first quarter. Then there was The Revenant, Deadpool, Zootopia, and Batman v Superman: Dawn of Justice, which all turned into big hits.
Of course, what income investors really care about are dividends and on that front, there is good news.
Cineplex just announced a 3.8% dividend increase to CA$1.62 per share on an annual basis. Since the company started paying dividends back in 2003, its annual distribution has increased more than 40%. (Source: "Dividend & Distribution Dates," Cineplex Inc, last accessed May 3, 2016.)
At today's stock price, Cineplex has an impressive annual dividend yield of 3.22%. And the best part is that you don't have to wait three months between each dividend payment; Cineplex is one of the few companies that pay dividends on a monthly basis.
Going forward, the company is trying to expand its business beyond the volatile box office. Cineplex plans to build its third "Rec Room"—a dining and entertainment complex—in a 40,000-square-foot building in the heart of downtown Toronto, Canada. The company also has plans to bring video game tournaments to its theaters.