Market-Thumping, 8.2%-Yielding Chord Energy Stock Up 26% in 2023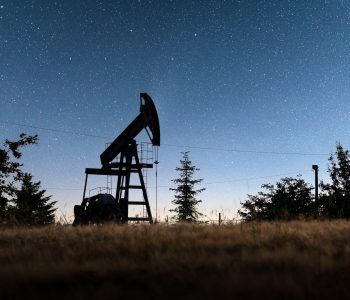 Why CHRD Stock Is Set to Keep Rising
At the start of 2023, Wall Street took a bearish stance on the U.S. economy, with most analysts warning of an impending recession. That was bad news for energy industry bulls, especially those who had invested in oil and gas stocks.
Many analysts were forecasting a crash in oil prices. This hasn't happened, though. The economy is resilient, unemployment is at a 50-year low, oil prices have ripped higher, and oil demand has exceeded expectations.
All of these industry dynamics are a boon for Chord Energy Corp (NASDAQ:CHRD), a Houston-based oil and natural gas exploration and production company.
You might not be familiar with this company because it was only formed in July 2022, when Whiting Petroleum Corporation and Oasis Petroleum Inc. joined forces. (Source: "Whiting and Oasis Complete Combination, Establishing Chord Energy," Chord Energy Corp, July 1, 2022.)
The $6.0-billion merger created a scaled unconventional U.S. oil producer with a premier position in the North Dakota and Montana regions of the Williston Basin. The merger also enhanced cash flow generation.
At the time of the merger, the company said it was expecting to return 60% of its free cash flow (FCF) to its shareholders in the second half of 2022 through its base dividend, variable dividends, and a $150.0-million share repurchase program. The initial base dividend, which began in the third quarter of 2022, was $0.585 per share.
Fast-forward to September 2023, and Chord Energy Corp is now home to the largest acreage position in Williston Basin, making it one of the region's top energy producers. Here, the company explores for and produces crude oil, natural gas, and natural gas liquids.
Its operations include about 963,009 net leasehold acres, of which 57% represents oil. At its current pace of production, the company has inventory for about 10 years. That assumes the company doesn't increase its properties, but it has been doing so.
In May, Chord Energy announced that a wholly owned subsidiary entered a definitive agreement to acquire assets in the Williston Basin from XTO Energy Inc., an American energy company and a subsidiary of Exxon Mobil Corp (NYSE:XOM), for $361.0 million. (Source: "Chord Energy Announces Strategic Acquisition of Williston Basin Assets," Chord Energy Corp, May 22, 2023.)
The asset acquisition, which closed in the second quarter, provides Chord Energy with the following:
About 62,000 net acres
A current high-margin production of more than 6,000 barrels of oil equivalent per day (about 62% oil)
Acreage that's 100% held by production
High-return inventory additions that are expected to extend Chord Energy Corp's overall inventory life and lower weighted average break-evens of its portfolio
The company's acquisition of assets from XTO Energy is expected to be accretive to cash flow, FCF, and return metrics in the near and long term. Chord Energy is expected to continue returning more than 75% of its FCF, resulting in accretion to return of capital to its shareholders.
Commenting on the acquisition, Danny Brown, Chord Energy Corp's president and CEO, said, "Consolidation in the core of the basin supports longer laterals, higher capital and operating efficiencies, strong financial returns and sustainable free cash flow generation." (Source: Ibid.)
He continued, "The transaction creates significant accretion for shareholders across all metrics, while maintaining pro forma leverage below our target."
Chord Energy Corp's Q2 Oil Production at High End of Guidance
For the second quarter ended June 30, Chord Energy reported crude oil production volumes of 96,400 barrels of oil equivalent per day, which was at the high end of its guidance. Its total production volume of 169,000 barrels of oil equivalent per day were above the high end of its guidance. (Source: "Chord Energy Corporation Reports Financial and Operating Results for Second Quarter 2023," Chord Energy Corp, August 2, 2023.)
The company's second-quarter net cash provided by operating activities was $408.2 million, up by three percent from $396.4 million in the same prior-year period. Its net income in the second quarter of 2023 was $216.1 million, or $4.96 per share.
Chord Energy Corp's second-quarter adjusted earnings before interest, taxes, depreciation, and amortization (EBITDA) were $369.6 million, while its cash flow was $105.3 million.
Management Declared Q2 Base-Plus-Variable Dividend of $1.36
Some oil and gas companies have come up with a novel way to pay dividends that maximize returns when commodity prices are high, yet still pay sizeable distribution when the energy industry is facing headwinds.
That's through base-plus-variable dividends. Companies like Chord Energy Corp pay solid base dividends every quarter and then pay variable dividends on top of that, based on cash flow.
Sometimes, when energy market conditions are exceptionally good, like they are now, energy companies hike their base dividends. In the second quarter of 2022, Chord Energy increased its base dividend by 114% from $0.585 to $1.25 per share. The company has held Chord Energy stock's dividend at $1.25 per share since then.
Of course, Chord Energy Corp's variable payout changes every quarter. In the second quarter of 2023, the total dividend was $1.36 per share, for a yield of 8.2%.
As a result, CHRD stock's base-plus-variable dividend can vary wildly from quarter to quarter. In the fourth quarter of 2022, its base-plus-variable dividend was $4.80 per share. In the first quarter of 2023, it was $3.22 per share.
During the second quarter, Chord Energy Corp repurchased $31.0 million worth of its own shares at a weighted average price of $147.59 per share.
Market-Thumping Chord Energy Stock Up 25% in 2023
Thanks to strong industry tailwinds, CHRD stock has been seriously outpacing the broader market, up by 26% year-to-date and 25% year-over-year.
Similarly impressive gains from Chord Energy stock could still be on the horizon. Wall Street analysts have provided a 12-month share-price target in the range of $183.78 to $221.00. This points to potential gains in the range of approximately 15% to 38%.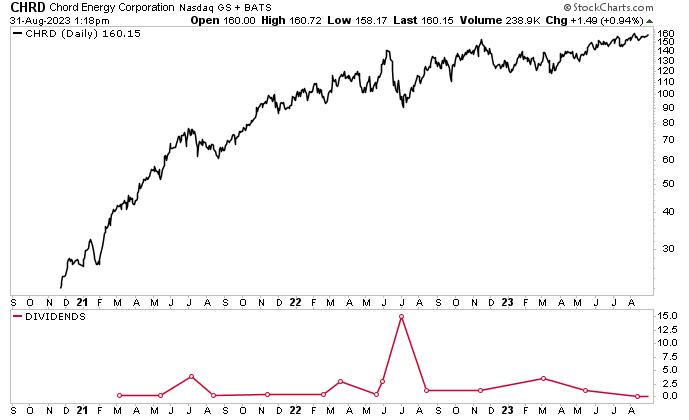 Chart courtesy of StockCharts.com
The Lowdown on Chord Energy Corp
Chord Energy is an oil and gas exploration and production company with the largest acreage position in the Williston Basin. It has a solid balance sheet, resilient cash flow, and a leading return-of-capital framework that includes share buybacks and base-plus-variable quarterly dividends.
Last year, Chord Energy Corp paid $27.03 per share in base-plus-variable dividends. A good portion of that, $15.00 per share, was a special dividend that came from the July 2022 merger. So far this year, CHRD stock has paid out $9.38 per share.
Thanks to high oil and gas prices, as well as record demand and consumption, the outlook is excellent for Chord Energy stock's price and high-yield dividends.