Chevron Corporation (NYSE: CVX) Raises Cash Payment to Investors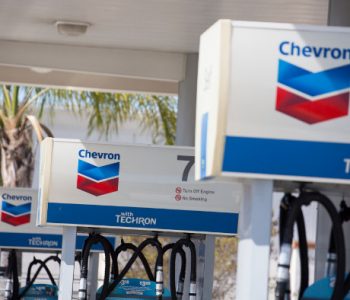 iStock.com/MattGush
Another Dividend Hike from CVX Stock
Chevron Corporation (NYSE:CVX) stock had quite a choppy ride in recent years, but the company's dividends have been going in only one direction—up.
On Wednesday, January 31, after the closing bell, Chevron Corporation announced that its Board of Directors has declared a quarterly cash dividend of $1.12 per share. This represents a 3.7% increase from the company's previous quarterly dividend payment of $1.08 per share. The dividend will be paid on March 12, 2018 to shareholders of record as of February 16. (Source: "Chevron Announces Increase in Quarterly Dividend," Chevron Corporation, January 31, 2018.)
With this announcement, the company is on track to pay increasing annual dividends for the 31st consecutive year. Trading at $125.35 per share, Chevron stock now offers a dividend yield of 3.63%. (Source: "Dividend Information – Chevron Corporation," Chevron Corporation, last accessed January 31, 2018.)
Also Read:
Chevron Corp: The Best Dividend Stock Among Oil Supermajors
The dividend hike is the latest sign of strength for the multinational energy company. Even though oil prices are still down quite a bit from where they were a few years ago, Chevron's business has been improving. According to the company's most recent earnings report, Chevron's worldwide net oil-equivalent production was 2.72 million barrels per day in the third quarter of 2017, a sizable increase from the 2.51 million barrels per day in the year-ago period. (Source: "Chevron Reports Third Quarter Net Income of $2.0 Billion," Chevron Corporation, October 27, 2017.)
The increase in oil and gas production boosted the company's financials. In the third quarter of 2017, Chevron generated $36.2 billion of total revenue, representing a 20.3% increase year-over-year. Earnings came in at $1.03 per diluted share, up 51.5% from the year-ago quarter.
For those that thought the commodity price downturn would stop CVX stock from raising its dividends, now it's time to put this Dividend Aristocrat back on the watch list.