Chevron Corp: The Best Dividend Stock Among Oil Supermajors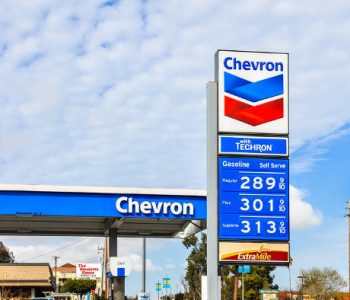 CVX Stock Emerging Better Than Peers From Oil Rout
Chevron Corporation (NYSE:CVX), one of the highest-dividend-paying stocks in the Dow Jones Industrial Average Index of 30 companies, has shown a little sign of wavering in this commodity rout. Investors in Chevron stock are still getting returns which beat many alternative investments, despite an over 70% decline in oil prices since their peak in 2014.
But with no clear sign of a sustained recovery in oil prices, one big concern for income investors in Chevron stock is that whether this oil "supermajor" will be able to maintain its dividend yield of above four percent—the second-highest among Dow Jones' 30 solid blue-chip stocks.
The answer to this question isn't simple if we believe that energy markets are experiencing a long-term recessionary cycle, just like the last boom, which lasted for well over a decade. Just to give you an idea of how drastically the fortunes of oil giants have changed, Chevron reported an over-two-billion-dollar loss in the six-month period ending June 30, compared with a $3.0 billion profit a year ago. (Source: "Chevron Reports Second Quarter Loss of $1.5 Billion," Chevron Corporation, July 29, 2016.)
Analysts have started to raise flags for the sustainability of dividend payments by the global oil giants when oil prices have failed to sustain their upward journey above $50.00 a barrel, and oil-producing countries have shown no solid plan to balance the world's oversupplied oil markets.
"There's massive risk to the dividend structure of these big oil companies over the next 12 months," said Chris Kettenmann of Macro Risk Advisors, who thinks the only way for oil companies to continue paying these hefty dividends is to generate cash through a mix of borrowing and cutting down production. (Source: "Oil Supermajors' Dividends at 'Massive Risk' From Slump: Analyst," Bloomberg, August 30, 2016.)
Chevron's chief executive officer, John Watson, has responded to this massive adjustment in oil prices by cutting expenses and announcing plans for laying off about 8,000 workers, or 12% of its workforce. Chevron has cut capital and operational spending by $6.0 billion in the first half of this year. (Source: Ibid.)
After preserving cash by reducing costs, another part of Chevron's survival strategy is to offload some of its international assets and quickly finish profitable projects, with a major push to expand its liquefied natural gas shipments in Asia.
Chevron this week signed a major LNG supply deal with China's ENN LNG Trading. Under the terms of the transaction, ENN will receive as much as 650,000 million metric tons per annum of LNG over 10 years, with the first delivery expected in 2018 or the first half of 2019.
What Makes Chevron Stock Stronger Than Its Peers?
Investors in CVX stock seem to believe in Chevron's survival strategy and its ability to maintain its dividend yield. Chevron stock is up 26% so far this year, a remarkable performance when compared to other global oil giants; for example, BP plc (ADR) (NYSE:BP) and Royal Dutch Shell plc (ADR) (NYSE:RDS.A) have flat-to-negative returns during the past 12 months.
What makes Chevron stock stronger than its peers to weather this storm in the energy market is its financial resilience, dividend sustainability, and more sustainable business model, according to analyst Guy Baber at Piper Jaffray, who raised his rating on CVX stock to overweight from neutral and boosted his price target to $117. (Source: "Chevron stock gains after analyst turns bullish on valuation," MarketWatch, August 9, 2016.)
Chevron is selectively growing in the lower price environment while continuing a strong and diverse portfolio of upstream and downstream assets that position Chevron to perform better in the future than other oil companies.
As Chevron focuses on completing its major projects and continues to cut costs, investors in Chevron stock are likely to reap the benefits of their patience. There is a good chance that this oil major could emerge stronger than before when this worst oil downturn in more than two decades is over.