Cherry Hill Mortgage Investment Corp: Finally, a Safe 11.5% Yield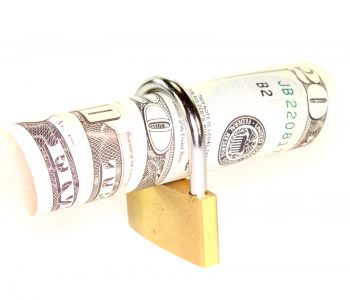 iStock.com/MarenWischnewski
Is Cherry Hill Mortgage Investment Corp's Payout Safe?
You should avoid most high-yield stocks.
In fact, I toss out most of the big payouts that cross my desk. It seems like high yields and safety go together as well as roofers and gravity.
Once in a while, however, I stumble across an exception. One of those rare stocks that pay a big enough yield to get my readers excited. Yet at the same time, the company generates enough cash flow to actually afford those payments.
Case in point: Cherry Hill Mortgage Investment Corp (NYSE:CHMI). The partnership provides mortgage services to lenders, such as collecting payments, setting aside taxes, and paying insurance premiums. In exchange, management charges ongoing fees.
Of course, red flags should go up anytime you see an 11.5% yield. So can investors really trust this generous payout?
Cherry Hill: A Conservative Business?
Cherry Hill Mortgage Investment Corp has a short but impressive distribution history.
Since the partnership went public in 2013, management has paid a dividend every quarter. Executives have supplemented that income stream further through the occasional special dividend.
We can't make too many assumptions based on six years of data. That track record, however, tells us that the company takes paying unitholders seriously. That bodes well for the partnership's future dividend prospects.
Executives seem to run operations in a conservative manner, too. Last year, the business generated $2.25 in core earnings per share. Over the same period, CHMI stock paid out $2.11 per share in distributions.
Generally, I like to see businesses pay out 90% or less of their profits. So while the partnership's payout ratio sits at the upper end of my comfort zone, management has still left themselves some wiggle room.
That same conservatism applies to the balance sheet. Cherry Hill has borrowed $4.80 in debt for every dollar of equity on the books. That's far less leverage than most companies in its industry and leaves the distribution on a solid foundation.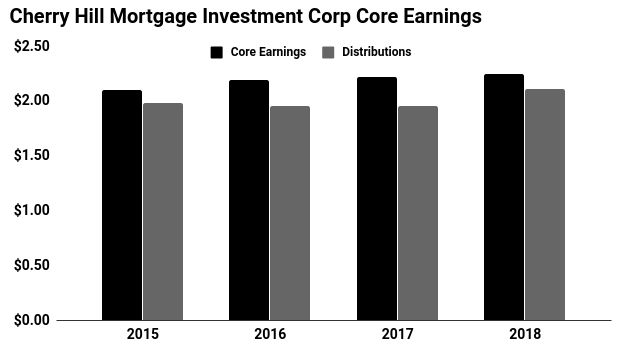 Data courtesy of StockCharts.com
The Bottom Line on CHMI Stock
So what could go wrong here?
Investors need to keep an eye on interest rates. If interest rates drop, borrowers tend to refinance their mortgages. That can bite into Cherry Hill's stream of service fees can dry up.
Defaults also present a problem. If a borrower skips a payment, the company has to make up the difference with the mortgage lender. Management can recoup these missed payments in foreclosure, but that represents an expensive proposition.
Cherry Hill has done a good job managing these risks. By servicing only the highest quality mortgages, the business will likely hold up well in a recession. Still, it's a risk worth keeping an eye on.
You can't trust most high-yield stocks. Sometimes, however, you find an exception. Cherry Hill Mortgage Investment Corp presents a rare combination of safety and big payouts.