7.3%-Yielding Cheniere Energy Partners Stock Trading at Record-High Level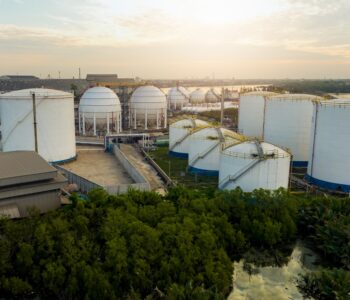 Why CQP Units Have 24% Upside
As an owner and operator of natural gas liquefaction and export facilities, Cheniere Energy Partners LP (NYSE:CQP) has been doing well thanks to strong industry tailwinds.
In the first half of 2023, deliveries of natural gas through pipelines to liquified natural gas (LNG) export facilities in the U.S. hit a record high, averaging 12.8 billion cubic feet per day (Bcf/d). (Source: "Natural Gas Deliveries to U.S. LNG Export Facilities Set a Record in First-Half 2023," U.S. Energy Information Administration, July 31, 2023.)
The U.S. Energy Information Administration (EIA) predicts that U.S. LNG exports will average 12.0 Bcf/d in full-year 2023 and 13.3 Bcf/d in 2024 as two new LNG liquefaction projects come online.
The EIA expects that the ongoing replacement of Russia's natural gas exports by LNG transported by pipeline to Europe supports expectations of higher U.S. LNG exports. The EIA also says the expected limited expansion of global LNG export capacity over the next two years could boost the demand for "destination-flexible" LNG, mostly from the U.S.
Visiongain Reports Ltd. projects that the LNG market will expand at a compound annual growth rate (CAGR) of 5.9% by 2033. (Source: "Liquified Natural Gas (LNG) Market Is Projected to Grow at a CAGR of 5.9% by 2033," GlobeNewswire, June 2, 2023.)
All of this is good news for Cheniere Energy Partners LP, the largest producer and exporter of LNG in the U.S.
The Houston, Texas-based midstream company serves integrated energy, utility, and energy trading companies around the world. (Source: "Company Profile," Cheniere Energy Partners LP, last accessed November 14, 2023.)
The partnership owns the Sabine Pass LNG terminal, one of the biggest LNG production facilities in the world. The terminal in Cameron Parish, Louisiana has six liquefaction trains with a total LNG production capacity of about 30 million tons per year (mtpa).
The term "liquification train" refers to the various sequential stages that are necessary to process, purify, and convert natural gas into LNG.
The Sabine Pass LNG terminal also has operational regasification facilities that include vaporizers, five LNG storage tanks, and three marine berths.
Cheniere Energy Partners LP also owns the Creole Trail Pipeline, which connects the Sabine Pass LNG terminal to several big interstate pipelines.
Q3 Revenues of $2.1 Billion & Earnings of $791 Million
For the third quarter ended September 30, Cheniere Partners reported revenues of $2.1 billion, down from $4.97 billion in the same period last year. (Source: "Cheniere Partners Reports Third Quarter 2023 Results and Reconfirms 2023 Distribution Guidance," Cheniere Energy Partners LP, November 2, 2023.)
The company's third-quarter net income was $791.0 million, versus a loss of $514.0 million in the same period last year. The improvement was primarily due to non-cash favorable changes in the fair value of commodity derivatives.
The partnership also reported third-quarter adjusted earnings before interest, taxes, depreciation, and amortization (EBITDA) of $793.0 million.
Management reconfirmed its full-year distribution guidance in the range of $4.00 to $4.25 per unit.
Cheniere Energy Partners LP Declared Q3 Distribution of $1.03/Share
Thanks to its consistent cash flow, which has been driven by reliable operations, Cheniere Energy Partners LP has been able to hike its cash distributions to its unitholders over the long term.
In late October, the company declared a cash dividend of $1.03 per unit, made up of a base amount of $0.775 and a variable amount of $0.255. This worked out to a yield of 7.35%, which was more than twice the inflation rate of about 3.7%.
CQP stock's high-yield payout is more than safe.
Cheniere Energy Partners LP reaffirmed its full-year distribution guidance in the range of $4.00 to $4.25 per unit. Moreover, the partnership's payout ratio is just 41.34%, which is far below the 90% threshold I'm willing to stomach.
This gives the company more than enough financial wiggle room to raise its variable payout over the coming quarters if it so chooses. It could also elect to raise its base amount.
Cheniere Energy Partners Stock Up 30% Since May
The price of Cheniere Energy Partners units has been on a solid trajectory since the start of 2009, climbing by 4,876%. Over that period, CQP stock has risen at a CAGR of 29.6%.
In 2023, CQP units have been experiencing another year of solid share-price growth. On November 6, they hit a new record intraday high of $58.37. As of this writing, units of Cheniere Energy Partners LP are up by:
11% over the last month
30% over the last six months
8.5% year-over-year
8.8% since I wrote about Cheniere Energy Partners stock in August
Solid gains, and the outlook for Cheniere Energy Partners units remains robust. Wall Street analysts have provided a 12-month high estimate of $71.00. This points to potential gains from CQP units of 24%.
Chart courtesy of StockCharts.com
The Lowdown on Cheniere Energy Partners LP
As mentioned earlier, Cheniere Energy Partners is the largest LNG producer and exporter in the U.S. As a result, the company has a large, expanding infrastructure, which helps it generate stable cash flow.
The high and rising long-term demand for LNG should help Cheniere Energy Partners LP continue generating huge profits, which it passes along to its unitholders in the form of growing, high-yield dividends. These dynamics should also help CQP stock's share price continue to notch up new record highs.