CenturyLink Inc: This 7% Yielder Could Be on the Verge of an Upgrade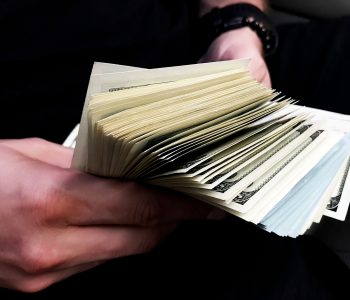 How Safe Is CenturyLink Inc's 7% Dividend Yield?
I used to receive several e-mails each month about CenturyLink Inc (NYSE:CTL). Not anymore.
Income hunters once prized the telecom giant for its double-digit payout. But the company faced a toxic combination of falling revenues and growing interest payments. That eventually forced management to cut the dividend last year, sending investors running for the exits.
The thing is, these situations often present opportunities. After a dividend cut, you can often scoop up good, albeit slightly damaged, assets at bargain prices. Lower dividend payouts also conserve cash, leaving businesses in a sounder financial position.
Could the same thing play out with CenturyLink Inc? Maybe. Let's dive into this distribution.
Admittedly, CenturyLink Inc has problems.
The company's legacy businesses, like landline phone and cable television, have struggled as customers cut the cord. Despite efforts to engineer a turnaround, management has yet to put a bottom under sales.
You can see those problems in CenturyLink Inc's recent earnings report. Overall revenues dropped almost four percent year-over-year in the third quarter, driven by big declines in the company's consumer and wholesale divisions. Management also reported more than a six percent drop in sales from small and medium business customers. (Source: "CenturyLink Reports Third Quarter 2019 Results," CenturyLink Inc, November 6, 2019.)
But beneath the headline numbers, executives have made some progress.
Recently, CenturyLink Inc paid off $1.5 billion of debt. (Source: "3rd Quarter 2019 Results," CenturyLink Inc, November 6, 2019.)
Cost-cutting also seems to be padding the bottom line. Last quarter, executives removed another $360.0 million in annualized expenses through layoffs and operational efficiencies. Those efforts boosted the company's adjusted earnings before interest, tax, depreciation, and amortization (EBITDA) margin to 40.3%, up from 39.3% during the same period last year.
All of which leaves the dividend on a solid foundation.
For 2019, management projects that free cash flow will come in between $3.1 and $3.4 billion. At the current level, CenturyLink Inc only pays out $1.1 billion a year in distributions.
At worst, that comes out to a payout ratio of 35%. That leaves management with plenty of room to keep paying shareholders while also paring down debt and investing in the company's turnaround effort.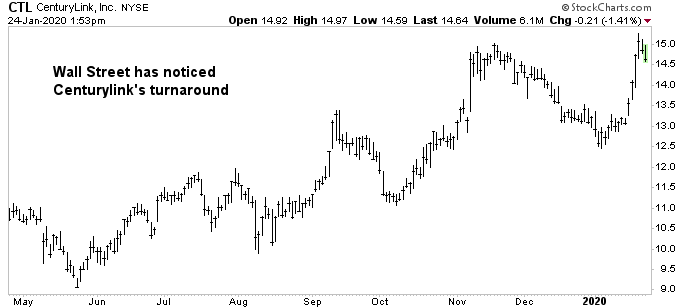 Chart courtesy of StockCharts.com
Of course, CenturyLink Inc isn't out of the woods yet. But executives have left themselves plenty of financial wiggle room. And for the time being, the company's distribution looks reasonably safe for now.
If management can stabilize revenues, this seven percent yielder could be on the verge of an upgrade.