CenterPoint Energy (NYSE:CNP) Increases Dividend 4% to $0.28 Per Share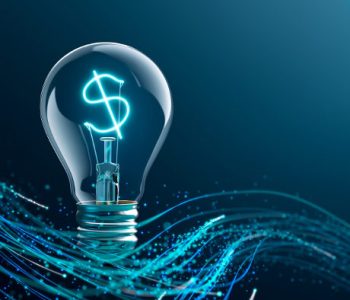 iStock.com/phive2015
Centerpoint Energy Increases Dividend
Today's chart shows that you can earn big profits from firms that "sell the basics."
Regular readers know we love boring businesses. People always need to buy "simple" products like food, water, and home heating. And, unlike hot tech stocks, these companies don't have to invent the next hot gadget every other year.
Take Texas utility CenterPoint Energy, Inc. (NYSE:CNP), for example. The company lights more than five million homes across the South. This cash cow operation provides the funds needed for the company to expand into new businesses, such as energy services and natural gas pipelines.
Needless to say, its shares don't get a lot of airtime on CNBC. The power bill, though, usually represents the last thing people skip in a recession. This creates a steady income stream for shareholders.
Also Read:
7 Energy Stocks That Pay Healthy Dividends
You can see this clearly in the latest CenterPoint Energy stock news. On Wednesday, the company boosted its quarterly distribution four percent to almost $0.28 per share. The latest CenterPoint Energy dividend increase represents the 13th consecutive year that management raised the payout. (Source: "CenterPoint Energy increases quarterly dividend 4 percent to 27.75 cents per share," CenterPoint Energy, Inc. Investor Relations, December 13, 2017.)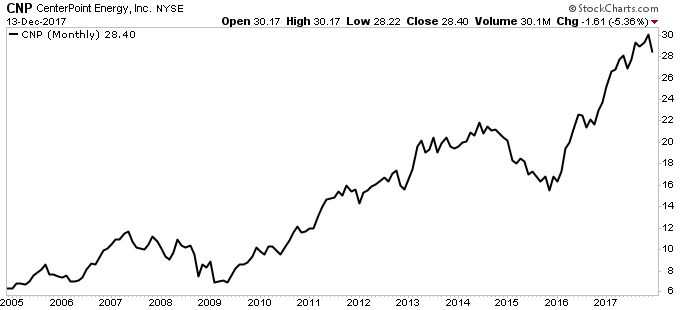 Chart courtesy of StockCharts.com
Those small, steady distribution hikes add up over time. Since executives started raising the payout, CenterPoint Energy stock's dividend has nearly tripled. Shares have grown nearly fivefold in value over that period, recently notching a new all-time high.
No, selling the basics won't land you on the cover of Forbes magazine. But it works.