Cedar Fair Stock's Dividends Reinstated Following Record 2022 Results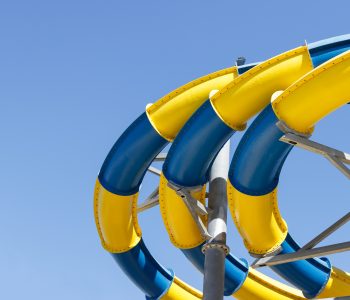 Why Undervalued FUN Stock Has High Potential
Cedar Fair, L.P. (NYSE:FUN) may have a tagline of "Fun. To Us, It's Serious Business," but the company's experience during the COVID-19 pandemic was anything but fun.
Shares of the world-leading owner and operator of regional amusement parks and water parks were slaughtered during the pandemic, when quarantine orders decimated the leisure industry. Over a few short weeks in early 2020, Cedar Fair stock cratered by 75%, and the partnership immediately suspended its frothy, high-yield dividends.
Regardless, Cedar Fair, L.P. is a good example of an opportunity in the making. The economy has reopened, people are getting out, and—despite fears of an upcoming recession—people are, once again, getting out and enjoying themselves. That bodes exceptionally well for the company (and for FUN stockholders).
In August 2022, Cedar Fair, L.P.'s board reinstated its dividends. Moreover, the board has authorized a $250.0-million share repurchase program.
On top of that, the partnership reported record 2022 financial results and reaffirmed its guidance for 2023. Since the company's amusement parks are fully reopened, management is confident the company will continue to build on the momentum it achieved in 2022.
You might not be familiar with the name Cedar Fair, but you may be familiar with at least some of its amusement parks and hotels.
One of the largest regional amusement-resort operators in the world, Cedar Fair, L.P. owns and operates 13 properties, comprising 11 amusement parks and four outdoor water parks, as well as accommodations totaling more than 2,300 rooms and more than 600 luxury recreational vehicle (RV) sites. (Source: "Cedar Fair Reports First Quarter 2023 Results," Cedar Fair Entertainment Company, May 4, 2023.)
Cedar Fair, L.P. has parks in California, Michigan, Minnesota, Missouri, North Carolina, Ohio, Ontario (Canada), Pennsylvania, South Carolina, Texas, and Virginia. They include "California's Great American," "Canada's Wonderland," "Cedar Point," and "Knott's Berry Farm." (Source: "Properties," Cedar Fair Entertainment Company, last accessed June 5, 2023.)
Its accommodations include "Castaway Bay," "Cedar Point's Express Hotel," "Knott's Berry Farm Hotel," and "Springhill Suites."
Record Financial Results in 2022
It didn't take Cedar Fair, L.P.'s business long to rebound after taking a beating during the pandemic. The company reported record results for 2022, including record-high net revenues, net incomes, and adjusted earnings. (Source: "Cedar Fair Reports Record Results For 2022 Fourth Quarter And Full Year," Cedar Fair Entertainment Company, February 16, 2023.)
The partnership's full-year net revenues increased by 36% to $182.0 billion. Compared to the pre-pandemic year of 2019, its revenues increased by 23%. Cedar Fair, L.P.'s net income in 2022 was a record $308.0 million, compared to a net loss of $49.0 million in 2021. Compared to 2019, the 2022 net income was up by 78%.
The company's full-year adjusted earnings before income, taxes, depreciation, and amortization (EBITDA) increased by 70% to a record $522.0 million and was up by nine percent over the 2019 EBITDA.
In 2022, the attendance at Cedar Fair, L.P.'s parks totaled 26.9 million, a 38% increase over the 2021 attendance figure. Compared with 2019, however, the 2022 attendance was down by four percent.
The in-park per-capita spending in 2022 was $61.65, a decline of less than one percent from the 2021 number. Compared to 2019, the 2022 in-park per capita spending increased by 28%. Cedar Fair, L.P.'s out-of-park revenues in 2o22 were a record $213.0 million, an increase of 27% from the 2021 figure and a 26% increase from the 2019 figure.
Commenting on the 2022 results, the company's president and CEO, Richard A. Zimmerman, said, "The pace of recovery and our record results this past year reflect the strong consumer demand for our parks and resort properties, as well as for the special events programming and the immersive entertainment our parks offer." (Source: Ibid.)
He continued, "With a strong balance sheet, and strong momentum on our capital allocation plan and key strategic initiatives, Cedar Fair is poised to continue delivering exceptional experiences for our guests and driving incremental returns for our investors in 2023."
Solid Results in Q1 2023
It's important to highlight Cedar Fair, L.P.'s record full-year results because the final three quarters of the year typically account for 95% of the company's annual attendance numbers and net revenues. Most of the partnership's properties are closed during the first three months of the year, which typically results in a loss during that quarter. (Source: Cedar Fair Entertainment Company, May 4, 2023, op. cit.)
Furthermore, the company's first-quarter 2023 revenues and attendance were hampered by cool, rainy weather at its California parks.
Cedar Fair, L.P. announced that its revenues in the first quarter of 2023, ended March 26, were $85.0 million, and its attendance in the quarter was 1.1 million guests. This was down from net revenues of $99.0 million and attendance of 1.5 million in the same quarter of last year.
The partnership reported a 2023 first-quarter operating loss of $123.0 million, compared to an operating loss of $84.0 million in the prior-year first quarter. Management reported a first-quarter 2023 net loss of $135.0 million, or $2.61 per diluted share, and a first-quarter adjusted EBITDA loss of $101.0 million.
Cedar Fair, L.P.'s early-season guest spending levels in 2023 have been well above where they were last year, though. The first quarter in-park per capita spending climbed by 10% year-over-year to $64.47. That's due to higher admission prices and increased spending on food, beverages, and merchandise.
The company ended the first quarter with total liquidity of $144.0 million.
In 2022, Cedar Fair, L.P. Reinstated Dividends & Announced Share Repurchases
With amusement parks shuttered during the pandemic, it's not a surprise that Cedar Fair suspended its dividend in early 2020. But by August 2022, things had changed; management declared a dividend of $0.30 per unit. (Source: "Cedar Fair Announces Updated Capital Allocation Strategy," Cedar Fair Entertainment Company, August 3, 2022.)
Since then, Cedar Fair, L.P. has held its quarterly payout at $0.30, which works out to a current yield of about 2.7%. That's down from the $0.94 per unit paid out before the pandemic, but the fact the company reinstated its payout means the Board is confident in its business model and its near and long-term prospects.
The dividend is still well below where it was before the pandemic, but in August 2022, Zimmerman said the partnership had "…emerged with the capital structure and free cash flow generation to support the return of capital to unitholders once again." (Source: Ibid.)
He continued, "Our strong performance this year, combined with the recent monetization of real estate in Santa Clara, California, has strengthened our balance sheet and enabled us to strategically accelerate our capital allocation priorities, including reducing leverage and reinstating a cash distribution."
In August 2022, Cedar Fair, L.P. also announced a new $250.0-million share repurchase program. Fast-forward to April 2023 and the partnership completed that program, buying back a total of six million shares since inception, or about 10% of its total outstanding shares as of the beginning of 2022.
The company isn't done buying its own shares. In April 2023, the board approved a new $250.0-million authorization, permitting the partnership to buy back more of its own shares on the open market or through privately negotiated transactions.
Cedar Fair Stock Has 30% Upside Potential
Despite weaker-than-expected first-quarter results, shares of Cedar Fair, L.P. have been doing well in 2023, up by 8.9% year-to-date (as of this writing).
Keep in mind that the stock market is a forward-looking indicator. Sure, the partnership's revenues were down because of cold weather, and its net loss, operating loss, and adjusted EBITDA loss expanded slightly, but the first quarter only accounts for five percent of full-year attendance and net revenue. On top of that, the company suggested 2023 will be another record year. Hence the optimism.
Even conservative Wall Street analysts think shares of Cedar Fair, L.P. have a lot more room to run. Their 12-month share-price target range for FUN stock is in the range of $50.78 to $58.00 per unit, pointing to potential gains in the range of 15% to 30%. That would put Cedar Fair stock above its pre-pandemic level.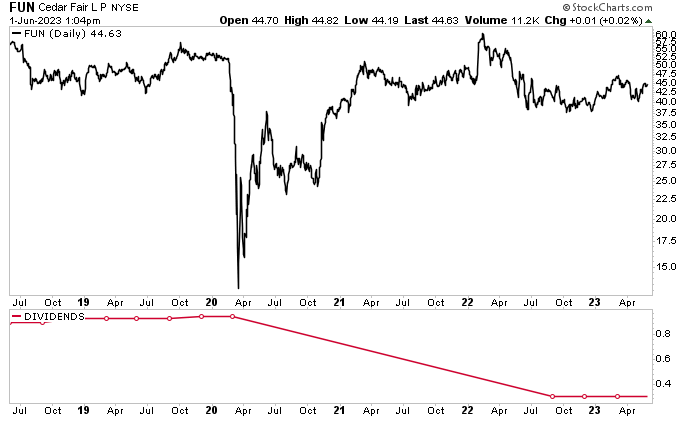 Chart courtesy of StockCharts.com
The Lowdown on Cedar Fair, L.P.
Cedar Fair is a great amusement park and water park company that's been taking full advantage of the reopening of the economy and people's pent-up demand for fun.
The company reported record 2022 results and expects to build on that momentum in 2023. Thanks to its strengthened balance sheet and free cash flow, Cedar Fair, L.P. was able to reinstate its quarterly distributions and announce two $250.0- million share repurchase programs.
If 2023 ends up being as great as expected for the partnership, I wouldn't be surprised if management raises FUN stock's quarterly distribution this year.