CCI Stock: A Top Dividend Stock You've Never Heard Of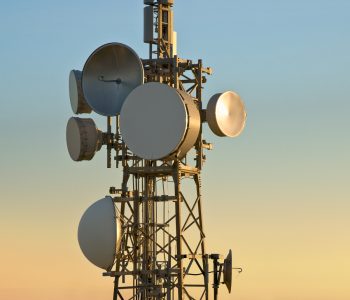 iStock.com/asdfgawe
Earn a 3.8% Yield from This Top Dividend Stock
Because of the ultra-low-interest-rate environment over the last several years, income investors have turned to dividend stocks. As a result, the share prices of the most well-known dividend-paying companies have already been bid up and their yields are no long attractive. In fact, the average dividend yield of S&P 500 companies is at just 1.9%. This makes today's top dividend stock look special, because it offers a yield doubling that: 3.8%.
Mind you, this is not some thinly traded micro-cap company with an unsustainable business model. Today's top dividend stock actually commands a market cap of over $36.0 billion and is a member of the S&P 500 Index.
I'm talking about Crown Castle International Corp. (NYSE:CCI).
Crown Castle is structured as a real estate investment trust (REIT), but the company is not your average REIT. It does not invest in apartments, office buildings, or retail shopping centers. Instead, Crown Castle focuses exclusively on wireless infrastructure.
Regular readers of this column would know that I'm a big fan of telecommunications companies. Because the industry has high barriers to entry, competition is limited. This allows existing players to make handsome profits year after year.
However, in today's America, the infrastructure owned by wireless carriers no longer provides enough capacity to service their customers. And compared to building and owning more infrastructure, it is cheaper for wireless service providers to lease infrastructure from other companies. As it turns out, Crown Castle is currently the largest provider of shared wireless infrastructure in the U.S.
The company owns and manages approximately 40,000 cell towers, representing around 91,000 installations. These assets are spread across strategic locations for wireless carriers. Approximately 71% of Crown Castle's cell towers are located in the top 100 markets in the country.
Cell towers are probably the most well-known type of wireless infrastructure for consumers. But sometimes they are not enough to meet the increasing demand for wireless connectivity. This usually happens in areas of high population density, such as residential neighborhoods, universities, and places with large crowds.
The good news is that Crown Castle can provide the much-needed help to solve this problem. This involves using something called small cell solutions, or SCS. An SCS network uses small nodes that are placed close to the ground, usually on existing infrastructure such as streetlights, signs, and utility poles. Crown Castle has been working with SCS for over 15 years and currently has 27,500 route miles of fiber supporting its networks.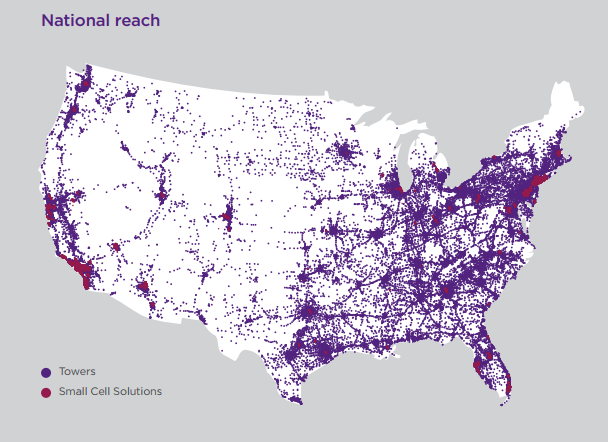 Source: "The Foundation for a Wireless World," Crown Castle International Corp, last accessed July 11, 2017.
In other words, this top dividend stock is backed by a business that's essential to today's consumers. What's more is that as the demand for wireless connectivity continues to grow, Crown Castle's business could get even better.
Think about it: almost everyone is using a smartphone these days. And in the future of the "Internet of Things," a lot more devices are expected to be connected. When that happens, all these devices will need to communicate with each other, sometimes over long distances. This could translate to increasing demand for wireless services providers. And to be able to meet the demand, wireless carriers will need infrastructure. As the biggest provider of shared wireless infrastructure in the country, Crown Castle's future business is almost guaranteed.
Furthermore, leasing out infrastructure is not the only business of this top dividend stock. Crown Castle also provides comprehensive site development services. If more cell towers needed to be built, it could turn out to be another catalyst for the company.
And don't forget that because Crown Castle is a REIT, it is required by law to distribute at least 90% of its profits every year to shareholders in the form of dividends.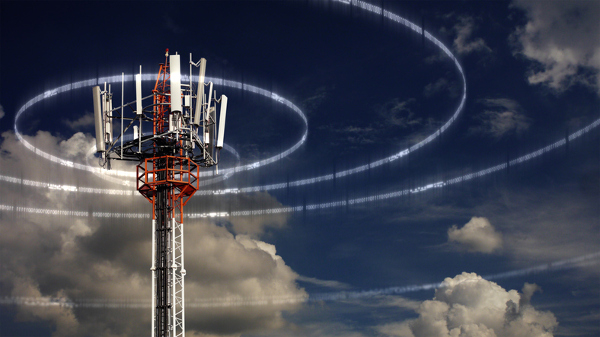 CCI stock currently pays $0.950 per share on a quarterly basis, translating to an annual dividend yield of 3.8%. Since the company started paying a dividend in March 2014, its quarterly dividend rate has increased 271%. (Source: "Common Stock Dividend History," Crown Castle International Corp., last accessed July 11, 2017.)
Earn a Safe and Steady Income from This Top Dividend Stock
Other than its impressive yield, Crown Castle stock also stands out when it comes to dividend safety. Due to the nature of the company's business of leasing out wireless infrastructure, a large portion of Crown Castle's revenue is recurring. By the end of the first quarter of 2017, Crown Castle's towers and small cells had a weighted average remaining customer contract term of six years. (Source: "Supplemental Information Package and Non-GAAP Reconciliations," Crown Castle International Corp, last accessed July 11, 2017.)
Also Read:
10 Best Real Estate Stocks to Own in 2017
These contracts also have specified price increases. In the first quarter, Crown Castle's site rental revenue grew seven percent year-over-year to $857.0 million. Adjusted funds from operations (AFFO) increased 14% year-over-year to $450 million. (Source: "Crown Castle Reports First Quarter 2017 Results and Raises Outlook for Full Year 2017," Crown Castle International Corp, April 24, 2017.)
Due to its solid financial performance, the company has raised its full-year outlook in site rental revenue, net income, and AFFO.
Growing financials will likely be the key to future dividend increases. This means for investors of this top dividend stock, the best could be yet to come.