CBRL Stock: Little-Known Restaurant Stock Raised Its Payout 292% in the Last 6 Years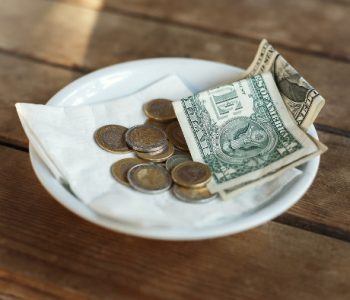 iStock.com/nastenkapeka
Consider This Restaurant Stock for Growing Dividends
Today's chart highlights a top dividend growth stock most investors haven't really considered, Cracker Barrel Old Country Store, Inc. (NASDAQ:CBRL).
Headquartered in Lebanon, Tennessee, Cracker Barrel is a southern country-themed restaurant chain that has been around for nearly 50 years. Compared to other restaurant chains, Cracker Barrel is unique in that a typical Cracker Barrel Old Country Store consists of not only a restaurant but also a gift shop. Right now, the company operates 647 Cracker Barrel locations in 44 states.
The restaurant industry is not in the best of shape. Quite a few restaurant chains have reported substantial declines in revenues and income. Some even consider 2017 to be the industry's worst year since the Great Recession of 2008. (Source: "The restaurant industry is in its worst tailspin since the recession," Business Insider, May 14, 2017.)
So why should investors consider a restaurant stock in this kind of industry environment? Well, because while the overall industry is experiencing a serious downturn, Cracker Barrel is raising its payout to shareholders at an impressive pace.
The chart below shows the company's regular dividend history for the past six fiscal years.
CBRL Stock Dividend History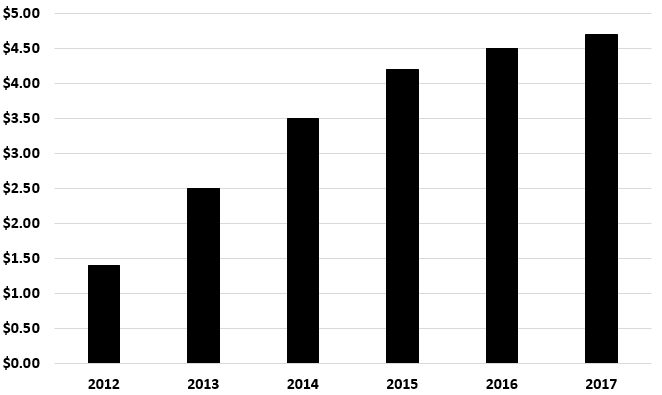 Source: "Dividends History," Cracker Barrel Old Country Store, Inc., last accessed December 4, 2017.
In the company's fiscal year 2012, Cracker Barrel's regular dividends totaled $1.40 per share. In fiscal year 2017, the company declared and paid regular dividends of $4.70 per share. That's an increase of 292%.
Also Read:
Collect a Growing Monthly Dividend of 4.7% From LTC Stock
At the increased dividend rate, Cracker Barrel offers an annual yield of 3.08%. While there are plenty of higher-yielding stocks trading in the market, keep in mind that the average dividend yield of all S&P 500 companies right now is just 1.81%.
Furthermore, the company has been rewarding investors with special dividends on top of its regular dividends. On May 23, 2017, Cracker Barrel declared a special dividend of $3.50 per share. While special dividends are usually known as one-time payments, note that the company has issued special dividends in each of the last three fiscal years.
Other than paying an increasing stream of dividends, the company also returns value to shareholders through stock buybacks. Unlike dividend payments, investors don't receive a check in the mail when Cracker Barrel repurchases its shares. Instead, buybacks reduce the number of shares outstanding, allowing each existing shareholder to own a slightly larger portion of the company.
With regular dividends, special dividends, and stock buybacks, Cracker Barrel returned $198.0 million in cash to shareholders in its fiscal year 2017.
The company is continuing its excellent track record. In September, Cracker Barrel's board of directors authorized a new share repurchase program of up to $25.0 million. (Source: "Cracker Barrel Old Country Stores, Inc. Declares Quarterly Dividend And Authorizes Share Repurchases," Cracker Barrel Old Country Store, Inc., September 29, 2017.)
And despite headwinds in the overall restaurant industry, Cracker Barrel still manages to grow its financials. In the company's fiscal year 2017, revenue grew 0.5% year-over-year to $2.93 billion. Earnings came in at $8.37 per share, representing a 10.9% increase from the year-ago period. (Source: "Cracker Barrel Reports Fourth Quarter And Full Year Fiscal 2017 Results And Provides Guidance for Fiscal 2018," Cracker Barrel Old Country Store, Inc., September 13, 2017.)
In the last three-year period, the company has grown its earnings per share by nearly 50%.
From Cracker Barrel's dividend history, it's easy to see that the company is committed to return cash to shareholders. With growing profits, the company will likely dish out bigger dividend checks in the future.