Caterpillar Inc.: What's Fueling These Massive Gains in CAT Stock?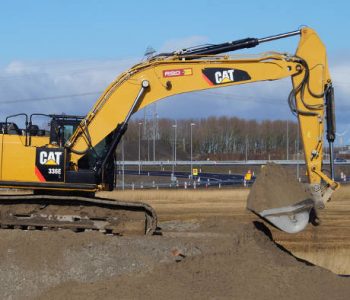 CAT Stock: Analysts Seeing a Bottom in Commodity Downturn
It's tough to find a business in the resource sector which is performing well in this commodity downturn. However, if you're looking for the first sign of a bottoming of the commodity downturn, then Caterpillar Inc. (NYSE:CAT) stock performance may give you a good idea.
Caterpillar stock is one of the best-performing stocks on the Dow Jones Industrial Average this year. It's surged more than 30% so far. while the Dow Jones 30-share index gained just five percent during this period. This stellar performance in CAT stock is confusing some investors who are still bearish on the resource and mining companies which buy Caterpillar's heavy equipment to run their projects.
So what's fueling gains in Caterpillar stock? I think that CAT stock's dramatic surge is coming from its biggest clients, who are becoming more optimistic after seeing many years of downturn which  forced them to slash their spending, sell assets and close operations.
Large mining companies Rio Tinto Limited, Fortescue Metals Group Limited. and Vale SA are expecting a better outlook for their products as commodities, including iron ore, have rallied in 2016. They've also gained from efforts to lower costs and strengthened their balance sheets.
For example, Rio Tinto, the world's second-largest mining company, is optimistic on the outlook for commodities demand in China after recent data pointed to a pickup in the construction market. (Source: "Caterpillar Machine Sales Continue Decline, Led by Latin America," Bloomberg, September 21, 2016.)
Caterpillar Stock: Business Restructuring Paying Off
Like its clients, Caterpillar itself has gone through a massive restructuring exercise to counter the cyclical downturn in its different business units, including cutting its workforce and shutting down more than 20 plants.
Since my last article on how Caterpillar's turnaround efforts are helping this heavy-equipment maker to weather this cyclical downturn, an increasing number of analysts have come up with similar observations.
This month, Deutsche Bank initiated CAT stock coverage with a "buy" recommendation and 12-month price target of $98.00, or another 10% surge from its current prices. The reason behind this bullish call, according to the bank's analysts, is that the market is generally not giving a due credit to Caterpillar management for its $2.25 billion in cost savings that it managed to accumulate over the past three years.
Another reason to be bullish on CAT stock, according to Deutsche Bank, is that the natural resources markets may have bottomed and it expects the industry to enter a growth phase through 2020. Amid this optimism, Caterpillar stock has been outperforming its competitors like General Electric Company (NYSE:GE). (Source: "Caterpillar (CAT) Stock Coverage Initiated at Deutsche Bank," TheStreet, September 7, 2016.)
For income investors, there are other solid reasons to be optimistic on this 90-year company's ability to emerge stronger from this downturn other than capital gains.  Caterpillar is a solid long-term investment with total shareholder return in the top 25% of the S&P 500.
Bottom Line on CAT Stock
Caterpillar stock offers a very attractive dividend yield of 3.5%, paying a quarterly cash dividend of $0.77 per share. This shows that the company has a strong balance sheet, even after several years of challenging market conditions.  Caterpillar has paid dividends to its stockholders for 22 consecutive years, doubling its cash dividend since 2007.
I think these ongoing gains in CAT stock aren't due to a short-term and speculative activity as many investors believe, but regardless, they provide us an early signal of a sustained recovery in commodity markets in which Caterpillar sells its products, including China and other Asian markets.  I think you wouldn't be wrong to pay attention to those analysts who are predicting a bottom in the commodity downturn cycle.