Caterpillar Inc.: Is CAT Stock Finally About to Plunge?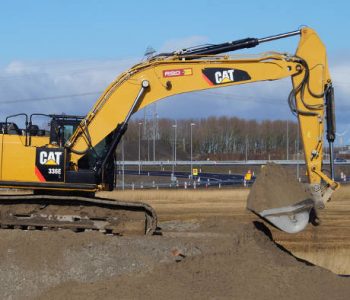 Despite slumping sales, rising costs, and strong sector headwinds, Caterpillar Inc. (NYSE:CAT) stock has managed to skyrocket more than 60% over the past year.
Makes sense, right?
Well, if you buy into the optimism over a rebound in energy and commodities, as well as the prospects of massive infrastructure spending by the Trump administration, then the run in CAT stock might actually have some legs. Of course, as income-oriented investors, we can't afford to bank on "green shoots" for our dividend checks. Instead, we need to take a cold, hard look at Caterpillar's fundamentals as they stand at the moment.
And with the company reporting fourth-quarter results on Thursday morning, now's as good a time as any.
Caterpillar Crawling Along
For the quarter, Caterpillar posted earnings per share (EPS) of $0.18, which easily beat the consensus by $0.17. Unfortunately, though, revenue declined 13% year-over-year to $9.57 billion, easily missing the average analyst by $270.0 million.
The problem? Once again, fragile economic conditions reared their ugly head, as weak energy prices continued to weigh on Caterpillar's transportation business, while soft North American demand continued to hurt the construction segment.
"Our results for the fourth quarter, while slightly better than expected, continued to reflect pressure in many of our end markets from weak economic conditions around much of the world," said Caterpillar Chief Executive Officer Jim Umpleby. "Our team did a great job in the quarter, as they have all year, aligning our cost structure with current demand while preserving capacity for the future." (Source: "Caterpillar Reports 2016 Fourth-Quarter and Full-Year Financial Results; Provides Outlook for 2017," Caterpillar Inc., January 26, 2017.)
Economic concerns even prompted management to offer downbeat guidance for 2017. The company now sees full-year EPS of $2.30 on revenue of $36.0 billion to $39.0 billion, which was a bit below the midpoint of guidance issued in December.
On the Bright Side
Fortunately for CAT stock owners, the quarter wasn't all bad. After all, the stock isn't exactly crashing—down only about 0.5% in midday Thursday trading—so investors are seeing some positives as well.
One bullish sign is that commodity prices, while not strong by any means, were at least higher than the year-ago period. That translated directly into parts sales improvements at Caterpillar's resource segment, suggesting that mining-related sales might have already bottomed. And although North American construction demand remains weak, Caterpillar's China sales rebounded in 2016. Meanwhile, Europe seems to have stabilized, giving Wall Street fair reason to be optimistic about a construction sales turnaround as well.
The Bottom Line on CAT Stock
Even with the tangible signs of a sales recovery coming out of Caterpillar's report, it's still really the Trump-fueled prospects for tax reform and infrastructure spending that seem to be driving CAT stock. So, while the 3.1% dividend yield on CAT stock looks enticing on the surface, I can't help but think that investors might do well to wait a bit before jumping in.
Add the fact that Caterpillar's dividend payout ratio is about 300%, and it's not too difficult to think of more attractive income opportunities. To be fair, Caterpillar does generate more than enough cash flow to support a rising dividend—the company has increased dividends for 23 years—but having extra-conservative dividend expectations for 2017 seems prudent and highly consistent with management's own cautious tone.