Caterpillar Earnings: Will CAT Stock Increase Its Dividend?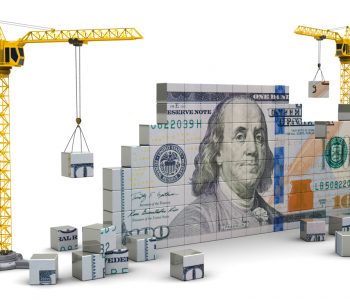 iStock.com/Madmaxer
CAT Dividend Hike Prediction
Dividend growth investors don't usually shop in cyclical industries, but they have been making an exception for construction equipment manufacturer Caterpillar Inc. (NYSE:CAT). Now, the company is reporting earnings again. Let's see what investors can expect from the latest CAT stock news.
Headquartered in Deerfield, Illinois, Caterpillar is one of the world's largest manufacturers of construction and mining equipment, diesel and natural gas engines, industrial gas turbines, and diesel-electric locomotives. The company operates through three main segments: Construction Industries, Energy & Transportation, and Resource Industries.
Caterpillar has a huge global presence. In 2016, the company generated 59% of its sales and revenues outside the United States. (Source: "2017 Caterpillar Fact Sheet," Caterpillar Inc., last accessed January 24, 2018.)
Of course, the construction business is notoriously cyclical. When a country's economy enters a downturn, construction activity can slow down considerably. And it's a similar story for the energy business. When commodity prices drop, like what happened in the summer of 2014, many energy companies had to cut back their production, and massive layoffs were not uncommon.
However, even with its sizable exposure to cyclical industries, Caterpillar managed to establish itself as one of the most solid dividend payers. The company has been paying increasing dividends for 24 consecutive years, and has more than doubled its payout since 2007. (Source: "Dividend History," Caterpillar Inc., last accessed January 24, 2018.)
Moreover, since Caterpillar started paying quarterly dividends in 1933, it has never missed a single payment. Just think about that: the world economy had plenty of ups and downs over the last eight decades, and there were quite few commodity price downturns. But none of those events stopped Caterpillar from returning cash to shareholders.
Will CAT stock increase its dividend again? Well, dividends come from profits. In order for a company to consistently raise its payout, it needs to have a growing bottom line.
Caterpillar Inc. is scheduled to report earnings on Thursday January 25, 2018, before the markets open. Here's what analysts are expecting:
Stats on CAT Stock
| | |
| --- | --- |
| Analyst EPS Estimate | $1.79 |
| Change from Year-Ago EPS | 115.7% |
| Revenue Estimate | $11.98 Billion |
| Change from Year-Ago Revenue | 25.1% |
| Earnings Beats in Past 4 Quarters | 4 |
Source: "Caterpillar Inc. (CAT)," Yahoo! Finance, last accessed January 24, 2017.

As you can see from the table above, Wall Street is pretty upbeat about Caterpillar's business. On average, analysts expect the company to generate $11.98 billion in sales in the fourth quarter of 2017, which would represent a 25.1% increase year-over-year. The bottom line is expected to improve even more; according to Wall Street's projection, Caterpillar would earn a net income of $1.79 per share for the December quarter, which would represent a whopping 115.7% jump from the $0.83 per share earned in the year-ago period. (Source: Ibid.)
The company also has an impressive track record when it comes to beating Wall Street's expectations. In the past four quarters, CAT stock has beat analysts' earnings per share (EPS) estimates every single time.
Thanks to better-than-expected earnings reports, the company's shares have been enjoying a nice rally. In just the last 12 months, Caterpillar stock price has surged 78.4%. This is particularly impressive when you take into account the fact that Caterpillar is a mega-cap company commanding more than $100.0 billion of market cap.
Will CAT Stock Increase Dividend?
Caterpillar currently pays quarterly dividends of $0.78 per share. Trading at $170.13 apiece, CAT stock has an annual yield of 1.83%. Based on the company's recent financial results, there's certainly room for another dividend increase.
In the first nine months of 2017, Caterpillar generated $32.6 billion in total sales and revenues, up 12.4% year-over-year. Excluding one-time items, adjusted earnings came in at $4.72 per diluted share. The adjusted EPS figure represented 83.0% increase from the year-ago period. (Source: "Caterpillar Reports Third-Quarter 2017 Results," Caterpillar Inc., October 24, 2017.)
Note that during the first nine months of 2017, Caterpillar paid three quarterly dividends totaling $2.32 per share. Given its total profits of $4.72 per share for the priod, the company had a payout ratio of just 49.2%.
Here at Income Investors, we prefer companies that pay out less than 75% of their profits. So CAT stock's payout ratio is well within our comfort zone.
Moreover, if Caterpillar's earnings report on Thursday meets Wall Street's expectations, it would have generated $6.51 of earnings per share for full year 2017. Since it paid total dividends of $3.10 per share in 2017, the company's payout ratio for the year would be an even lower 47.6%.
With growing sales and profits, and a low payout ratio, Caterpillar is well positioned for another dividend increase. The company has already declared its next dividend to be paid in February 2018; the amount of $0.78 per share will be the same as the previous payment.
If Caterpillar follows an annual review schedule for its dividend policy, its board of directors will likely look at the matter at some point in June. If everything goes well, CAT stock investors can expect a dividend increase in mid-year 2018.