CatchMark Timber Trust Inc: 4.5%-Yielding REIT Capitalizes on Strong U.S. Housing Market
Market-Trumping CatchMark Timber Stock Provides Reliable Dividends
The expression "can't see the forest for the trees" doesn't apply to CatchMark Timber Trust Inc (NYSE:CTT). If anything, the company understands just how valuable the forest is. CatchMark Timber is a specialty real estate investment trust (REIT) that invests in timberlands.
The company's prowess in a niche market has allowed it to produce stable, visible, high-quality cash flow. That helps juice the price of CTT stock and cover its dividends, no matter where we are in the business cycle.
As of this writing, CatchMark Timber stock is up by:
19% over the last six months
33% year-to-date
46% year-over-year
153% since bottoming in March 2020
For income hogs, CatchMark Timber Trust Inc provides reliable dividends that target 75% to 85% of its cash available for distribution.
In early August, the company's board of directors declared a quarterly cash dividend of $0.135 per share, or $0.54 on an annual basis. At the current price of CTT stock, that represents an annual dividend yield of 4.5%. CatchMark Timber stock's trailing annual dividend yield is 4.6%, and its five-year average dividend yield is 5.1%.
CatchMark Timber Trust Inc's high-yield dividend is no fluke. As a REIT, it has to distribute at least 90% of its taxable income to investors in the form of dividends.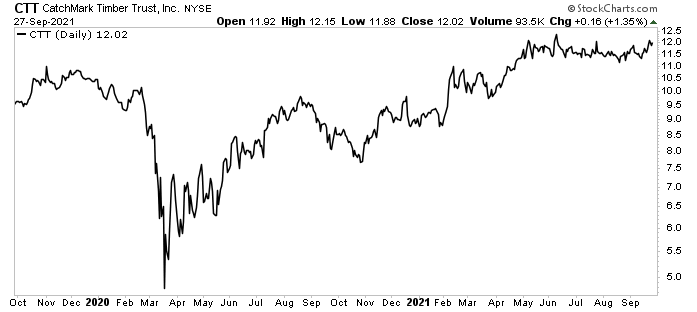 Chart courtesy of StockCharts.com
About CCT Stock
CatchMark Timber owns and operates timberlands in high-demand mill markets in the southern U.S. It acquires, owns, operates, manages, and disposes timberlands directly, through wholly owned subsidiaries, and through joint ventures. (Source: "Second Quarter 2021 Investor Presentation," CatchMark Timber Trust Inc, last accessed September 28, 2021.)
The REIT currently owns timberlands in Alabama, Georgia, Oregon, South Carolina, and Texas. The company's 371,000 wholly owned acres have 14.5 million tons of merchantable inventory. Its joint-venture 776,500 acres have 400,000 tons of merchantable inventory. The company also has interests in 1.2 million acres.
Roughly 90% of the REIT's timberlands are in two of the top five markets in the U.S. south. Thanks to strong relationships and supply agreements with a diverse customer base, 58% of its annual timber sales revenue comes from industry-leading customers.
Canfor Corporation: No. 6 lumber producer in the U.S.
Georgia-Pacific: No. 3 lumber producer in the U.S and No. 3 U.S. pulp/paper producer
Interfor U.S.: A top 5 U.S. lumber producer
International Paper Co: World's largest pulp and paper company
Norbord Inc.: No. 1 producer of oriented strand board in North America
Resolute Forest Products: Top-tier forest product company
West Fraser: No. 2 lumber producer in the U.S.
WestRock Co: No. 2 packaging company in the world based on revenue
CatchMark Timber Trust Inc also maintains long-term supply agreements with blue-chip mill operators, which represented 21% of the company's total harvest volume in 2020.
Because its timberlands are located in high-demand mill markets, the REIT consistently outperforms regional averages. That allows it to deliver durable returns for CatchMark Timber stockholders.
Since its initial public offering (IPO) in 2013, the company's revenues have expanded at a compound annual growth rate (CAGR) of 18%. Meanwhile, its adjusted earnings before interest, taxes, depreciation, and amortization (EBITDA) have grown at a CAGR of 47%.
CatchMark Timber Trust Inc has increased its merchantable inventory by 11.8 million tons and has grown its harvest productivity from 4.1 tons per acre in 2014 to 5.5 tons per acre in 2020. The REIT has increased its annual harvest by 152% to 2.3 million tons and has increased its acreage under control and management by five times.
Moreover, the company has expanded its investment management platform. That is, it grew its asset management fees from $100,000 in 2017 to $12.2 million in 2020.
CatchMark Timber Sells $497-Million Property; Raises Net Income Guidance
In addition to making strategic acquisitions, CatchMark Timber sells its land to take advantage of buyer demand and augment its overall portfolio returns.
In August, the company completed the sale of 18,063 acres of land in Oregon for $100.0 million in cash, or $5,536 per acre. CatchMark Timber had purchased the property for $88.0 million, or $4,916 per acre. The company recognized a gain on the sale of approximately $23.0 million. (Source: "CatchMark Completes $100 Million Sale of Oregon Timberlands to Roseburg Resources Co." CatchMark Timber Trust Inc, August 11, 2021.)
Thanks to that sale, CatchMark Timber increased its guidance for full-year net income to the range of $13.0 to $17.0 million. It didn't make any further adjustments to its full-year 2021 guidance.
CatchMark's president and CEO, Brian M. Davis, noted, "Coming off an exceptionally strong second quarter when we generated record revenues, cash from operations, and adjusted EBITDA and our second highest quarter of net income, this disposition demonstrates our ability to execute accretive capital recycling transactions and further strengthens CatchMark Timber's capital position." (Source: Ibid.)
On September 1, the company's TexMark Timber Treasury, L.P. (aka Triple T) joint venture completed the sale of 300,000 acres of timberland in East Texas for $497.0 million in cash. The sale represents a small portion of the 1.1 million acres in East Texas owned by Triple T. (Source: "CatchMark's Triple T Joint Venture Completes Sale of 300,000 Acres of Prime East Texas Timberlands," CatchMark Timber Trust Inc, September 1, 2021.)
Record Q2 Results
For the second quarter, CatchMark Timber announced that its revenue jumped by 47% year-over-year to $31.9 million. The company recognized net income of $1.8 million, or $0.04 per share, a big improvement over the second-quarter 2020 net loss of $6.4 million, or $0.13 per share. (Source: "CatchMark Announces Strong Second Quarter 2021 Results, Reports Significant Progress on Strategic Initiatives, Declares Dividend," CatchMark Timber Trust Inc, August 5, 2021.)
The REIT's adjusted EBITDA came in at a record $17.6 million, an 86% increase over its second-quarter 2020 adjusted EBITDA of $9.4 million.
During the second quarter of 2021, the company sold 4,300 acres, which were 3,200 acres more than what it sold in the second quarter of 2020—and at an 11% higher average price per acre: $1,743 versus $1,564 in second-quarter 2020. In the 2021 second quarter, CatchMark Timber Trust Inc completed nearly 80% of its full-year 2021 timberland sales target. That means the company is on course to meet its sales guidance for 2021.
The REIT maintained its solid capital position in the quarter, with more than $180.0 million of liquidity from a combination of credit facilities and cash on hand as of June 30.
Also in the second quarter, CTT stock paid out $6.6 million in distributions to shareholders. That amount was fully covered by net cash provided by operating activities.
Davis commented, "CatchMark delivered an exceptionally strong quarter, as we continue to capture significantly higher pricing for both pulpwood and sawtimber from premier timberlands in our U.S. South markets." (Source: Ibid.)
The company believes the timber market will continue to deliver pricing premiums. The situation will be helped by heightened production in the southern U.S. from new sawmills coming online over the next 18 months to meet the increased demand for lumber products by the U.S. housing industry.
The Lowdown on CatchMark Timber Trust
As explained above, CatchMark Timber Trust Inc is a specialty REIT that delivers stable and growing cash flow from its prime U.S. timberlands.
That helps the company cover CCT stock's high-yield dividends and create long-term shareholder value.