CAT Stock: Is Caterpillar Inc. Turnaround Plan Working?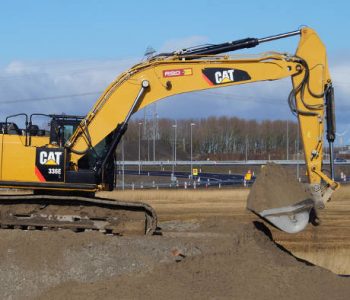 CAT Stock Benefits From Commodity Rebound
Income investors had a tough time in believing the turnaround story of Caterpillar Inc. (NYSE:CAT) stock in late 2015, when the company's mining, energy, and infrastructure customers drastically cut back on their spending to cope with a worst commodity downturn in more than two decades.
Caterpillar stock lost 23% of its value in the fall of 2015 as investors feared that after several years of negative growth in sales, dividend payouts might come under pressure as commodity and energy markets showed no signs of reversing.
And Caterpillar's receding growth in dividend increases further fueled these jitters. As sales came under pressure, the company's dividend increases declined from 15% in 2013 to 10% in 2015. (Source: "Building For A Stronger Future, Caterpillar Announces Restructuring And Cost Reduction Plans," Caterpillar Inc., September 24, 2015.)
Caterpillar responded with cost reductions and announcing 10,000 layoffs in the fall of 2015. The construction and mining equipment maker predicted that 2016 would mark the first time in the 90-year history of CAT stock that investors would see sales dropping for four years in a row.
Caterpillar's restructuring plan involved shutting down more than 20 plants in its construction, resource industries and energy & transportation segments, reorganizing the company's mining and energy businesses, and eliminating thousands of jobs. (Source: Ibid.)
Despite this gloomy forecast, Caterpillar stock surged 20% this year, outperforming the Dow Jones Industrial Average by more than three times. CAT stock is the top-performing stock among the Dow Jones' 30 listed companies, beating technology giants such as Apple Inc. (NASDAQ:AAPL) and International Business Machines Corporation (NYSE:IBM).
CAT Stock: Gross Margins Improving
So what has changed in the past year that convinced dividend investors to invest more faith in Chief Executive Officer Doug Oberhelman's turnaround plan?
I think there are two major factors which are brightening the outlook for Caterpillar stock and improving the case for a possible demand revival of its engines, giant trucks, and shovels.
First, there are clear signs that Caterpillar's restructuring efforts have started to yield positive results. Though the company's sales have consistently been falling and there is no meaningful improvement in the world's economic outlook, Caterpillar's cost-cutting initiatives have improved its gross margins each year since 2013.
For the quarter that ended on June 30, Caterpillar posted better-than-expected earnings. Second-quarter profit fell to $0.93 a share from $1.31 a year earlier. Excluding one-time items, the company earned $1.09 a share, beating the $0.96 average forecast of 17 analysts' estimates. (Source: "Caterpillar Reports Second-Quarter 2016 Results," Caterpillar Inc., July 26, 2016.)
Caterpillar has also been successful in delivering its promise to investors that it will match any decrease in sales by cutting costs so that the decline in operating profit is no more than 25% to 30% of the decline in sales and revenues.
Second, a bull market in commodity prices since June is signaling that the worst is probably over for Caterpillar's mining clients, who have grown more optimistic in the past couple of months on the demand outlook.
For example, Newmont Mining Corporation (NYSE:NEM) and AngloGold Ashanti Ltd. (JSE:ANG), have both indicated that the turning point in the mining sector's downturn cycle is near after years of cost-cutting and restructurings efforts.
Newmont Mining beat earnings estimates by more than 50% as the world's second-largest gold producer produced more of the metal at lower costs and sold it at higher prices. (Source: "Newmont Tops Forecasts on Higher Gold Prices, Production," Bloomberg, July 20, 2016.)
This bodes really well for Caterpillar stock.  A rebound in commodity prices and internal restructuring will lay a solid ground for a sustained improvement in the company's profitability, even though it may take years to reach those commodity price levels we last saw in early 2014.
"Our balance sheet and operational performance are strong, even after several years of challenging market conditions," Oberhelman reassured investors while announcing the second-quarter earnings. "We are maintaining an attractive dividend for our stockholders and positioning the company for growth once our markets rebound."
Bottom Line on Caterpillar Stock
Rally in Caterpillar stock shows investors believe in the company's turnaround strategy. The rally in Caterpillar stock suggests that investors are very optimistic about the company's ability to maintain its dividend yield despite the challenging commodity prices. Trading at $82.00 and with a dividend yield of around four percent, there is a good chance that CAT stock is well positioned to benefit from a rebound in commodity prices and a brighter economic outlook in both the U.S. and China.