3 "Cash Cow" Dividend Stocks Yielding Up to 21%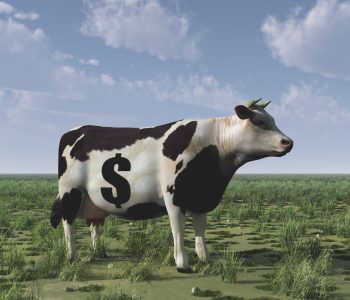 iStock.com/bestdesigns
You Can Milk These Dividend Stocks for Bigger Yields
If you want to earn more income in the stock market, then you want to invest in this quiet niche: "cash cows."
Regular readers know I write about these firms often. The companies represent mature businesses that owners can milk for ongoing dividends.
Think of industries like toothpaste, pipelines, or cigarettes. These firms don't have a lot of growth prospects, but they still gush cash flow. As a result, some of these stocks pay yields as high as 21%.
Let me highlight three of my favorite cash cow dividend stocks.
BP Prudhoe Bay Royalty Trust
BP Prudhoe Bay Royalty Trust (NYSE:BPT) owns a collection of oil wells in Alaska. But unlike most energy companies, BP Prudhoe doesn't explore for new sources of oil. Instead, management choose to milk their existing operations, paying out every dollar of profits to shareholders.
Because executives spend nothing on exploration, BPT pays one of the biggest yields around. The trust has a trailing payout of 21.3%. That payout could grow following the recent uptick in oil prices.
BPT stock's payments, of course, will fluctuate with the energy market. The trust's oil wells will go dry eventually. Based on current reserve estimates, management expects to keep pumping out oil until 2022. But if you understand the risks upfront, this firm ranks as one of the more attractive dividend stocks.
Las Vegas Sands Corp.
They say "the house always wins." And in the case of Las Vegas Sands Corp. (NYSE:LVS), you literally own the house.
The company's business model is pretty simple to wrap your head around. Las Vegas Sands Corp. owns several casinos around the world, including "The Venetian," "The Palazzo," and "Sands Bethlehem." Every time a gambler bets a dollar, management expects to pay out $0.95. That house edge adds up to a substantial income stream, in addition to profits from restaurants, shopping, and hotel bookings.
Back in the 1990s, this company represented the best growth story in the gaming business. After expanding into Macao, Singapore, and Las Vegas, the firm became the world's largest public casino owner.
Today, Las Vegas Sands Corp. has few growth opportunities on the horizon. And that's fine. The business has quietly become a cash flow machine, paying out billions to shareholders in dividends each year. Management spent years building a casino empire. Now it's time to kick back and cash in on all of that hard work.
Annaly Capital Management Inc
Mortgage real estate investment trusts (mREITs) represent one of my favorite income streams. Like their name implies, these firms borrow money from investors and plow the proceeds into mortgages. This business model resembles the investment strategy of traditional banks.
The difference is that mREITs have no ATMs, branches, or tellers. As a result, almost every dollar of interest income flows straight to the bottom line. And because these partnerships pay little corporate income taxes, they often pay out some of the highest yields around.
My favorite? Annaly Capital Management Inc (NYSE:NLY). This mREIT sticks to residential mortgages backed by the U.S. government. As a result, investors don't have to worry about default risk. And with a yield topping 12.3%, income hunters should give this dividend stock a second look.