This "Cash Cow" Dividend Stock Yields 10.8%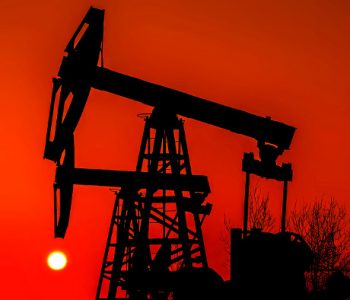 iStock.com/esal78
Milk This Stock for a 10.8% Yield
If you're searching for safe, large yields, this niche of dividend stocks may be worth a second look: cash cows.
In business jargon, cash cows amount to mature operations. Because these firms have limited growth prospects, owners often milk these businesses for dividends.
No, these types of companies don't get a lot of airtime on TV. But for income investors, they represent sources of reliable, oversized yields. It's not uncommon to find cash cow businesses with payouts anywhere from a high 10% to an even higher 15%.
Take Tallgrass Energy Partners LP (NYSE:TEP). The firm owns thousands of miles of energy pipelines, in addition to a number of terminals and processing plants. And while new routes present a major headache to construct, a completed pipeline resembles one of the best businesses in the world, especially if you like earning globs of dividends. Here's why.
To begin with, pipelines generate an annuity-like stream of income.
Tallgrass collects a fee for every barrel of oil that flows through its operations. And while the prices of these barrels change wildly from year to year, the total volume of crude moving through the network stays steady.
And once the pipelines are underground, the ongoing costs come in at a fraction of the sales revenue. Pipelines require little maintenance or labor; they just sit there, delivering oil to customers and paying out dividends to owners.
Those cash flows tend to increase year in and year out.
Volumes grow slowly but relentlessly over time. And thanks to the surge of energy output across the United States, the partnership's network runs at almost full capacity.
Tallgrass also has the ability to raise tariffs. Even if you can get the needed government rights-of-way, a new pipeline can cost billions of dollars. So, without much in the way of competition, Tallgrass can raise prices by four or five percent annually.
For investors, this has created quite the income stream.
Right now, units pay out a quarterly distribution of $0.96 each. That comes out to an annual yield of about 10.8%.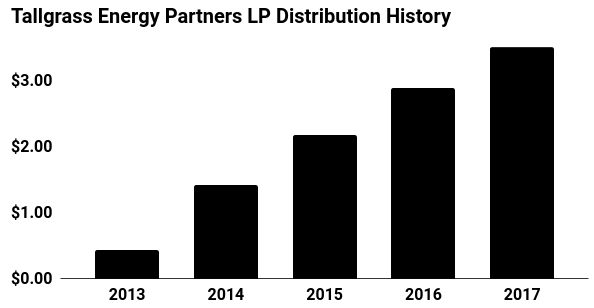 (Source: "Distributions," Tallgrass Energy Partners LP, last accessed March 23, 2018.)
That payout will likely keep growing. The partnership shot the lights out in 2017, with earnings, cash flow, and distribution coverage all hitting the high end of management's guidance.
Executives see the profits—and by rough extension, the distribution—increasing at a seven- to nine-percent annual clip, driven by acquisitions, growing pipeline volumes, and higher fees on existing routes.
In other words, it's not the "sexiest" investment out there. In an age of cryptocurrencies and hot tech plays, stodgy pipelines don't get a lot of media coverage, after all. But for those looking for steady income, take a second look at cash cow businesses like Tallgrass.