Carnival Corp: Why CCL Stock Could Have a Strong Year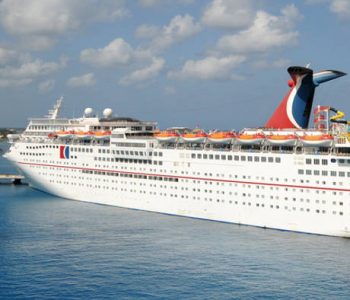 CCL Stock: Strong Third-Quarter Results
If you've ever taken a cruise, you may have sailed on one of Carnival Corp's (NYSE:CCL) ships. If you're looking for an investment rather than a cruise, Carnival stock may still be your choice. CCL stock just announced better-than-expected results. Even further, it expects healthy performance through the rest of the year. Both are indications of value growth for shareholders over the long term.
Carnival Corp's recently announced its third-quarter results, slightly beating estimates. The Miami-based company posted revenue of $5.1 billion over the period, a 4.4% gain compared to the previous corresponding period and a record for the company. While revenue grew moderately, profit surged; CCL stock saw its profit rise 17% to $1.42 billion, or $1.93 per share. The company said low fuel costs and strong demand helped to increase profit and keep overhead down. (Source: "Carnival Corporation & plc Reports Record Third Quarter Earnings," Carnival Corporation, September 26, 2016.)
While revenue and profit are strong indicators, income investors should take note of earnings per share (EPS) and dividends as well. CCL stock posted EPS of $1.93, a 23.7% jump compared to a year ago. The company also recently paid out a quarterly dividend of $0.35 per share, representing a $1.40 annualized dividend and a yield of 2.96%. While Carnival stock doesn't have the highest dividend around, it is somewhat above the current average dividend yield of 2.07% found on the S&P 500. Moreover, shares of Carnival stock may be set for strong growth through the remainder of the year. (Source: "S&P 500 Dividend Yield," Multpl, last accessed September 27, 2016.)
In its earnings report on Monday, Carnival stock raised its forecast for the fiscal year ending in November. The company now predicts EPS of $3.33 to $3.37, compared to its previous estimate of $3.25 to $3.35.  Going into the fourth quarter and the end of the fiscal year, Carnival noted in its third-quarter earnings report that cumulative bookings over the first six months of the year have risen above last year's, but the bookings sold at a much higher rate. Arnold Donald, the president and chief executive officer of Carnival, also said in the report that CCL stock is on track to deliver 25% earnings growth in 2016. (Source: Carnival Corporation, September 26, 2016, op cit.)
The company's executives are not the only people with a positive outlook. Analyst's ratings at The Wall Street Journal have mostly given Carnival stock a "buy" recommendation, with 13 recommending "buy," one recommending "overweight," six recommending "hold," and one recommending "sell." (Source: "Carnival Corp.," The Wall Street Journal, last accessed September 27, 2016.)
These analysts' ratings were pulled before the company's recent earnings announcement. Shares of Carnival stock closed on Monday, September 25 down 1.67% at $46.47 per share. CCL stock is trading below its yearly and all-time high of $54.68 per share, but has gained some ground after plummeting from its peak in the first quarter of the year.
The Bottom Line on Carnival Stock
Income investors will have to watch CCL stock closely. While the company's dividend isn't the greatest around, market sentiment is generally bullish for Carnival stock. It has raised its dividend some over the past few quarters, but it didn't mention any dividend increases in its most recent report. However, Carnival stock currently has strong fundamentals and forecasts for the company look strong as well.