Canadian Pacific Railway Reports Soaring Profits, Hikes Dividend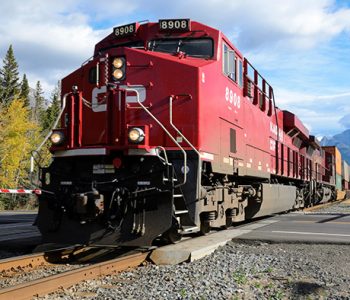 CP Rail Hikes Dividend 43%
The turnaround at Canadian Pacific Railway Limited (NYSE:CP, TSE:CP) has turned the company into a cash flow machine, allowing management to hike CP's dividend and buy back shares.
On Wednesday, the company announced another round of record financial results. CP reported a record first-quarter operating ratio—a key measure of efficiency for railways, where a lower number is better—of 58.9%, down 430 basis points year-over-year. (Source: "CP reports record Q1 results," CP Investor Relations, April 20, 2016.)
This translated into record profitability for the railroad. For the first quarter ending March 31, the company earned $540 million, or $3.51 per diluted share. This was up from a profit of $320 million, or $1.92 per diluted share, during the same period last year.
"The precision railroading model works in all economic environments," Chief Executive Hunter Harrison wrote in the company's press release. "Despite weakness in the economy and volume headwinds, we focused on what we can control—our costs and our commitment to providing reliable service—and delivered a record performance." (Source: Ibid.)
For Harrison, the quarter marks the completion of a successful turnaround at CP. Tapped by shareholder activist Bill Ackman in 2012, Harrison has cut costs, trimmed the company's headcount, and pushed executives to streamline operations. The payoff has been record profitability, allowing the company to leapfrog the competition on almost every measure of business performance.
Shareholders have been the biggest winners.
Since Harrison took over as CEO, CP stock has soared 55%. The company has been one of the best performers in the railroad industry and the broader Toronto Stock Exchange.
Along with Wednesday's results, management also announced they would hike the company's dividend and launch a major new share buyback program. According to the press release, executives plan to increase the distribution 43% and buy back 6.91 million shares.
Where CP goes next, though, is still an open question.
Most of the easy gains are behind it, given railcars are operating near full capacity and there's little room to cut payrolls further. CP has attempted to grow through acquisitions. However, its recent attempts to buy out rivals CSX Corporation and Norfolk Southern Corp. were both rebuffed.
"Yeah, it's frustrating, but I would predict post-Harrison it's going to happen," Harrison told analysts during the conference call. "We just have to develop a little patience, which I'm not really endowed with, but it'll happen one day soon." (Source: "Canadian Pacific Railway hikes dividend 43% and launches $1.3 billion share buyback," National Post, April 20, 2016.)
Consolidation, Harrison believes, is necessary to reduce congestion and improve service, but it won't happen before he leaves the company in 2017.