Can You Trust Simon Property Group Inc's 7.6% Yield?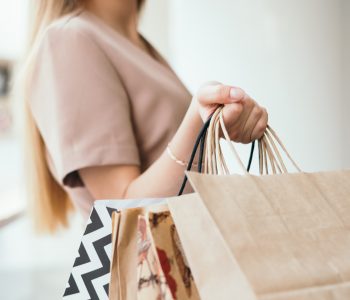 Is Simon Property Group Inc's 7.6% Yield Safe?
If you want to earn better investment returns, sometimes it pays to pick through a hated corner of the stock market: dividend cutters.
Now, I know what you might be thinking. If a business cuts its distribution, it usually signals that something has gone wrong. The thing is, these events often cause investors to stampede for the exits all at once, which can sometimes allow us to scoop up great assets on the cheap.
Take shopping mall landlord Simon Property Group Inc (NYSE:SPG), for instance. The COVID-19 lockdown has hammered the retail business. And earlier this year, Simon Property cut its distribution by more than a third in order to conserve cash.
But here's the thing: thanks to a plummeting stock price, SPG stock now yields almost eight percent. And that could mean an opportunity for prospective investors.
Let's dive into the numbers.
First off, Simon Property Group Inc's mall business still generates plenty of cash flow.
For full-year 2020, analysts project that the business will generate $6.00 per share in fund flows from operations, a common measure of profitability in the real estate business. And based on its current distribution, Simon Property Group stock is on track to pay out $5.20 a share in dividends.
Generally, I like to see businesses pay out 90% or less of their profits as distributions. That leaves management with a little bit of financial wiggle room to keep making payments in the event of a downturn.
In the case of Simon Property Group Inc, the payout ratio comes out to 86%. That sits well within my comfort zone.
SPG stock's dividend safety also comes from another important factor: the company's strong balance sheet.
At the end of the second quarter, Simon Property had only $1.40 in debt for every dollar of equity. By comparison, rivals like Macerich Co (NYSE:MAC) and Taubman Centers, Inc. (NYSE:TCO) typically have more than double that amount of debt on their books.
As a result, Simon Property Group Inc pays far less in interest than its peers. That leaves management with a lot more flexibility than its peers to navigate the current economic crisis.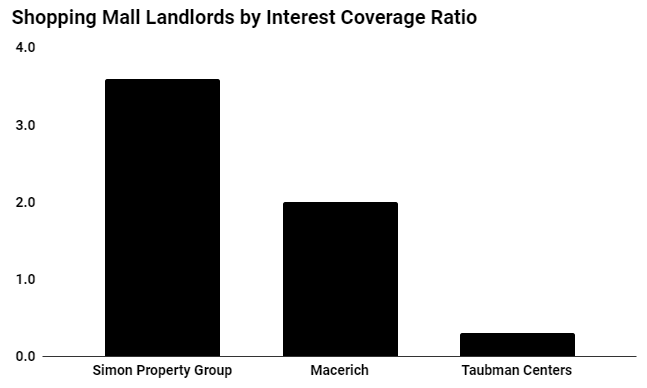 (Source: Various financial statements, last accessed August 17, 2020.)
Of course, you can't call Simon Property Group stock a slam dunk.
Short-term, an extended COVID-19 lockdown could hurt mall landlords. Further out, the industry faces ongoing challenges from the growth of e-commerce.
That said, Simon Property Group has once again positioned itself better than its peers. The company's portfolio includes a large number of open-style malls, which have started to reopen faster than the enclosed-type malls. With the economy poised to further reopen in the coming months, Simon Property should see its cash flow return somewhere close to normal.
Furthermore, Simon Property Group Inc's management has started consulting with Amazon.com, Inc. (NASDAQ:AMZN) to convert vacant space into distribution centers. If successful, this could unlock an enormous amount of value from the company's portfolio and provide a catalyst for its share price.
So what's the bottom line? SPG stock's 7.6% yield looks safe for now.