Can the U.S. Stock Market Handle Another Interest Rate Hike?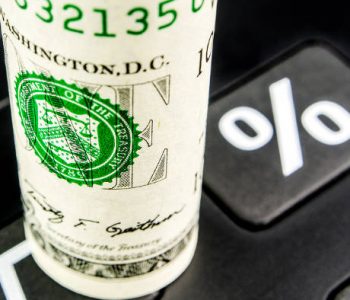 Fed Officials Calling for a Rate Hike
Interest rates are going to be a focal point for the remaining of 2016. The U.S. Federal Reserve seems to be ready to raise interest rates again, but the stock market doesn't seem to be ready.
Even though the Fed has yet to make another rate hike since last December, a number of Fed officials have been calling for one. Last month, San Francisco Fed President John Williams said that, "In the context of a strong domestic economy with good momentum, it makes sense to get back to a pace of gradual rate increases, preferably sooner rather than later." (Source: "Longview: The Economic Outlook," Federal Reserve Bank of San Francisco, August 18, 2016.)
Also in August, New York Fed President William Dudley said that the U.S. economy could grow more than two percent in the second half of 2016, and that, "we are edging closer toward the point in time when it will be appropriate to raise rates further." (Source: "Fed's Dudley Is upbeat on outlook for growth and jobs," MarketWatch, August 18, 2016.)
And then you have Kansas City Fed President Esther George, who is a voting member on the Federal Open Market Committee (FOMC). During the Fed's annual Economic Symposium at Jackson Hole, Wyoming, George said, "I do think it is time to move that rate." (Source: "Fed's Esther George: Interest rates should go higher, but gradually," CNBC, August 25, 2016.)
Of course, no one can really say when exactly the Fed is going to raise rates. However, one thing is for sure: once another rate hike happens, the U.S. stock market won't take it well.
There are many reasons why the stock market looks extremely vulnerable right now. For one, not that long ago, both the S&P 500 Index and the NASDAQ Composite surpassed their all-time highs. When thing go south, it's not unusual to see investors selling the tickers that went up a lot. And since a lot of stocks had solid gains in recent months, things could get extremely ugly once a sell-off starts.
Another factor why the market could turn sour very quickly is the lack of volatility in the past several months. You see, many institutional investors use systematic strategies that make asset allocations based on volatility levels. Since the Brexit vote result, volatility has been quite low for the most part. This led to investors loading up on stocks.
However, the same strategy that brought inflow into equities could also bring outflow. When a rate hike happens and volatility starts to rise, those systematic investment strategies could trigger a huge sell-off in the stock market.
Brace for Another Rate Hike
So is it time to give up on U.S. stocks completely?
Not so fast. If your goal is to make short-term capital gains, you'll have to face a huge amount of uncertainty going forward. But if you are an income investor, and have put your eggs into different baskets of dividend paying companies with wide economic moats in their respective fields, your investment goals can still be achieved.
And that's how it should be, really. You already worked hard making your money. Why do you have to worry about the timing and market conditions to get a return?
Of course, there are early-stage companies that are yet to be profitable enough to distribute their earnings. And it's okay for them not to pay dividends at the moment. You can invest in them, hoping that at some point they will distribute some of their earnings to shareholders, but note that stocks are not bonds, and companies—even profitable ones—are not under the obligation to make payments to investors on a regular basis. In fact, there are hugely profitable businesses that pay no dividends at all.
That's why for today's income investors, dividends are a necessity rather than a luxury. You might miss the exciting returns from high-momentum Internet names in the short term, but in the long run, you get the luxury of a growing stream of income rather than being humbled by the sentimental nature of "Mr. Market."