You Can Still Earn Safe 7% Yields in This Stock Market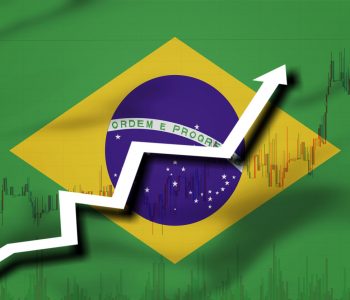 iStock.com/Iurii Garmash
This Country's Stock Market Still Pays Safe, High Yields
The U.S. stock market has surged.
The S&P 500 index has jumped 10% over the past year. That represents one of the best performances of any country worldwide.
But another stock market has done even better. Over the same period, this nation's index has increased 41% in value. Yet history suggests that it has a lot more upside ahead.
And the best part? Investors in this country can still lock in safe, high yields. Some of these blue-chip stocks pay out yields as high as seven percent.
Let me explain.
Today's opportunity comes from one of the most hated countries among investors: Brazil.
In 2015 and 2016, the nation plunged into a brutal two-year recession. That episode saw the country's economy contract by seven percent.
Analysts blamed the downturn on widespread corruption, low commodity prices, and runaway government deficits.
Regardless of the exact reason, investors paid the price. The Brazilian real lost more than half of its value relative to the U.S. dollar. The nation's stock market, as measured by the iShares MSCI Brazil Index ETF (NYSEARCA:EWZ), plunged more than 50%.
But that story has started to change.
Last year, far-right president Jair Bolsonaro took office. The politician has received widespread criticism for his divisive election campaign and populist policies.
But one group has remained steadfast in its support for Bolsonaro: businesspeople.
Once in power, the president delegated all economic decisions to "super-minister" Paulo Guedes, a free-market economist popular among the business establishment. His plan to revive the economy includes tax cuts, pension reform, and reducing red tape.
Privatization is a pillar of Guedes's plan. Selling off several government-owned businesses, he believes, will encourage these institutions to be run more efficiently. These measures are also expected to raise much-needed funds to pay down the federal debt.
Investors have taken notice.
Over the past year, the Brazilian stock market has rallied 41%. Its index held up well through May and June, even as global equities sold off amid trade-war fears.
That has helped Brazilian stocks outperform U.S. equities over the past 52 weeks. You can see the spread between these two stock markets in the chart below, with Brazil in black and the U.S. in blue.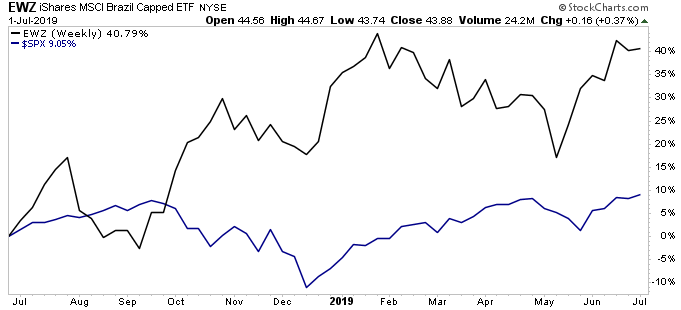 Chart courtesy of StockCharts.com
And this could just be the beginning.
Today, Brazilian stocks trade at 14-times forward earnings. By comparison, U.S. equities sell for almost 21-times next year's estimated profits.
For context, this represents the widest valuation gap in decades. We haven't seen Brazilian stocks trade at this big of a discount since 2003. Over the following five years, the nation's stock market delivered a total return of over 900%, crushing U.S. equities over the same period.
I doubt Brazilian stocks will repeat that performance this time around. But if Guedes can implement his reforms, it could provide a jolt for the country's economy and corporate profits. That would be a major catalyst for stocks, possibly closing much of the discount.
Income hunters can also fund opportunity here.
Today, the average Brazilian stock pays a dividend yield of 2.5%, almost twice as much as the average company in the United States. And for investors willing to do some extra digging, it's not difficult to find blue-chip businesses paying much more.
If you're interested in participating in Brazil's stock market, you can do so by buying shares of EWZ. This exchange-traded fund is the simplest way to invest in Brazilian stocks.
Alternatively, you could consider blue-chip Brazilian dividend stocks listed on U.S. exchanges. My favorites include beverage-maker Ambev S.A. (NYSE:ABEV), local telecom Telefônica Brasil S.A. (NYSE:VIV), and banking giant Banco Bradesco S.A. (NYSE:BBDO).
Brazil is one of the last stock markets on Earth to lock in a safe, high yield.