Can This 7% Yield Possibly Be Safe?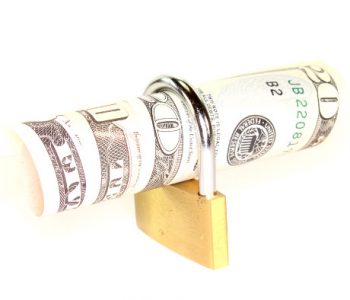 iStock.com/MarenWischnewski
This Monthly Dividend Stock Yields 7%
Over the past decade, few businesses have paid out higher yields than business development corporations (BDCs).
Big banks have turned their back on small-town America. With all of the new regulations, bankers only want to lend to their largest customers.
That's good news for BDCs, as these firms have rushed in to close the gap left in the marketplace. And with little in the way of competition, lenders have earned themselves outsized profits.
One such example is Main Street Capital Corporation (NYSE:MAIN). The company has craved out a lucrative niche, offering customized loans to mid-sized businesses. Income investors have also taken notice, given shares pay out a dividend yield over seven percent.
Also Read:
Top 9 Stocks That Earn Monthly Dividends
Of course, eyebrows go up any time you see such a big distribution. So can Main Street Capital maintain such a generous dividend? Let's dig into the financials.
This payout looks reasonably safe, first off.
Through the first nine months of 2017, Main Street saw of net increase in assets–the industry's preferred measure of business performance–of $1.94 per share. Over this period, executives paid out $1.66 per share in regular monthly dividends. Management then paid out their remaining profits in two special distributions paid semi-annually.
I really like this policy. Investors receive a predictable stream of income. Special distribution also leaves the company with some flexibility, which automatically grows or shrinks depending on the health of the business.
Better still, those dividends will likely continue to increase.
Management continues to expand their lending business. And thanks to the strong economy, Main Street has benefited from lower defaults.
This has created a bulging income stream. Net investment income hit $34.0 million last quarter, up 11% year-over-year. Over the next five years, analysts project earnings will grow at around a mid-teen clip.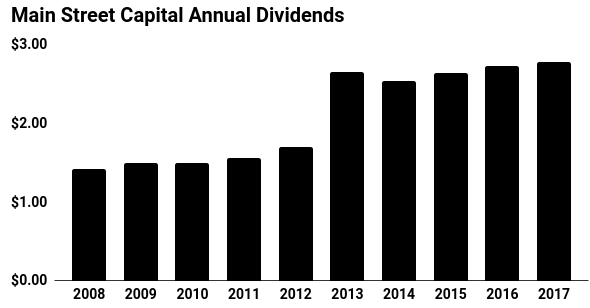 Source: "Summary Fact Sheet As Of September 30, 2017," Main Street Capital Corporation, September 30, 2017.

Of course, this story comes with some risk.
A recession would clip profits, for one. Higher interest rates also represent bad news for BDCs, as they cause their borrowing costs to rise.
That said, Main Street has senior status on most of its outstanding loans. That means the company stands first in line to get paid if a borrower defaults. Moreover, floating-rate schedules translate into higher investment income in the event of any interest rate hikes.
In the end, BDCs have established quite the niche here. And as long as the big banks ignore small- and medium-sized businesses, Main Street Capital will continue to earn outsized profits.
This seven percent dividend yield looks rock solid.