Campbell Soup Company Stock: Consumer Defensive Stock Up 23% After Strong Q2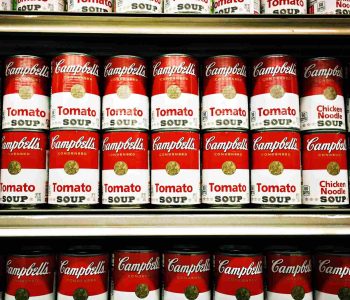 Campbell Soup Company's Outlook Is Bullish
Even with inflation soaring to 40+ year highs, some investors would rather trade an ultra-high-yielding dividend stock for a wide-moat business stock that provides both reliable dividends and high capital appreciation.
That's not a bad idea, especially when you consider that the broader stock market has been getting crushed. Investors who were putting themselves in the same investing light as Warren Buffett during the 2020–2021 bull market have probably been humbled in 2022.
With the S&P 500 and Dow Jones Industrial Average in correction territory and the Nasdaq in bear-market territory—and concerns about a recession—it might be time for even the staunchest dividend hogs to focus on defensive stocks that provide smaller dividend yields but bigger stock market gains.
One consumer defensive stock that has been on the move lately is Campbell Soup Company (NYSE:CPB).
On May 9, CPB stock hit a new 52-week high of $51.94, for a two-month gain of 23.5%. As of this writing, the stock is down slightly from that, trading at $50.39 per share (with investors taking some well-deserved profits). Campbell Soup Company stock is still up by 20% from where it was in early March—and it's certainly doing better than the broader market.
As of this writing, CPB stock is up by:
8.9% over the last month
14.8% over the last three months
23.0% over the last six months
17.7% year-to-date
5.4% year-over-year
In comparison, the S&P 500 is down by:
7.2% over the last month
6.9% over the last three months
13.1% over the last six months
14.5% year-to-date
2.1% year-over-year
Campbell Soup Company stock has actually been outperforming the market since COVID-19 reached our shores. Since the start of 2020, it has rallied by 17.8% while the S&P 500 has gone down by 14.2%.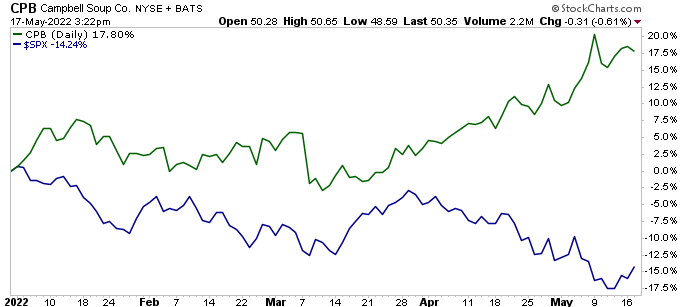 Chart courtesy of StockCharts.com
About Campbell Soup Company
Soup might be in its name, but there's more to Campbell Soup Company than that. The company manufactures and markets various food and beverage products around the world. The company operates through two business segments: "Meals & Beverages" and "Snacks." (Source: "About Us," Campbell Soup Company, last accessed May 19, 2022.)
The company's Meals & Beverages segment sells condensed and ready-to-serve soup, broth, stock, canned poultry, sauce, gravy, pasta, beans, and beverages. Its Snacks segment sells cookies, crackers, potato chips, and popcorn.
In 2019, management unveiled a turnaround plan to simplify the company and focus on increasing growth in the Snacks segment, stabilizing the Meals & Beverages segment, and driving investments through cost savings and debt reduction. (Source: "Campbell Outlines Next Phase of Strategy to Drive Profitable Growth," Campbell Soup Company, December 14, 2021.)
In early 2019, Campbell agreed to sell salsa maker Garden Fresh Gourmet in a deal that completed its divestiture of the Campbell Fresh division. In April 2019, the company sold off its Bolthouse Farms, Inc. business to an affiliate of a private equity firm for $510.0 million. (Source: "Campbell Closes Sale of Bolthouse Farms, Completing the Divestiture of Campbell Fresh Division," Campbell Soup Company, June 17, 2019.)
The net proceeds of those two sales were used to pay down about $570.0 million in debt.
Then in March 2021, Campbell announced that it was selling Plum Organics, an organic baby food and kids snack business, to Sun-Maid Growers of California. The terms of the sale weren't revealed. (Source: "Sun-Maid Growers of California Acquires Plum Organics From Campbell Soup Company," Campbell Soup Company, March 31, 2021.)
During the second quarter of fiscal 2022 (ended January 30, 2022), Campbell announced that it had achieved $15.0 million in savings under its multiyear cost-saving program. That brought the total savings under its cost-saving plan to roughly $835.0 million. By the end of 2025, it expects to deliver savings of $1.0 billion.
Q2 Revenue Beat & High Earnings
For the second quarter of fiscal 2022, Campbell announced that its revenue decreased by three percent year-over-year to $2.2 billion. Compared to the second quarter of its fiscal 2020, the net sales were up by two percent. (Source: "Campbell Reports Second-Quarter Fiscal 2022 Results," Campbell Soup Company, March 9, 2022.)
The company reported second-quarter 2022 earnings per share of $0.70, compared to $0.80 in the same period of fiscal 2021. Its adjusted earnings were $0.69 per share, beating analysts' forecast of $0.68.
Management noted that the company's earnings were negatively affected by industrywide supply constraints and inflation. They said, however, that they expect the company's year-over-year performance in the second half of 2022 to improve because recent pricing actions will be fully implemented and the supply and labor conditions will improve.
Campbell Soup Company's president and CEO, Mark Clouse, noted, "…heading into the second half of the fiscal year, we are seeing labor availability and service levels improve, better mitigation of inflation with pricing, and strong levels of demand all underpinning our confidence in our delivery of full-year guidance." (Source: Ibid.)
Stable, Growing Dividends
In March, Campbell Soup Company's board declared a quarterly dividend of $0.37 per share, for a yield of 2.9%. The dividend is safe, with a payout ratio of just 48.7%, which is well below the 90% threshold I can stomach.
This means there's more than enough financial wiggle room for the company to increase its payout over the coming quarters. Campbell doesn't have a consistent track record of raising its dividend annually, but it does it about every couple of years.
History shows that CPB stock is due for a dividend increase. The last time Campbell Soup Company raised its quarterly dividend was in January 2021, when management lifted it from $0.35 to $0.37 per share. Before that, the company hiked its payout from $0.31 to $0.35 per share in November 2016.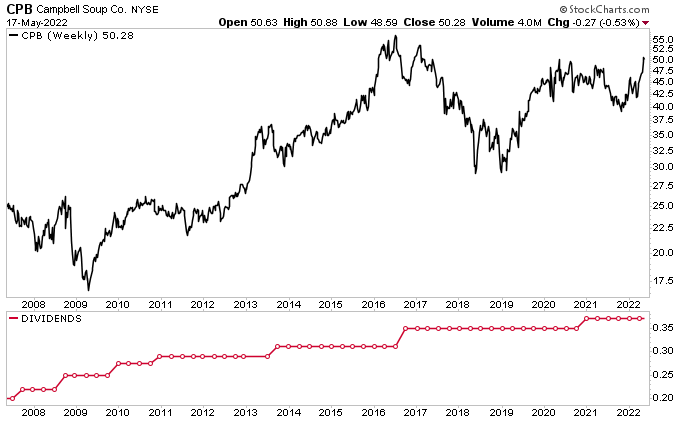 Chart courtesy of StockCharts.com
The Lowdown on Campbell Soup Company Stock
Campbell Soup Company is a blue-chip company with huge brand awareness. In the U.S., 95% of all households have at least one Campbell product in their homes.
While the company reported a second-quarter 2022 revenue beat and solid earnings, it continues to face near-term weakness from pandemic-related tailwinds (much like the rest of the packaged foods industry). At the same time, it reaffirmed its full-year guidance and noted that the second half of its fiscal 2022 will be better.
Campbell Soup Company has embarked on a multiyear cost savings program designed to streamline operations, support business growth, and increase profitability. Management has said Campbell is a much stronger company than it was three years ago, and that it's well on its way to unlocking its full potential.
Investors seem to be on board; CPB stock has been trouncing the market. In addition to significant stock market gains, the stock also provides reliable dividends.