Cal-Maine Foods Stock: Overlooked 11%-Yielder Reports Q3 Earnings Growth of 719%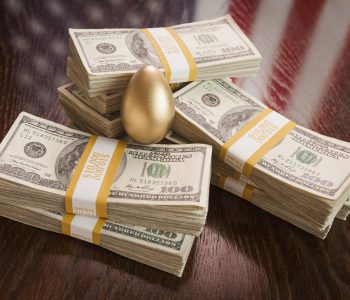 Why Investors Should Watch CALM Stock
Cal-Maine Foods Inc (NASDAQ:CALM) is an overlooked consumer defensive stock that has performed exceptionally well since the start of 2022. Cal-Maine Foods stock has been rewarding investors with big share-price gains and growing, ultra-high-yield dividends.
Cal-Maine Foods is the largest U.S. egg producer, with 16.8% of the market share.
The company produces, grades, packages, markets, and distributes shell eggs. The company's integrated operations consist of hatching chicks; growing and maintaining flocks of pullets, layers, and breeders; manufacturing feed; and producing, processing, packaging, and distributing eggs. (Source: "Cal-Maine Foods: At a Glance," Cal-Maine Foods Inc, last accessed June 6, 2023.)
Layers are mature female chickens, pullets are female chickens that are usually less than 18 weeks of age, and breeders are male and female chickens used to produce fertile eggs to be hatched for egg-production flocks. Cal-Maine Foods Inc's total flock consists of about 42.2 million layers and 11.5 million pullets and breeders.
U.S. Egg Industry Is Big Business
Eggs are a $10.0-billion industry that reported 13% annual profit growth from 2017 to 2022. But it's also a volatile industry, sensitive to market changes and environmental factors. Case in point, egg prices surged in 2022 due to inflation and the deadliest outbreak of bird flu in U.S. history, which killed millions of egg-laying hens.
In December 2021, U.S. consumers paid $1.80 on average for a dozen large grade-A eggs. In December 2022, they paid $4.30 on average, an increase of more than double.
This helps explain why Cal-Maine Foods was able to report record fourth-quarter and full-year results for fiscal 2022, which ended May 28, 2022. The full-year results included a 32% year-over-year revenue increase and a net income increase from $0.04 to $2.72 per share. (Source: "Cal-Maine Foods Reports Record Fiscal Fourth Quarter and Fiscal Year 2022 Results; Announces Quarterly Cash Dividend," Cal-Maine Foods Inc, July 19, 2022.)
It's been a different story for the egg industry in 2023. In May, large eggs sold for $0.94 per dozen on the wholesale market. That's a big drop from $5.46 per dozen six months earlier. (Source: "Egg Prices Are Crashing. Here's Why," CNN, May 16, 2023.)
Why the price decline? In 2022, the bird flu had wiped out a huge number of egg-laying hens, which reduced the egg supply. Moreover, farmers had to contend with high fuel and feed costs. In 2023, though, the egg supply has been back on track and inflation has started to cool.
For the most part, Cal-Maine Foods Inc has been able to weather the intense competition and high volatility of the domestic egg market. That's because the company doesn't sell its eggs directly to the public. Instead, it sells them to a diverse group of retailers, including grocery chains, club stores, suppliers to independent supermarkets, food service distributors, and egg-product businesses.
Specialty Egg Sales Forecast to Double by 2026
Specialty eggs are those with a different shell color (olive, blue, or dark brown). The category also includes eggs that are cage-free-raised, pasture-raised, and/or organic.
Specialty egg production doubled from 2016 to July 2022. The U.S. Department of Agriculture has predicted that, by 2026, this will double again so that 66% of all shell eggs sold will be under the specialty umbrella. (Source: "Scrambling to Meet Shoppers' Preference for Specialty Eggs," Progressive Grocer, July 24, 2022.)
Why the big increase? Today's consumers are increasingly concerned about where their food comes from and how it's produced. In the case of eggs, many consumers want to know that the hens were raised ethically. This generally means free-range/cage-free.
Since 2008, Cal-Maine Foods Inc has allocated about $681.1 million for facilities, equipment, and related operations to expand its cage-free production and distribution. As a result of this—and of following strict biosecurity protocols—Cal-Maine Foods was able to increase its specialty egg business and avoid being affected by the recent bird-flu outbreak.
Cal-Maine Food's board recently approved a $165.5-million capital project to expand its cage-free production. The project will convert the company's existing conventional facilities to be cage-free for about 1.5 million hens. The work is expected to be completed by the end of 2025.
Cal-Maine Foods Inc's Revenues & Earnings Surged in Q3
Because of Cal-Maine Foods's huge business footprint and market quotas, it's been able to report oversized revenue and earnings growth.
In the third quarter of its fiscal 2023, ended February 25, its quarterly net sales increased by 109% year-over-year to $997.4 million. Its quarterly net income was $322.7 million, or $6.64 per share. That was up by 719% year-over-year from $39.4 million, or $0.81 per share. (Source: "Cal-Maine Foods Reports Results for Third Quarter Fiscal 2023," Cal-Maine Foods Inc, March 28, 2023.)
These superb results reflect significantly higher egg prices and favorable demand that was boosted by the busy holiday season. In the third quarter of fiscal 2023, the conventional egg net average selling price increased to $3.678 per dozen, from $1.458 in the same prior-year quarter. The net average selling price for specialty eggs rose to $2.616 per dozen, from $1.923 in the third quarter of fiscal 2022.
During its third fiscal quarter, Cal-Maine Foods Inc's egg sales increased by 1.3% to 291.4 million dozens. That increase was driven by higher sales of specialty eggs. The company's specialty egg sales volume increased by 9.4%, while its conventional egg sales volume decreased by 2.7%.
Cal-Maine Foods Stock's Quarterly Payout Hiked 62%
Cal-Maine Foods Inc's high earnings always translate to big dividends. Unlike most stocks, CALM stock pays variable dividends. Each quarter, the company reports its net income and then declares a cash dividend that equals one third of that quarter's net income.
That's great news if Cal-Maine Foods generates a lot of cash. If the company records a loss, though, Cal-Maine Foods stock won't pay another quarterly dividend until it's profitable on a cumulative basis from the date of the most recent quarter in which it paid a dividend.
Some investors might not like the idea of variable dividends, but they have their benefits. Most companies pay relatively low dividends that they think they can maintain or increase. With variable dividends, over the long term, investors get a bigger portion of the payout, so they can be a lot more lucrative than typical dividends. Variable-dividend policies are also a great way for companies to maintain financial discipline.
Cal-Maine Foods Inc has increased CALM stock's dividend for the last four quarters.
For the company's third quarter of fiscal 2023, management increased the distribution to $2.20 per share, up by 62% from $1.35 per share in the fiscal second quarter and up by 1,600% from $0.125 per share in the third quarter of fiscal 2022. (Source: "Dividend Policy," Cal-Maine Foods Inc, last accessed June 6, 2024.)
This works out to a current yield for Cal-Maine Foods stock of about 11%, which is more than twice the inflation rate of 4.9%.
CALM Stock's Price Has 26% Potential Upside
In terms of share price, Cal-Maine Foods stock has been having a solid year, up by 26% over the last 12 months.
The outlook for CALM stock is solid. The bird-flu outbreak is expected to continue exerting downward pressure on the egg supply until early 2024, when the U.S. hen flock is expected to be replenished. The demand for specialty eggs is expected to continue rising, and although inflation has slowed down, egg prices are still robust.
Against this bullish backdrop, Wall Street analysts have provided a 12-month share-price target for Cal-Maine Foods Inc of $57.50 to $60.00. This points to potential gains in the range of approximately 21% to 26%.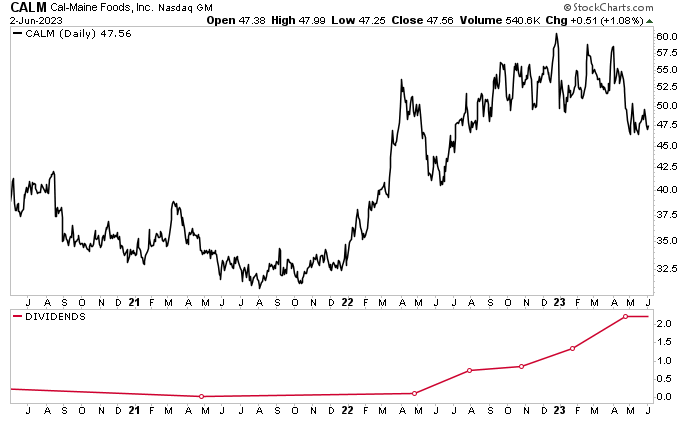 Chart courtesy of StockCharts.com
The Lowdown on Cal-Maine Foods Inc
Cal-Maine Foods is the largest and only publicly traded U.S. egg producer. Thanks to strong supply/demand metrics and pricing, the company has been reporting a raft of outstanding financial results, including record results in its fiscal 2022. That momentum has carried into its fiscal 2023.
Thanks to the company's variable-dividend formula, Cal-Maine Foods stock's quarterly payouts have skyrocketed quarter-over-quarter and year-over-year. There's no guarantee that Cal-Maine Foods Inc's next quarterly payout will be as big as before, but the continuing high demand for eggs certainly points to more oversized dividends over the coming quarters.