Bullish Case for 14.8%-Yielding MV Oil Trust Stock—Even During a Recession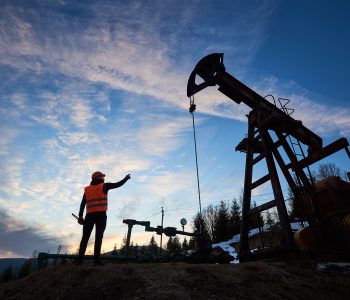 MV Oil Trust Is Dependable at Rewarding Shareholders
Investors love reliable, growing, ultra-high-yield dividends. What's even better is a high-yield dividend stock with a bullish share price. It's really the only time it's OK to see a dividend yield go down. Better still is a bullish, high-yield dividend stock in a sector that's on fire and is expected to do well even during the looming recession.
Enter MV Oil Trust (NYSE:MVO). The company holds interests in the oil and natural gas properties of MV Partners LLC. As of November 2021, MV Oil Trust had interests in about 900 oil and gas wells in Colorado and Kansas. (Source: "Form 10-Q," U.S. Securities and Exchange Commission, November 12, 2021.)
Whereas most oil and gas exploration and production companies dig deep into their pockets and spend millions of dollars on drilling new wells, MV Oil Trust keeps its hands in its pockets. The trust gets as much as it can out of its existing operations and pays the vast majority of its profits to its unitholders.
Because the company pays out all of its cash flow to investors, MV Oil Trust stock's distribution yield can be quite high. On the other hand, oil and natural gas wells eventually run dry.
Moreover, oil and gas prices fluctuate, which has a material impact on the company's earnings and payout. But right now, oil and gas prices are doing exceptionally well. First, the Organization of the Petroleum Exporting Countries Plus (OPEC+) announced, much to the dismay of President Joe Biden, that it will cut its collective oil output by two million barrels a day starting in November. This is expected to send oil and gas prices higher. (Source: "OPEC+ Agrees Deep Oil Production Cuts, Biden Calls it Shortsighted," Reuters, October 5, 2022.)
There are also concerns about a recession, which one might think would put a big dent in oil and gas prices, but that's not always the case. Recessions can just as easily lead to only a moderate reduction in the demand for oil and gas.
The 2009 recession resulted in a two-percent cut in oil demand, while the 1991 and 2001 recessions resulted in growing demand for oil and gas. In 2020, during the COVID-19 pandemic—with many people quarantined at home, many businesses shuttered, many cars and trucks collecting dust, and commercial flights at a standstill—the world cratered into another recession. Despite this, oil demand only fell by about eight percent in that period. That goes to show how difficult it is to cut the global demand for oil and gas.
Today, there are a number of factors that could see the demand for oil increase even if we enter a recession. China's COVID-19 restrictions are easing, Europe is switching from natural gas to oil, OPEC+ is cutting its oil output, and the EU will begin banning Russian crude oil imports in early December.
MVO Stock's Quarterly Dividend Raised by 64%
MVO stock's distributions ebb and flow based on oil and gas production levels, demand, and prices—all of which can be unpredictable.
As you can see in the chart below, MV Oil Trust stock's quarterly dividends (the red line) go up and down on a regular basis. In fact, from July 2018 to October 2020, the company's payouts fell from $0.42 to $0.095 per unit. During the depths of the COVID-19 pandemic, the company halted its dividends for a quarter.
It's a different world now. Since October 2020, MV Oil Trust has raised its quarterly distribution for seven consecutive quarters.
In July, the trust reported net profits of $10.8 million, a 65% increase over the $6.6 million it reported for the first quarter of 2022. This resulted in net cash available for distribution of $8.1 million, or $0.70 per unit, for a yield of 14.8%.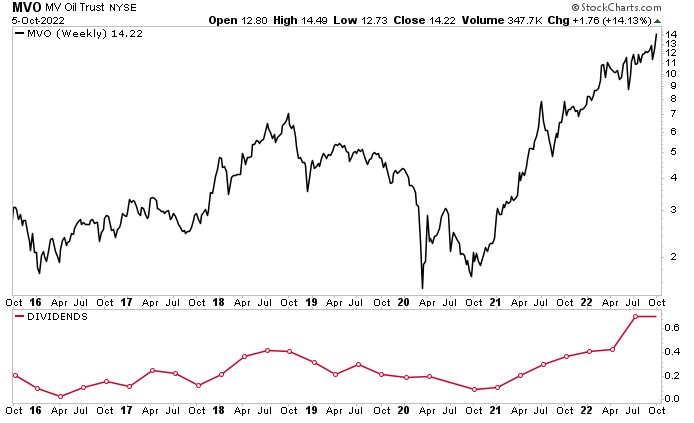 Chart courtesy of StockCharts.com
In addition to providing growing, ultra-high-yield dividends, MVO stock has been on a market-trouncing tear in terms of price. As of this writing, MV Oil Trust stock is up by:
18% over the last month
31%% over the last three months
32% over the last six months
88% year-to-date
89% year-over-year
The Lowdown on MV Oil Trust
MV Oil Trust has been making a lot of money, and investors have been reaping rewards. Since it's a royalty trust, the company pays out virtually all of its cash flow to its shareholders in the form of ultra-high-yield dividends. MVO stock's price has been ripping higher, and its dividends have been rising.
MV Oil Trust isn't the kind of stock you can just buy and forget; you need to keep a close eye on it. That's because energy stocks' prices and distributions can fluctuate. Nevertheless, the outlook for MV Oil Trust is bullish, which bodes well for MV Oil Trust stockholders.