Bullish 9.4%-Yielding Mesa Royalty Stock Up 60% Year-Over-Year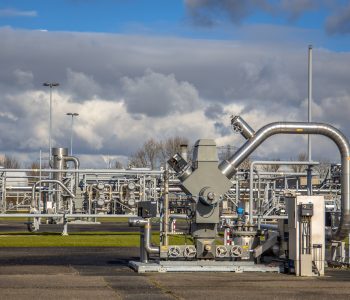 Shareholders Get Paid Monthly From MTR Stock
Mesa Royalty Trust (NYSE:MTR) is light on news, and its web site rivals that of Berkshire Hathaway Inc (NYSE:BRK.B) in having one of the most boring designs in the world, but it makes up for that with reliable, high-yield monthly dividends and a share price that's been thrashing the broader market.
Mesa Royalty owns a collection of oil and natural gas wells in the Hugoton field of Kansas, the San Juan Basin field of New Mexico, and the San Juan Basin field of Colorado. (Source: "Form 10-Q," Mesa Royalty Trust, May 15, 2023.)
The natural gas produced from the trust's San Juan Basin royalty properties in New Mexico and Colorado is sold on the spot market, and some of the natural gas produced from its San Juan Basin properties in Colorado is sold pursuant to fixed-price contracts.
Unlike many energy companies, Mesa Royalty Trust doesn't plow its profits into new drilling operations. Instead, the company drills its current assets and pays out all of its profits to Mesa Royalty stockholders.
This explains how the trust has managed to deliver above-average payouts. Right now, MTR stock comes with an annual dividend yield of 9.4% and a whopping trailing dividend yield of 11.9%. The stock's trailing yield is more than double the current inflation rate of 4.9%.
The company pays its dividends monthly, and because of fluctuations in energy prices, its payout ebbs and flows. In May, it announced a distribution of $0.488 per unit, payable on July 31 to unitholders of record as of May 31. (Source: "Mesa Royalty Trust Announces Trust Income for May 2023," Mesa Royalty Trust, May 18, 2023.)
That represents a 95% increase from Mesa Royalty stock's May 2022 distribution of $0.25 and a 105% increase from its April 2023 distribution of $0.237.
The trust had received $978,608 from the New Mexico portion of its San Juan Basin properties, which are operated by Hilcorp San Juan, L.P., and $7,590 from the Colorado portion of its San Juan Basin properties, which are operated by Red Willow Production Company.
In May, Mesa Royalty didn't receive any income from its Hugoton royalty properties, which are operated by Scout Energy Group V, LP, nor from the Colorado portion of its San Juan Basin properties, which are operated by SIMCOE LLC.
After Mesa Royalty Trust's withholding for cash reserves and the payment of its administrative expenses, its income from distributable net profits was $908,551.
As you can see in the following table, Mesa Royalty Trust's monthly distributions fluctuate, but MTR stock's yield still significantly outpaces the S&P 500's average dividend yield of 1.6%.
| | |
| --- | --- |
| Month Declared | Dividend Per Unit |
| May 2023 | $0.488 |
| April 2023 | $0.237 |
| March 2023 | $0.111 |
| February 2023 | $0.099 |
| January 2023 | $0.185 |
(Source: "MTR Dividend History," Nasdaq, last accessed May 23, 2023.)
The trust suspended Mesa Royalty stock's dividends during the depths of the COVID-19 pandemic. Not a big surprise, since oil prices and stock prices plummeted globally during that period. Mesa Royalty Trust resumed its monthly payouts in May 2021, but it suspended them again in late 2021. The company hasn't missed a beat since the start of 2022, though.
Mesa Royalty Trust's Recent Share-Price Performance
Thanks to Mesa Royalty's reliable cash flow and the ongoing high demand for oil and gas, MTR stock has been ripping higher.
As of this writing, Mesa Royalty stock is up by:
26% over the last month
50% over the last three months
67% over the last six months
60% year-over-year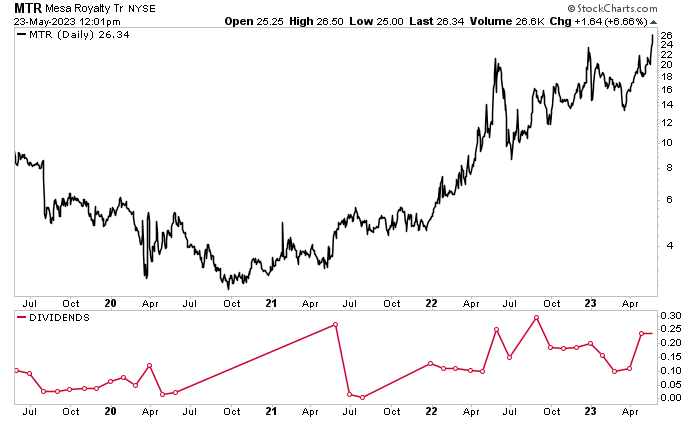 Chart courtesy of StockCharts.com
Those are big gains, and even bigger gains should be coming, especially as we enter the summer driving months.
Moreover, MTR stock should benefit if the upcoming recession is mild. That doesn't mean there won't be periods of volatility, though. Oil and gas prices fluctuate based on supply/demand metrics and where we are in the economic cycle.
Keep in mind that Mesa Royalty Trust's oil wells will eventually run out and its payouts will eventually run dry. The company has said it will terminate its operations if the annual income from the trust is less than $250,000 for two successive years—or if its unitholders vote to terminate the operations.
The latter scenario seems unlikely if money is still coming in. And right now, it is. In the first quarter ended March 31, Mesa Royalty Trust's net income went up by 15% year-over-year to $845,417. Its distributable income in the quarter was $688,892, or $0.3697 per unit, compared to $603,829, or $0.3240 per unit, in the same quarter of 2022.
The Lowdown on Mesa Royalty Stock 
The outlook for Mesa Royalty Trust is robust for the foreseeable future. The trust has been generating a lot of cash, and happy investors have been rewarding MTR stock with record-high share prices.
There are obviously risks with investing in a royalty trust, but for those who understand the risks, Mesa Royalty stock can be lucrative for both income and capital gains.