Buffalo Wild Wings Expands Share Buyback Plan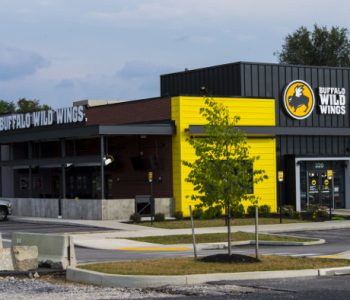 Board Approves $300 Million in New Purchase
Buffalo Wild Wings, Inc. (NASDAQ:BWLD), announced today that its board of directors approved an increase to its share buyback program for an additional $300 million of the company's common stock.
According to the official statement, the new repurchase plan replaces the previously approved $200 million share buyback program, of which approximately $75 million dollars remains, and brings the company's outstanding share repurchase program to $375 million. (Source: "Buffalo Wild Wings, Inc. Expands Share Repurchase Program by $300 Million," Buffalo Wild Wings, August 16, 2016.)
Buffalo Wild Wings, headquartered in Minneapolis, is an owner, operator and franchisor of Buffalo Wild Wings® restaurants, which feature a variety of made-to-order menu items. The business currently operates over 1,190 establishments worldwide.
Buffalo Wild Wings said purchases may be completed from time to time in the open market or in privately negotiated transactions, subject to applicable laws and regulations. The company intends to fund the program with a combination of cash and debt.
The company also announced that it is targeting a leverage ratio of up to 1.5 times debt to earnings before interest, taxes, depreciation, and amortization (EBITDA) and that it intends to increase its line of credit facility to $500 million by the fourth quarter of 2016.
Buffalo Wild Wings' shares were down about five percent to $160.02 in afternoon trading. Shares have surged about 17 % in the past three months.
"We remain committed to maintaining financial flexibility as we continue to return significant capital to Buffalo Wild Wings shareholders," Sally Smith, president and chief executive officer of Buffalo Wild Wings, Inc., said in the statement.  "Based on our in-depth review of our capital strategy, this disciplined approach reflects the company's solid balance sheet and free cash flow as well as our confidence in the successful execution of our long-term growth objectives for our business." (Source: Ibid.)
The company said in July that its net earnings increased 10.2% to $23.7 million in the second quarter, from $21.5 million in the same period a year ago. Earnings per diluted share were $1.27, compared to $1.12 a share a year ago. (Source: "Buffalo Wild Wings, Inc. Announces Second Quarter Earnings per Share of $1.27," Investor Relations, Buffalo Wings, July 26, 2016).
"We delivered another solid quarter," Smith said, who went on to explain that the company did a strong job managing its costs and expenses, despite the current sales environment. (Source: Ibid.)
Total revenue saw a 15% increase in the second quarter to $490 million. Meanwhile, company-owned restaurant sales for the quarter rose 16.1% to $467 million, led in part by 89 additional restaurants at the end of this year's second quarter.