Buckeye Partners L.P.: This Top Dividend Stock Now Yields 15.3%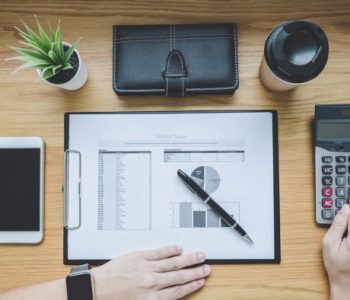 iStock.com/Pattanaphong Khuankaew
A "Five-Tool" Dividend Stock
A celebrated "five-tool" baseball player means exactly what it sounds like: a guy who excels in all five areas of the game. In essence, it means an athlete who can hit, has beefy power, can speed around the bases, has a cannon for an arm, and has a good glove to boot. In the MLB today, I can list seven players that truly fit this bill, maybe eight.
I look for the same "five tool" designation in dividend stocks. In other words, a company with a reliable dividend, an entrenched market position, growth potential, a reasonable valuation, and a top management team. If you come across a business with all four or five of these traits, you know you have something special.
Case in point: Buckeye Partners, L.P. (NYSE:BPL). The business is a rare example of a dividend stock with all five tools. And like drafting Mike Trout to your fantasy baseball team, these companies have the potential to deliver outsized returns over time.
Buckeye is pretty straightforward to wrap your head around. The partnership owns thousands of miles of pipelines, in addition to dozens of terminals, storage plants, and processing facilities. These operations ship and store energy products, earning steady fee income.
I love these types of businesses because they amount to mini-monopolies. In most cases, it simply doesn't make sense to have two or more pipelines running side by side. Large upfront costs also tend to keep all but the most deep-pocketed rivals out of their business.
For proof, you only need to take a quick glace at Buckeye's financial results. Last year, the company's gross margins nearly topped 50%. Over the past decade, Buckeye Partners, L.P. has earned $0.15 in profit for every dollar of capital invested into the business.
That earnings power has translated into tidy returns. Since 1995, Buckeye units have delivered a total return, including distribution, of nearly 500%. That beats the pants off the broader S&P 500 over the same period.
Those profits will likely continue to grow. New technologies, like horizontal drilling and hydraulic fracturing, have unlocked vast quantities of oil and natural gas across the country. This has sent U.S. energy production soaring, allowing the country to recently upset Russia and Saudi Arabia as the world's top energy producer.
This is great news for Buckeye. With more barrels flowing through its network, the partnership has seen fee income surge. Over the past three years, operating profits have increased 40%.
Most of these earnings should get passed on to investors in the form of distributions.
BPL stock has boosted its distribution every year for over two decades. Even through the financial crisis, executives managed to boost their payments to investors.
Those small, steady increases can really compound over time. Units now pay out a quarterly distribution of $1.26 each, which comes out to an annual yield of 15.3%. That means BPL stock represents one of the single most compelling values in the stock market today.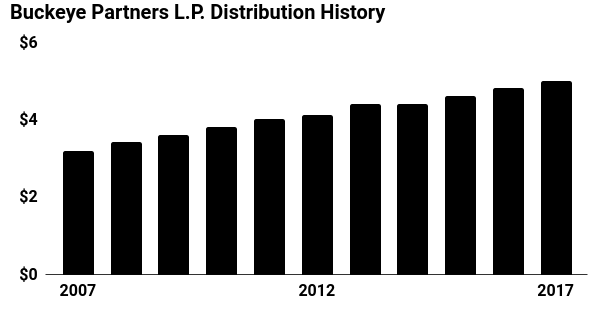 (Source: "Investor Center," Buckeye Partners, L.P., last accessed October 25, 2018.)
I suspect that the pace of those distribution bumps may decrease in the future.
Buckeye's aggressive expansion plan has resulted in the partnership taking on a smidge too much debt. Executives might be wise to conserve cash, pare back future payment increases, and start working down the debt.
That said, the company's investments today should pay off down the road. It won't be too long before management can resume rewarding holders of BPL stock with higher distributions. In the meantime, investors are getting well paid while they wait.
Ultimately, you can't call Buckeye perfect. The partnership, however, has all of the aforementioned five tools that makes for a top dividend stock: reliable dividend, entrenched market position, growth potential, reasonable valuation, and top management team. For those reasons, BPL stock would make a great draft pick in any income portfolio.