Buckeye Partners L.P.: This 11.4% Yield Looks Like a Safe Bet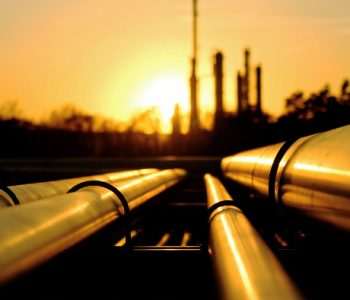 iStock.com/kodda
Safe Stock Yields 11.4%
We love betting on the underdog, hitting the trifecta at the Kentucky Derby, or calling the long-shot winner during March Madness. But you have to say something about the reliable performer that shows up night in and night out.
And in the business world, that's pipelines. For decades, investors have prized these assets for their consistent profits and steady income. This industry doesn't grab much media interest, but its results sure should.
One of my favorites is Buckeye Partners, L.P. (NYSE:BPL). The partnership owns over 6,000 miles of pipelines, in addition to dozens of terminals, storage facilities, and processing plants. If ever there was a company that exemplified a top dividend stock, Buckeye is it.
These cash flows resemble bond coupons. Buckeye collects a small fee on each barrel of crude that flows through its network. While the price of these commodities can swing wildly from year to year, the total volume stays rather consistent.
Pipeline volumes grow slowly but relentlessly. And over time, Buckeye has raised transportation and storage fees at or above the rate of inflation. This income keeps rolling in, regardless of where interest rates go or who sits in the White House.
Most of this cash flow gets passed on to unitholders. Pipelines cost billions of dollars upfront, but, once you have one up and running, ongoing expenses come in a just a fraction of revenue.
In the case of Buckeye, this has allowed management to mail out distribution checks for 22 straight years. Today, units pay out a quarterly distribution of $1.26 each. That comes out to an annual yield of 11.4%.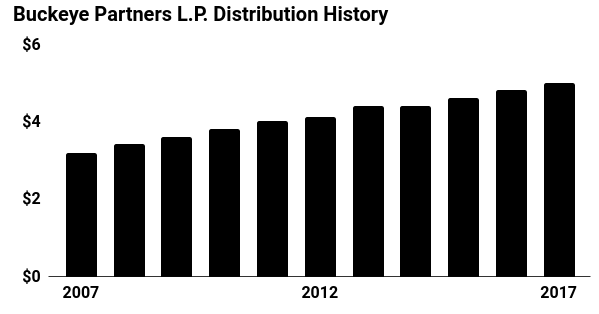 (Source: "Distribution History," Buckeye Partners, L.P., last accessed March 6, 2018.)

That tradition will likely continue for many years to come. New technologies have unlocked vast quantities of oil and gas across the United States. According to numbers by the U.S. Energy Information Administration (EIA), the country's energy output has more than doubled over the past decade. (Source: "EIA cuts U.S. oil production forecast for 2018, remains at record," Reuters, July 11, 2017.)
To accommodate surging production, the industry will need more of everything from pipelines and terminals to storage tanks and processing facilities. Buckeye has spent $8.0 billion over the past few years on acquisitions and capital projects. In addition to organic growth from existing operations, these initiatives should allow management to grow profits at a mid-single-digit clip over the next few years.
In other words, Buckeye Partners is like drafting Red Sox pitching ace Chris Sale in the fantasy pool. No one will be shocked when it pays off; it's a reliable, blue-chip pick that should do so year in and year out.