Buckeye Partners L.P.: "Cash Cow" Dividend Stock Yields 15.3%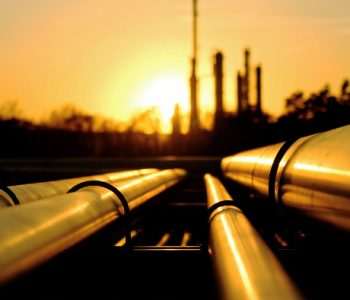 iStock.com/kodda
Milk This Stock for a 15.3% Yield
If you want to earn safe, high yields, then you want to start assembling a portfolio of "cash cow" businesses.
As long-time readers know, cash cows represent mature operations. Because these firms have few growth prospects, owners don't need to invest in a lot of new properties, plants, or equipment.
As a result, you can milk these firms for ongoing dividends. Think of industries like cigarettes, breakfast cereals, or vending machines. These firms won't get a lot of coverage in the media, but shareholders often earn yields as high as 12%, 15%, and even 21%.
I have long ranked Buckeye Partners, L.P. (NYSE:BPL) as one of my favorite cash cow businesses. The partnership owns over 6,000 miles of energy pipelines, in addition to dozens of terminals, storage plants, and processing facilities.
For investors looking for higher dividend yields, this name deserves a further look.
Buckeye gushes cash flow, to begin with.
Pipelines earn a small fee on each barrel of crude oil that flows through. And while commodity prices can swing from year to year, the total volume of oil produced each year stays fairly consistent.
Sure, pipelines cost billions of dollars upfront. But once you have them in operation, ongoing maintenance comes in at just a fraction of revenue. After they're buried underground, pipelines will do their job for decades.
Most of this cash flow gets passed on to unitholders.
In the case of Buckeye, management has mailed out distribution checks to investors every quarter since going public in 1986. Units now pay out a quarterly distribution of $1.26 each, which comes out to an annual yield of 15.3%.
That distribution will likely continue to grow. Pipeline volumes grow slowly but relentlessly. And given the partnership's monopoly position in many of the markets it serves, Buckeye should be able to raise transportation and storage fees.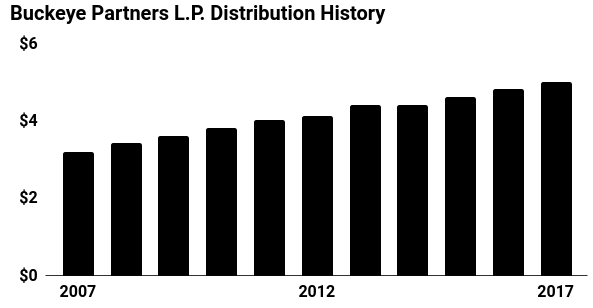 (Data source: "Investor Center," Buckeye Partners, L.P., last accessed July 25, 2018.)
Arguably, there has never been a better time to scoop up Buckeye units.
Much like the 1990s stock market bubble, investors have fallen in love with hot tech stocks. They've pushed valuations to nosebleed levels.
Old-fashioned businesses, especially pipelines, have fallen out of favor. The industry collectively trades at its lowest multiple on a price-to-funds-from-operations basis since the last financial crisis. Investors can scoop up the same wonderful businesses for only a fraction of what they cost a few years ago.