BTB Real Estate Investment Trust: This Monthly Dividend Stock Yields 8%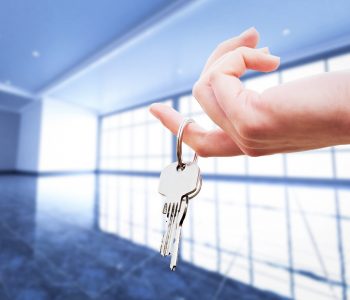 A Monthly Dividend Stock You Likely Haven't Heard of
If you're looking for monthly dividend stocks, you'll likely find quite a few of them in the real estate sector.
This shouldn't come as a surprise. Real estate investment trusts (REITs) are like giant landlords that collect rental income from their tenants on a monthly basis. As a result, some of them have also decided to reward their shareholders with monthly dividends.
There are a number of American REITs with monthly dividend policies. But today, I would like to tell you about a monthly dividend REIT located north of the border: BTB Real Estate Investment Trust (OTCMKTS:BTBIF, TSE:BTB.UN).
Headquartered in Montreal, Quebec, Canada, BTB is a REIT that owns retail, office, and industrial properties. The company's portfolio currently consists of 65 properties, with a total leasable area of around 5.5 million square feet. (Source: "BTB announces its distribution for the month of January 2020," Cision, January 10, 2020.)
BTB is listed on the Toronto Stock Exchange but also trades over the counter in the United States. Therefore, it's very easy for American investors to own its shares.
Today, the No. 1 reason to consider this REIT is to collect its oversized dividends. Recently, the company's board of directors declared a monthly cash dividend of CA$0.035 per share. The distribution is payable on February 17 to shareholders of record as of January 31. At the current share price, that gives BTBIF stock an annual dividend yield of about eight percent. (Source: Ibid.)
To put that in perspective, Realty Income Corp (NYSE:O), which is perhaps the most well-known monthly dividend stock in the U.S., yields 3.7% at the moment. In comparison, BTB REIT's payout certainly looks attractive.
Of course, when it comes to investing, higher potential returns are often associated with higher risks. So before you take out your wallet, let's take a look at how this foreign REIT's business is doing.
BTB Real Estate Investment Trust
BTB REIT last reported earnings in November. The report showed that, in the third quarter of 2019, the company generated almost CA$24.0 million of rental income, representing a 3.8% increase year-over-year. (Source: "BTB – Solid quarter and positive momentum," BTB Real Estate Investment Trust, November 12, 2019.)
There were improvements across the board. For the quarter, BTB's same-property net operating income increased year-over-year by 10% to CA$10.6 million. The company's recurring distributable income grew by 13% to CA$6.8 million. At the same time, the REIT's recurring funds from operations (FFO) rose 11.7% to $6.8 million.
Because BTB is a landlord, one of the key performing metrics is its portfolio occupancy. In the third quarter, the company's occupancy rate stood at 93.6%, representing a 3.9% increase and a 10-year high.
The best part is what the REIT managed to do in terms of its payout ratio.
You see, in the second quarter of 2019, BTB Real Estate Investment Trust was paying out 110.5% of its recurring distributable income and 123.2% of its recurring FFO. A payout ratio over 100% suggests that the company was paying shareholders more money than it earned. For income investors, that would be a cause for concern.
Thanks to the improvements made in the third quarter, though, that issue has been addressed.
For the quarter, BTB REIT achieved a recurring distributable income payout ratio of 96.8% and a recurring FFO payout ratio of 97.2%. In other words, the company generated more than enough money to cover its payout for the quarter.
Of course, as a conservative income investor, I would like to see an even lower payout ratio for a wider margin of safety. But for this high-yield REIT, being able to bring its payout ratio below 100% is still a commendable feat.
There was other good news too. In the first nine months of 2019, BTB's average rental rate of renewed leases edged up 6.4%. Meanwhile, the company's tenant retention rate was 75.3% during this period, a substantial improvement from its 49.6% tenant retention rate in 2018.
And while BTB is a relatively small REIT (the company has a market capitalization of around CA$253.0 million), it actually has a well-established tenant mix.
To give you an idea, BTB's top tenants include sizable organizations such as Public Works and Government Services Canada, West Corporation, and Provigo Distribution Inc. (Source: "Annual General Meeting," BTB Real Estate Investment Trust, June 11, 2019)
BTB Real Estate Investment Trust Stock Chart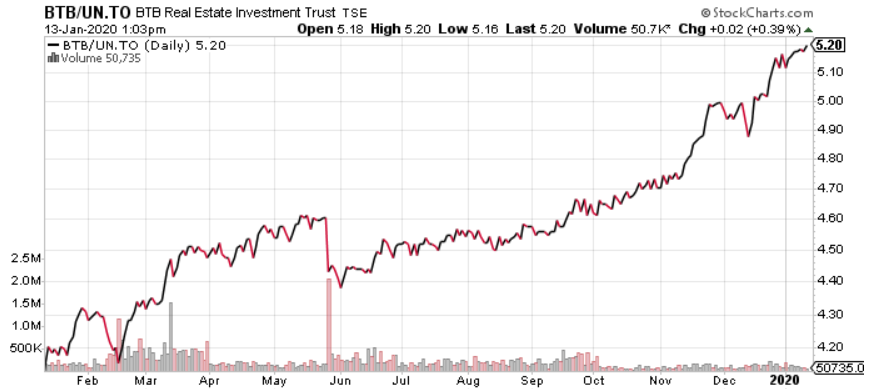 Chart courtesy of StockCharts.com
Bottom Line on BTB Real Estate Investment Trust
In this day and age, a lot of ultra-high yielders happen to be beaten-down stocks. After all, at any cash payout, there is an inverse relationship between a company's dividend yield and its stock price.
But BTBIF is not a beaten-down ticker. Despite offering a more generous payout than most stocks on the market, BTB Real Estate Investment Trust stock has actually been traveling on an uptrend (as the above chart shows).
It also offers a more frequent distribution schedule than most dividend-paying stocks. Adding in the recent improvement in the REIT's financials, I'd say BTBIF stock deserves the attention of monthly dividend stock investors.