BRT Apartments Corp: What September Sell-Off? 4.8% Yielder Up 72% YOY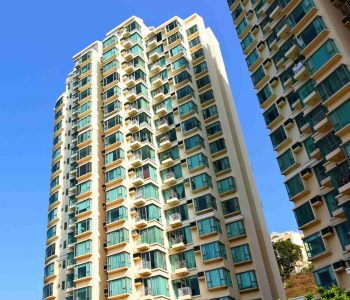 BRT Apartments Corp Builds on Strong Start to 2021
Real estate investment trusts (REITs) took a massive hit during the 2020 stock market crash. As you can probably guess, BRT Apartments Corp (NYSE:BRT) was no exception.
It certainly didn't help that "Apartments" is in the company's name. That probably wasn't a big selling point during a pandemic with shuttered businesses, millions of people laid off, and quarantine orders forcing cash-strapped people to stay at home for months on end.
BRT Apartments is an internally managed REIT primarily focused on the ownership, operation, and development of multifamily properties in the Sun Belt. The company's 100,000+ rental units are found in Texas, Georgia, South Carolina, Florida, Alabama, Mississippi, Tennessee, North Carolina, Missouri, Ohio, and Virginia. (Source: "Investor Presentation: March 2021," BRT Apartments Corp, last accessed September 27, 2021.)
The company has formed an extensive joint venture (JV) network, which helps it mitigate risk and expand its ability to expand into ideal markets. The JVs acquire properties between $20.0 and $100.0 million, with BRT Apartments providing an equity position between $2.0 and $20.0 million. The properties typically have a 90%+ occupancy rate and strong cash flow.
Moreover, BRT Apartments is always rebalancing its portfolio by acquiring and selling properties.
In late August, the company completed the acquisition of the remaining 41.9% interest of a JV in West Nashville, TN for $28.0 million, making it wholly owned by BRT Apartments Corp. In early August, the REIT announced that it had completed the sale of two multifamily properties owned by a JV in which BRT Apartments had a 50% interest. The company estimates that, as a result of the sale, it will recognize an aggregate gain of approximately $30.0 million.
This strategy has helped BRT stock investors experience market-trumping returns. Since January 1, 2017, BRT Apartments stock has increased by 198.6%, far outpacing both the S&P 500 and the MSCI US REIT Index by 110.6% and 175.8%, respectively.
Before the stock market crash of 2020, BRT stock was trading at record levels. By mid-March of that year, it had lost 67% of its value, erasing 2.5 years of gains.
Since then, BRT Apartments stock has climbed steadily to fresh highs, erasing all of its losses associated with the COVID-19 sell-off. It has even managed to buck the September slide.
So far in September, the S&P 500 has gone down by 2.6%, the Nasdaq has fallen by 2.5%, and the Dow Jones Industrial Average has retreated by three percent. BRT stock, on the other hand, has gone up by roughly one percent in the same period.
Now, a one percent month-to-date gain might not sound spectacular, but when you look at how the broader market has been doing—and the fact that Wall Street has been trying to digest high inflation, the surge in COVID-19 cases, and what's going on in the Chinese financial markets—it's a pretty solid number.
BRT Apartments stock has been trouncing the broader market all year, up by:
11.5% over the last three months
33.1% year-to-date
72.3% year-over-year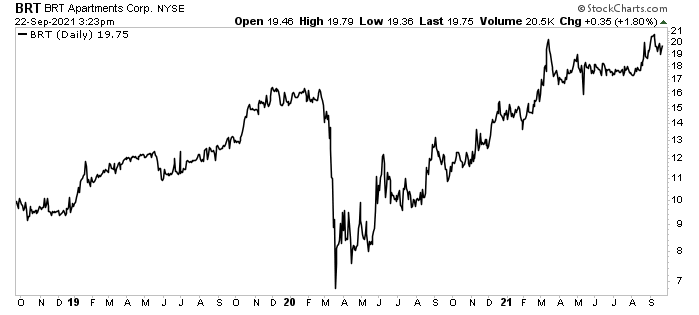 Chart courtesy of StockCharts.com
BRT stock has been on the move because the company rents Class A, B, and B+ properties to well-heeled individuals in areas with historically high job growth and outsized population growth.
Strong Earnings & Funds From Operations Growth
For the second quarter ended June 30, BRT Apartments announced net income of $6.0 million, or $0.34 per share. That's a significant improvement over the second-quarter 2020 net loss of $4.3 million, or $0.25 per share. (Source: "BRT Apartments Corp. Reports Second Quarter Results for 2021," BRT Apartments Corp, August 5, 2021.)
Its funds from operations (FFO)—a term used in REITS to describe cash flow from operations—was $5.1 million, or $0.29 per diluted share, compared to $4.2 million, or $0.24 per diluted share, in the second quarter of 2020.
The company's adjusted FFO in the second quarter was $5.5 million, or $0.31 per diluted share, compared to $4.7 million, or $0.27 per diluted share, in the same period last year.
During the quarter, BRT Apartments Corp's portfolio benefited from higher rental rates, occupancy rates, and ancillary revenues at its consolidated and unconsolidated properties. Its rental revenues and other revenues from consolidated properties increased by 4.5% year-over-year to $7.0 million. Its rental revenues and other revenues from unconsolidated properties climbed by 4.7% to $33.0 million.
The REIT's net operating income (NOI) at same-store properties increased by 7.5% to $14.1 million, reflecting improved operating margins. BRT Apartment's NOI across its entire portfolio increased by 4.9% to $15.0 million.
Quarterly Dividend of $0.22 Per Share
As with any REIT, BRT Apartments legally has to distribute 90% of its taxable income to its shareholders. That's why BRT Apartments stock has a frothy 4.8% dividend.
In the third quarter of 2019, BRT Apartments raised its quarterly dividend by 10% from $0.20 to $0.22 per share. That was just before we were sucker-punched by COVID-19. There was no chance that investors were going to see another dividend hike in 2020. Still, BRT Apartments held its payout steady at $0.22 throughout 2020 and most of 2021. (Source: "BRT Dividend History," Nasdaq, last accessed September 27, 2021.)
In mid-September 2021, the company's board of directors declared a quarterly dividend of $0.23 per share. (Source: "BRT Apartments Corp. Raises Quarterly Dividend 4.5%," GlobeNewswire, September 13, 2021.)
Thanks to strong cash flow, positive year-over-year results, and debt reduction, more dividend hikes wouldn't be out of the question.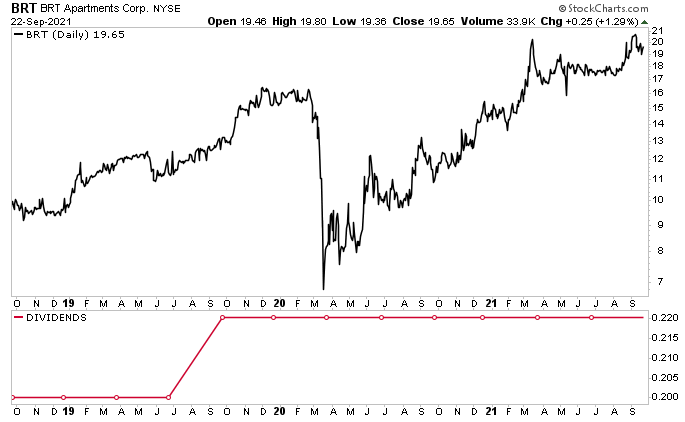 Chart courtesy of StockCharts.com
The Lowdown on BRT Apartments Stock
BRT stock has fared well since bottoming in March 2020.
Its momentum continued in the second quarter of 2021, with positive year-over-year results. Specifically, BRT Apartments Corp's FFO and adjusted FFO increased in excess of 21% and 16%, respectively. The outlook for this dividend stock is strong as the company continues to take advantage of its pipeline of acquisition opportunities.
Together, that should create long-term value and increased cash flow for BRT Apartments stock investors.