Brown-Forman Stock: This "Forever Asset" Has Returned 1,566%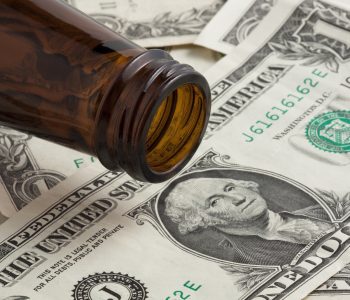 1 Forever Asset for the Next 100 Years
Today's chart once again highlights "forever assets," some of my favorite dividend stocks around.
I termed the phrase "forever assets" to describe businesses you can buy today and hold forever. It's not crazy to say shares of these businesses can be handed down from one generation to the next.
Many of these firms have made the same product for decades. Gadget makers have to dream up innovations every few years. Forever assets, in contrast, crank out the same valuable, quality products that you probably use each day.
A prime example is Brown-Forman Corp. (NYSE:BF.A, NYSE:BF.B) stock. This company owns several liquor brands, including "Jack Daniels," "Southern Comfort," and a host of others. The stock tops my list of Forever Assets for a few reasons.
It's a timeless business, for starters. Brown-Forman can trace its roots back to the 1930's. The end of prohibition meant the Brown family could once again sell their popular whiskey—the "Woodford Reserve." It has remained a best-seller for decades, becoming the first of many brands to fall into the family's whiskey empire.
Think about everything that happened over that time: the Depression, World War II, the Space Race, the Cold War, Bob Dylan going electric, the Kennedy assassinations, Vietnam, stagflation, double-digit interest rates, Black Monday, the tech bubble, 9/11, the financial crisis, and the Cubs winning the World Series. Yet through it all, Brown-Forman went about its business, brewing liquor for customers and making money for owners.
When Brown-Forman opened for business, President Hoover sat in the White House, the U.S. had a gold standard, and the Dow closed at 60 points. Of course, you can't call the stock a sure thing. I have far more confidence Brown-Forman will exist in 20 years, though, than the next tween social network.
And needless to say, it's a lucrative operation. People drink during good times and bad. This creates a recession-proof stream of income, not dependent on interest rates or the economy.
Furthermore, you don't have to deal with cutthroat prices. Brewers spend money on ads, build a durable brand, and then enjoy the fruits of that effort for decades. This explains why Brown-Forman has enjoyed double-digit gross margins for over 30 years.
Most of this money ends up in the pockets of shareholders. Brown-Forman has paid a dividend to investors every year since 1995. Over that period, shares have generated an eye-popping total return of 1,566%.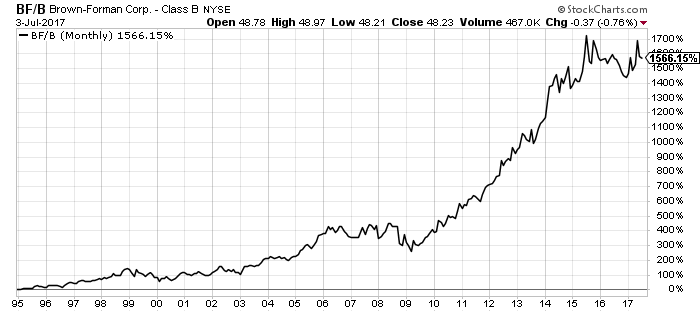 Source: StockCharts.com
Surprised? You shouldn't be. The Brown family still controls more than 50% of the company. Needless to say, this gives them a big incentive to put shareholders first. (Source: "Brown family," Forbes, June 29, 2016.)
The Bottom Line on Brown-Forman Corp.
Chasing high-flying tech startups can be profitable during a bull market. These names, though, disappear when the easy money dries up. Instead, I prefer to invest my hard-earned cash in proven businesses that have stood the test of time.
Brown-Forman represents such an example. I don't know what social network tweens will dig in a few years. I'm pretty sure, though, people will still drink their favorite brands of whiskey.
That makes this name one dividend stock to own for the next 100 years.