Brown-Forman Corporation: "Boring" Business Delivers Exciting Returns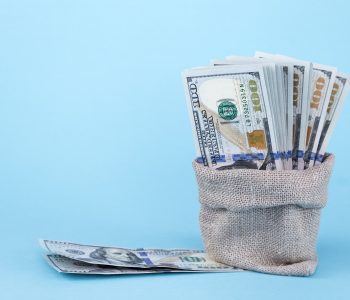 Brown-Forman Corporation Keeps Beating the Market
This year, "boring" businesses have posted the most exciting returns. 
People always need to buy staples like food, toothpaste, cigarettes, deodorant, cereal, and toilet paper. Even in the midst of the COVID-19 pandemic, demand for these types of products has remained strong. 
So in their search for reliable returns, investors have started to bid up the share prices of numerous consumer-staple businesses. In previous articles, I've highlighted the huge returns from names like Clorox Co (NYSE:CLX), McDonald's Corp (NYSE:MCD), and Church & Dwight Co., Inc. (NYSE:CHD). And we're seeing more of the same with today's company.
Brown-Forman Corporation (NYSE:BF.A, NYSE:BF.B) is a $36.7-billion alcohol juggernaut. It's a great example of what we call a "Forever Asset"—a wonderful business that has rewarded shareholders for generations. The company has long dominated the wine and spirits industry. And its flagship "Jack Daniel's" whisky has generated outsized profits for nearly two centuries.
But in recent decades, management has quietly expanded its beverage empire. Today, Brown-Forman owns a number of top brands, including "Woodford Reserve," "Old Forester," "Pepe Lopez," "Finlanda," "Korbel," "Sonoma-Cutrer," and "Chambord." Demand for these beverages has remained strong in good times and bad, which has resulted in slow and steady sales growth. 
In addition to its traditional brands, the company also recently acquired "Fords Gin" maker The 86 Company. The deal gives Brown-Forman a foothold in the fastest-growing category of the alcohol business: high-end beverages.
According to Maureen Brekka, the company's senior vice‐president and managing director, spending on premium and ultra-premium beverage categories has been growing at a 24% and 42% compound annual growth rate, respectively. And Fords Gin ranks as one of the best performers in that space. (Source: "Brown-Forman 'Very Open' to Further Gin Purchases," The Spirits Business, July 24, 2020.)
Overall, Brown-Forman has an incredible portfolio of popular products. And it has shown strength during the pandemic.
The company posted blowout financial results during the first quarter. Executives reported that first-quarter operating income and diluted earnings per share increased by 56% and 73% year-over-year, respectively. Those numbers blew Wall Street estimates out of the water, sending BF stock to fresh all-time highs. (Source: "Brown-Forman Reports Solid First Quarter Results amidst Continued Uncertainty," Brown-Forman Corporation, September 2, 2020.)
Those growth numbers shocked many analysts. Thanks to rolling lockdowns shuttering bars and restaurants, industry experts predicted that beverage sales would take a hit. But it appears that customers have simply changed their consumption patterns to drinking at home.
In fact, a recent report found that alcohol consumption nationwide had increased substantially since the start of the pandemic—making the beverage industry one of the few success stories in the COVID-19 economy. And with governments relaxing rules on services like alcohol delivery and online orders, this trend could continue for years to come. (Source: "Hangover From Alcohol Boom Could Last Long After Pandemic Ends," National Public Radio, September 11, 2020.)
New product launches have also padded Brown-Forman's sales. Management credited much of the bump in the company's sales to the rollout of "Jack Daniel's Tennessee Apple" and "Jack Daniel's Tennessee Honey." Brown-Forman also continues to see solid results from its premium bourbon brands, led by Woodford Reserve and Old Forester, as well as its tequila products like "New Mix" and "el Jimador." 
"I am very pleased with our performance at the start of this fiscal year and thankful to our 4,800 employees worldwide who made these results possible," wrote Brown-Forman Corporation's president and chief executive officer, Lawson Whiting, in a recent note to shareholders. (Source: Brown-Forman Corporation, September 2, 2020, op. cit.)
"Despite being faced with significant ongoing challenges, our business performed well during the quarter though much uncertainty remains in the current environment. We believe we are well-positioned to navigate the headwinds we face today and emerge from the COVID-19 environment in a stronger position." 
Brown-Forman executives have remained mum on how the business will perform going forward. Given the enormous uncertainties surrounding the pandemic, they've withdrawn any hard guidance on earnings growth. 
But Wall Street remains optimistic. Analysts project that, over the next five years, Brown-Forman will continue to deliver high-single-digit annual earnings growth—jaw-dropping returns, given the current state of the economy. And considering the company's clean balance sheet and modest payout ratio, management should have no trouble boosting the dividend in line with profits.
All of which has translated into impressive share-price gains. 
The demand for consumer staples during the pandemic has pushed Brown-Forman stock to near-record highs. Since bottoming in March, shares have soared more than 71%. And since I first highlighted Brown-Forman Corporation in my Passive Monthly Income newsletter in May 2018, BF stock has jumped more than 45%.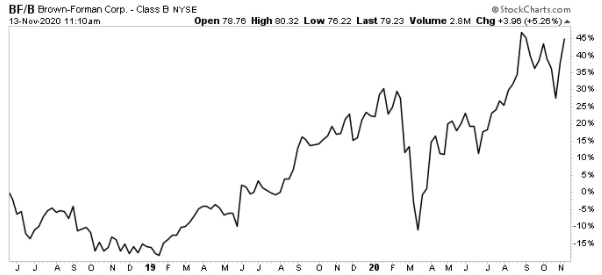 Chart courtesy of StockCharts.com
While the beverage industry may not provide the most exciting growth prospects, people still enjoy a drink during good times and bad. And this has held up pretty much as expected during the coronavirus pandemic. That should mean steady returns (and dividends) for Brown-Forman Corporation shareholders. 
Sometimes the most boring businesses do provide exciting returns.