12.7%-Yielding Broadmark Realty Capital Stock Pays Reliable Monthly Dividends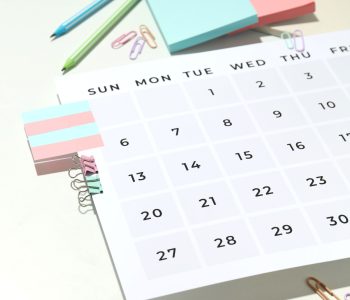 Broadmark Realty Capital Inc Short on News but Big on Dividends
Not many people I talk to wax eloquent on the joys of higher interest rates, but lending institutions do. Broadmark Realty Capital Inc (NYSE:BRMK) is a specialty real estate financing company with an active, diverse loan portfolio. The firm makes a lot of money, and it passes on much of that money to its shareholders in the form of stable, ultra-high-yield dividends.
While the broader commercial real estate lending market is fiercely competitive, Broadmark Realty Capital pursues high-yield investments in the small to middle-market space. (Source: "Supplemental Earnings Presentation: First Quarter 2022," Broadmark Realty Capital Inc, May 9, 2022.)
The company provides financing for commercial and residential real estate across the U.S., generally in the $2.0–$50.0 million range.
Since opening in 2010, Broadmark Realty Capital Inc has deployed $3.8 billion in capital. Its active loan portfolio is $1.6 billion, which is entirely made up of senior secured loans. The company also has strong liquidity, with $97.0 million in cash and $135.0 million undrawn on its line of credit, for total liquidity of $232.0 million.
While rising interest rates are a boon for most alternative lenders, Broadmark Realty Capital Inc has an enterprise leverage ratio of roughly eight percent. While this allows the company to take advantage of market opportunities, rising interest rates don't materially affect its balance sheet. Moreover, its shorter-duration loans operate as a natural hedge against rapid interest-rate movements.
The firm's loan programs include construction, land development, bridge financing, and heavy rehab/redevelopment. If a project needs cash right away, Broadmark Realty Capital Inc is the company to turn to. It has loan draw periods as short as one business day. This might help explain why 57% of its borrowers are repeat customers.
The company's capital is used for a wide variety of commercial real estate investments, including:
$34.0 million for a mixed-use development in Austin, TX
$33.0 million for a hotel in Heber City, UT
$25.0 million for a multifamily building in Salt Lake City, UT
$13.5 million for an apartment complex in Seattle, WA
$2.8 million for condos in Washington, DC
$1.3 million for luxury waterfront homes in NC
$795,000 for a brewery in Richland, WA
(Source: "Featured Real Estate Projects," Broadmark Realty Capital Inc, last accessed July 4, 2022.)
Great Q1 Financial Results
For the first quarter ended March 31, Broadmark Realty Capital reported total revenue of $29.9 million, which included $24.1 million in interest income and $5.8 million in fee income. The company's first-quarter net income was $18.1 million, or $0.14 per share. Its distributable earnings were $22.1 million, or $0.17 per share. (Source: "Broadmark Realty Capital Announces First Quarter 2022 Results," Broadmark Realty Capital Inc, May 9, 2022.)
The company completed total originations of $189.6 million in the first quarter, at an average unlevered yield above 10.0%. It ended the first quarter of 2022 with total liquidity of $232.4 million.
$0.07 Monthly Dividend Declared for BRMK Stock
In June, Broadmark Realty Capital's board declared a monthly cash dividend of $0.07 per share, for a yield of 12.7%. The company has maintained that payout level since the start of 2021. (Source: "Broadmark Realty Capital Declares Monthly Dividend for June 2022," Broadmark Realty Capital Inc, June 15, 2022.)
Broadmark Realty stock had the misfortune of going public in November 2019, just a few months before the COVID-19 pandemic gutted the global economy. As a result, the company lowered its monthly dividend from $0.12 per share in December 2019 to $0.08 in the opening months of 2020, and then to $0.06 per share in May of that year. (Source: "Dividends," Broadmark Realty Capital Inc, last accessed July 4, 2022.)
The company raised its monthly dividend in January 2021 to $0.07 and has held it there ever since. Naturally, dividend hogs are hoping the firm will raise its monthly payout over the coming quarters. That possibility will depend on the economic environment for construction loans.
Broadmark Realty Capital Inc's ultra-high-yield dividends have been providing investors with shelter from the broad-based stock market sell-off, which has seen BRMK stock fall by 24% year-to-date and 30% year-over-year.
That sell-off should reverse on stronger demand for commercial construction loans, which should also help juice Broadmark Realty Capital stock's monthly distribution.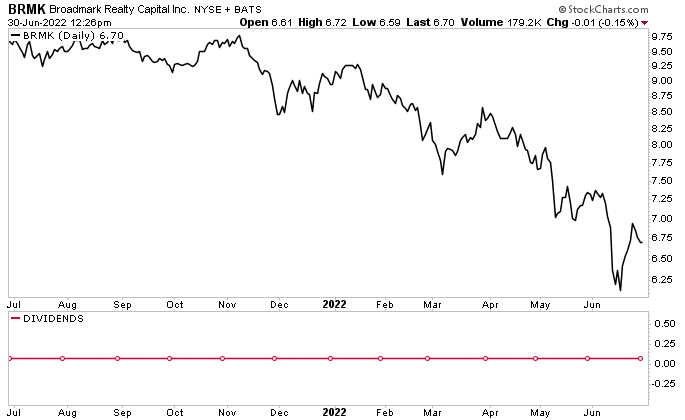 Chart courtesy of StockCharts.com
The Lowdown on Broadmark Realty Capital Stock
Broadmark Realty Capital Inc is a well-diversified specialty real estate finance firm that serves the commercial real estate market with short-term, high-yielding, first-lien loans.
The company's rock-solid balance sheet, significant financial capacity, and balanced approach to risk and returns put it in an ideal position for future financial growth during all parts of the economic cycle.
And when BRMK stock's share-price performance gets volatile, investors can take solace in its stable, ultra-high-yield monthly dividends.