British American Tobacco PLC: 7.6%-Yielding Stock Raises 2021 Revenue Forecast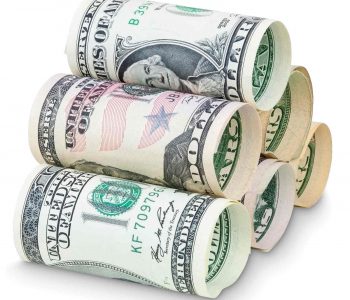 BTI Stock Offers a Big Yield & Reliable Share-Price Growth
For many investors, the ends justify the means. They invest in stocks that will make them money, no matter what. To them, investing in so-called sin stocks is a no-brainer.
Sin stocks are often lucrative "cash cows" that provide investors with big dividends and long-term share-price appreciation. The fact that they prey on vices and addictions or profit from war is a discussion for another time.
These stocks generally outpace the broader market. After all, even during recessions, pandemics, wars, and black swan events, people still spend money on leisure, vices, and habits. This is why the taps flow and the cigarette smoke swirls when times are good or bad.
AdvisorShares Vice ETF (NYSEARCA:VICE), which has holdings in tobacco, alcohol, and gaming, has been performing well, up by 57% year-over-year and 120% since the stock market bottomed in March 2020.
One sin stock that has been doing well and often gets overlooked by North American investors is London, England-based British American Tobacco PLC (NYSE:BTI). As its name suggests, British American Tobacco sells cigarettes and other tobacco and nicotine products. (Source: "Deutsche Bank Global Consumer Conference June 2021," British American Tobacco PLC, last accessed July 9, 2021.)
You may not be all that familiar with the name British American Tobacco, but chances are good you have a passing awareness of its cigarette brands, including "Lucky Strike," "Camel," "Kool," "Benson & Hedges," and "Craven A."
Everyone knows that cigarette sales have been trailing off, with most global cigarette makers saying they expect to be out of selling cigarettes over the coming decades.
To that end, British American Tobacco PLC has been pouring billions of dollars into its New Category segment, which is made up of non-combustible products, including its vapor brands "Vuse" and "Vype," its tobacco heating product "glo," and its oral tobacco and nicotine products (snus, moist snuff, and tobacco-free nicotine pouches). Its New Category products are sold in 74 markets in 53 countries.
The company expects 2021 to be a pivotal year for its New Category business, with a clear pathway to profitability by 2025. The company expects to generate £5.0 billion in New Category revenue by 2025. That said, British American Tobacco has been experiencing significant business momentum across the board. (Source: "2021 First Half Pre-Close Trading Update," British American Tobacco PLC, June 8, 2021.)
This helped management upgrade its revenue growth guidance to above five percent for the year. Their previous guidance for 2021 was for revenue growth of three to five percent. Management also expects the company to report mid-single-digit adjusted diluted earnings-per-share (EPS) growth on a constant-currency basis.
This financial growth will be driven by:
Accelerating the acquisition of non-combustible product consumers
Continued acceleration of New Category volume and revenue growth, with market-share gains
Strong combustibles pricing and robust volume
Robust U.S. performance, driven by New Category growth and strong combustible pricing
The upgraded guidance comes on the heels of a successful 2020, when the company's adjusted revenue increased by 3.3% year-over-year to £25.8 billion, its profit from operations increased by 4.8% to £11.4 billion, and its free cash flow after dividends jumped by 32.7% to £2.6 billion. (Source: "Preliminary Announcement – Year Ended 31 December 2020," British American Tobacco PLC, February 17, 2021.)
Jack Bowles, the company's CEO, noted, "As the largest, and only truly global company in our industry, we take seriously our role to transform ourselves and demonstrate thought leadership. We have a clear purpose to reduce the harm footprint of our business. We are uniquely positioned to encourage the switch to reduced risk products." (Source: Ibid.)
In 2020, British American Tobacco PLC increased the number of its consumers of non-combustible products by three million to 13.5 million, doubling the rate of consumer adoption in the second half of 2020.
The growth in 2020 and continued momentum in 2021 has helped send British American Tobacco stock higher. It has yet to erase all of its losses associated with the coronavirus-fueled sell-off in March 2020, but BTI stock is still up by roughly eight percent year-over-year.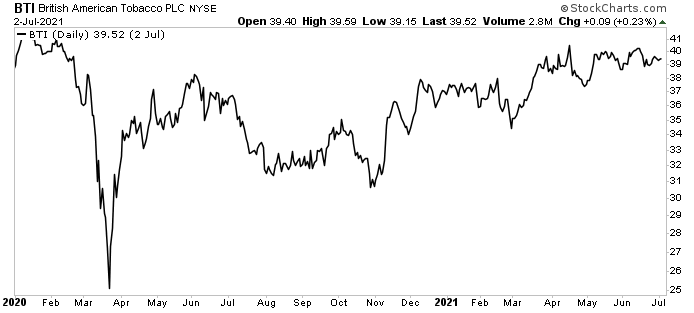 Chart courtesy of StockCharts.com
British American Tobacco stock still needs to climb by an additional five percent to get to its pre-COVID-19 levels.
Wall Street is bullish on BTI stock, with an average 12-month share-price forecast of $50.00, which suggests 26.5% upside from the current level.
Moreover, British American Tobacco stock is a great dividend stock for those who love reliable passive income. The company's long history of solid results and financial strength has allowed BTI stock to reward buy-and-hold investors with frothy dividends.
The company currently pays an annual dividend of $2.98 per share, or $0.745 quarterly. That works out to an annual dividend yield of 7.6%. The dividend is safe, too, as the payout ratio is just 75.6%.
The Lowdown on British American Tobacco PLC
Sin stocks aren't for everyone, but for investors who like stocks that provide long-term capital appreciation and safe, high dividends, British American Tobacco stock might be a good stock to consider.
In addition to being home to some of the biggest cigarette brands in the world, British American Tobacco PLC has been diversifying itself in the non-combustible category. That bodes well for investors in BTI stock.