British American Tobacco PLC: 8%-Yielding Stock Raises Dividend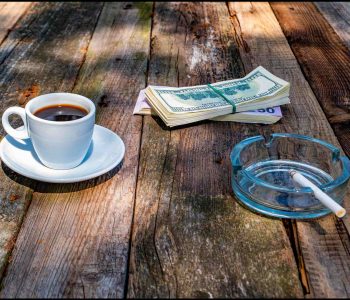 Wall Street Bullish on BTI Stock
With a market cap of $84.9 billion, British American Tobacco PLC (NYSE:BTI) is hardly an ignored stock. On the other hand, British American Tobacco stock does get bypassed by some investors because it's a so-called sin stock.
But to each their own; everyone has to draw a line somewhere. When it comes right down to it, whether it's overtly or covertly, there aren't many stocks that don't offend someone on some level. The notion of ethical investing is almost extinct.
So, if you like stocks that make investors boatloads of money and raise their high-yield dividends on a regular basis, BTI stock might be up your ally.
British American Tobacco is the world's second-largest cigarette company. Some of its brands are "Lucky Strike," "Camel," "Kool," and "Benson & Hedges." (Source: "Deutsche Bank Conference June 2021," British American Tobacco PLC, last accessed August 13, 2021.)
The company knows that fewer people are smoking cigarettes, so it has branched out into what it calls New Categories. Another name for the segment is Potentially Reduced Risk-Products (PRRP).
The company's PRRP category includes vapor, tobacco-heating products (THPs), modern oral products (including tobacco-free nicotine pouches), and traditional oral products such as snus and moist snuff.
In addition to cigarettes and PRRPs, British American Tobacco also focuses on cannabis.
In March, the company acquired roughly a 20% stake in Canadian cannabis company OrganiGram Holdings Inc (NASDAQ:OGI) for £126.0 million ($175.0 million). This makes British American Tobacco the largest shareholder in OrganiGram. The initial focus of the partnership is on next-generation cannabis products, including cannabidiol (CBD). (Source: "BAT Enters Strategic R&D Collaboration to Accelerate 'Beyond Nicotine' Strategy With Organigram," British American Tobacco PLC, March 11, 2021.)
Strong New Category Growth
British American Tobacco's foray into New Categories and its Quantum cost savings program have caught the attention of Wall Street. The company reported in-line financial results for the first half of fiscal 2021, but the real standout was the huge growth in its New Category business and strong execution of the Quantum program. (Source: "Half-Year Report to 30 June 2021," British American Tobacco PLC, July 28, 2021.)
The company's first-quarter revenue was up by 8.1% at $25.6 billion on a constant-currency basis. But on a reported basis, it was practically flush. Combustible revenue was up by a respectable 5.8% while New Categories revenue soared by 50%. These figures represent a significant improvement from the second half of 2020.
New Category division growth was broad-based across heated tobacco, vapor, and modern oral. That was made possible by the company's newly acquired 2.6 million consumers, the highest ever, to its non-combustible consumer base, which currently stands at 16.1 million.
As for its Quantum savings program, the company said it had reached £900.0 million ($1.2 billion) of its £1.0-billion ($1.4 billion) savings target 12 months early. In fact, things are going so well that British American increased its savings target to £1.5 billion ($2.1 billion) by 2022.
Because of the strong momentum in terms of New Categories growth and business sustainability, the company is on track to meet its targets of £5.0 billion ($6.9 billion) by 2025 and 50 million non-combustible product consumers by 2030.
British American Tobacco PLC Reaffirms 2021 Guidance
British American Tobacco is on track for its full-year guidance and expects:
Constant-currency revenue growth above five percent and continued strong progress toward £5.0 billion in New Categories revenue in 2025
Mid-single-figure constant-currency adjusted EPS growth
Operating cash flow conversion above 90% and about three times the adjusted net debt/adjusted EBITDA
Commitment to a 65% dividend payout ratio and growth in "sterling" terms
(Source: Ibid.)
Despite the strong results and upbeat guidance, British American Tobacco stock has not yet fully recovered from the March 2020 COVID-19 stock market crash. Since bottoming in March 2020, BTI stock has rallied by 52%. It still needs to climb an additional 10% to get to its January 2020 record levels.
Wall Street is confident that British American Tobacco stock will surpass those levels over the coming quarters. The 12-month price target is $50.00. At its current level, that represents 34.5% upside.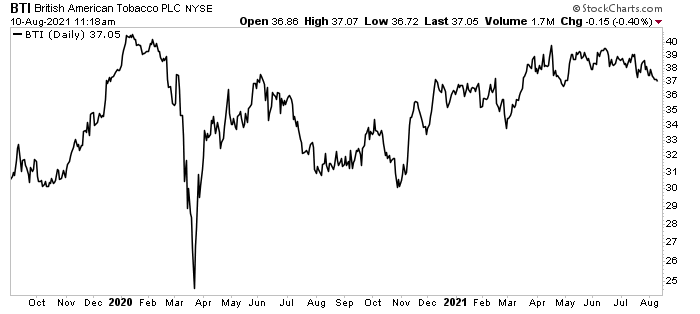 Chart courtesy of StockCharts.com
Quarterly Dividend Rises Again
Thanks to consistently strong financial results and a rock-solid balance sheet, British American Tobacco can provide investors with a high-yield dividend. Not only that, the company has raised its annual dividend for the last four consecutive years.
Note that, due to currency fluctuations, the payout from BTI stock can rise or dip slightly in each quarter.
| | |
| --- | --- |
| Period | Per-Share Payout |
| Q2 2021 | $0.75 |
| Q1 2021 | $0.72 |
| Q4 2020 | $0.69 |
| Q3 2020 | $0.69 |
| Q2 2020 | $0.64 |
| Q1 2020 | $0.66 |
| Q4 2019 | $0.65 |
| Q3 2019 | $0.62 |
| Q2 2019 | $0.66 |
| Q1 2019 | $0.63 |
| Q4 2018 | $0.62 |
| Q3 2018 | $0.63 |
| Q2 2018 | $0.66 |
| Q1 2018 | $0.61 |
(Source: "Dividends – NYSE," British American Tobacco PLC, last accessed August 13, 2021.)
British American Tobacco's annual dividend payout stands at $2.98 per share, or $0.745 quarterly, for an annual yield of eight percent. The company's high-yield dividend is safe, as the payout ratio is just 79.3%.
The Lowdown on British American Tobacco PLC
If you don't mind vice stocks, British American Tobacco PLC should be on your radar. The company is home to some of the most popular cigarette brands on the planet, and it has a loyal customer base.
Its New Categories product sales are booming and helping the company add a significant number of new customers, turning 2021 into a pivotal year of growth. This should, of course, help juice British American Tobacco stock's price and allow it to continue to reward buy-and-hold investors with frothy, high-yield dividends.