British American Tobacco PLC: 2021 Has Been Pivotal for This 8.5% Yielder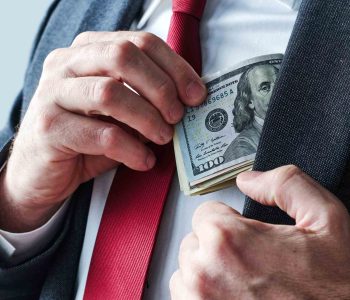 Market Is Bullish on Inflation-Trouncing BTI Stock
Some investors avoid so-called sin stocks (tobacco, military, alcohol, cannabis, etc.) because they're seemingly immoral. Frankly, as a non-smoker, I loathe the smell of cigarettes, but that doesn't mean I don't want to profit from cigarette company stocks. It's a crass trade-off.
On that note, one of the best sin stocks at the moment is British American Tobacco PLC (NYSE:BTI). Not only does British American Tobacco stock provide investors with an inflation-busting dividend yield of 8.5%, the company recently raised the dividend amount.
While BTI stock has hardly been on a tear lately, up by 0.6% year-to-date and down by 1.1% year-over-year, the outlook for British American Tobacco stock is excellent.
British American Tobacco is a multi-category consumer defensive company that provides tobacco and nicotine products. It's the world's second-largest cigarette company. Its cigarette brands include "Lucky Strike," "Camel," "Kool," "Benson & Hedges," and "Pall Mall." (Source: "Barclays Consumer Conference 2021," British American Tobacco PLC, September 8, 2021.)
British American Tobacco is also focused on the growing cannabis industry. In March, British American Tobacco acquired a stake of roughly 20% of Canadian marijuana company OrganiGram Holdings Inc (NASDAQ:OGI) for £126.0 million ($175.0 million). The partnership is focused on next-generation cannabis products, including cannabidiol (CBD), the non-psychoactive element of marijuana.
New-Category Products Creating Huge Opportunities for British American Tobacco PLC
With the sales volume for traditional combustible tobacco products declining worldwide (four percent per year in the U.S.), it's imperative that any tobacco company diversify its products.
E-cigarettes have been around in some shape or form since the 1960s. Today, with consumers less brand-loyal and more aware of the health risks associated with combustible tobacco than during the Mad Men era, the tobacco industry is on the cusp of a seismic shift toward next-generation products.
Nevertheless, combustible tobacco products aren't going anywhere soon. Conventional tobacco products will most likely continue to be the tobacco industry's driving force for at least the next decade. But companies like British American Tobacco PLC understand that new products are imperative if they want to win over new customers.
According to Wall Street, British American Tobacco is best positioned to take advantage of the emerging categories.
The company's vapor products are hand-held battery-powered electronic devices, and its heated tobacco products are hand-held devices that heat tobacco. Its oral products are available with and without tobacco. The company's new-category brands include "Vuse," "Velo," and "glo."
British American Tobacco PLC's aggressive move into new categories has been paying off. Some 12% of the company's revenue is in non-combustibles. Vuse, which is now the No. 1 global vapor brand, has helped the company report wonderful results.
In the first half of 2021:
British American Tobacco invested more than £346.0 million ($459.5 million) in new categories
The company's new category sales went up by more than 50%
Vuse revenue went up by 59%, Velo revenue went up by 63%, and glo revenue went up by 38%,
Volume growth was in excess of 70% in all three of the British American Tobacco PLC's new categories
The company's non-combustible product consumers grew by 2.6 million to 16.1 million, marking the category's highest quarterly growth
British American Tobacco's revenue grew by 8.1%
The company's adjusted diluted earnings per share went up by 6.1%
(Source: "Half-Year Report to 30 June 2021," British American Tobacco PLC, July 28, 2021.)
British American Tobacco views 2021 as a significant period, one in which it has been accelerating new category growth, reducing new category impact on its margin, and moving its focus from declining-growth cigarette brands to new category brands.
"2021 is the pivotal year in our transformation journey to build A Better Tomorrow," said CEO Jack Bowles. (Source: "Pivotal Year on Track," British American Tobacco PLC, December 7, 2021.)
The company is on track to hit its aggressive targets, sticking to its previously announced forecast. This includes targeting £5.0 billion ($6.6 billion) in new category revenue by 2025 and 50 million consumers of non-combustibles by 2030.
Bowles added, "By leveraging our increased scale, New Categories will contribute to profit growth for the first time as their losses start to reduce, a key step on our pathway to profitability by 2025." (Source: Ibid.)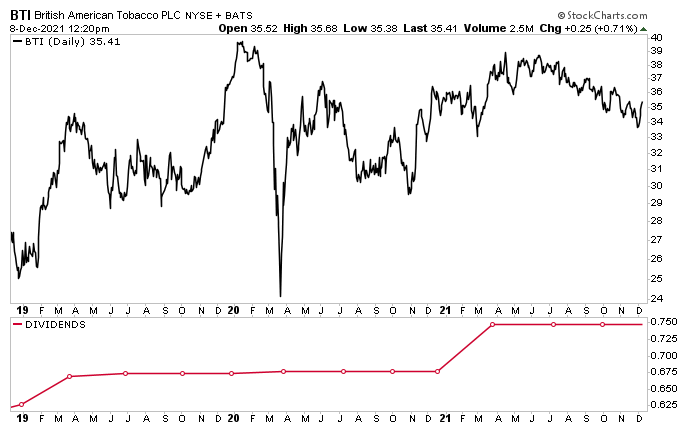 Chart courtesy of StockCharts.com
Announcement of Big Share Buyback Program Coming?
As noted above, BTI stock has hardly been setting Wall Street on fire, but British American Tobacco PLC sees its lagging share price as an opportunity. The company has hinted that a big stock buyback program could be in the works.
"Our strong focus on cash flow and deleveraging continues," said Bowles. "We recognise the clear value of a share buyback at the current valuation." (Source: Ibid.)
In addition to potentially returning value to shareholders with a stock repurchase program, the company has provided frothy dividends, which it has raised for the last four years. This has certainly helped British American Tobacco stockholders weather underwhelming share-price volatility. (Source: "Dividends – NYSE," British American Tobacco PLC, last accessed December 8, 2021.)
The company's November dividend came in at £0.539 ($0.72) per share, which works out to a yield of 8.5%. The dividend is safe, with a payout ratio of just 79.3%.
Keep in mind, because of currency fluctuations, BTI stock's payout can slightly rise or dip each quarter. In the last three quarters, British American Tobacco PLC's dividend has stayed at £0.539, but when converted to U.S. dollars, it has come out to $0.75 (Q2), $0.73, (Q3), and $0.72 (Q4).
The Lowdown on British American Tobacco Stock
British American Tobacco PLC has made huge strides to transform from a pure-play combustible tobacco company into a multi-category consumer goods company. Thanks to the strong global adoption of its new-category products, the company is well on its way to increasing its new-category customers and revenues.
To that end, the company said it expects to report 2021 revenue growth above five percent on a constant-currency basis, with new categories contributing to profit growth for the first time. The company's healthy balance sheet allows it to provide BTI stock investors with reliable, growing, high-yield dividends—and to consider enacting a share repurchase program.