BRG Stock: Monthly Dividend Stock Now Pays 10%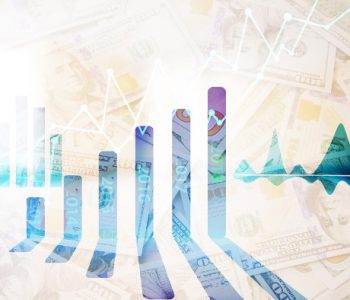 iStock.com/Peshkova
Consider BRG Stock for Its Monthly Dividend Payments
Today's chart highlights a monthly dividend stock with a double-digit yield. The company in question is Bluerock Residential Growth REIT Inc (NYSEMKT:BRG), a real estate investment trust (REIT) headquartered in New York City.
For those interested in earning a monthly income from the stock market, real estate investment trusts deserve special attention. Because REITs are essentially giant landlords, they collect monthly rental income from the tenants and pass some of that income to shareholders.
Bluerock specializes in residential properties, particularly well-located, institutional-quality apartment buildings. Right now, its portfolio consists of 30 properties representing a total of 10,231 rental units. (Source: "NAREIT – June 2017," Bluerock Residential Growth REIT Inc, last accessed October 23, 2017.)
Among other REITs that focus on apartment buildings, Bluerock's portfolio stands out due to its age. Right now, the weighted average age of Bluerock's properties is just nine years.
Also Read:
5 Monthly Dividend Stocks Yielding Up to 10.2%
Having a portfolio of newer buildings has two major benefits. First, because people prefer to live in newer apartments, Bluerock would have no problem attracting tenants. Second, younger buildings tend to require less maintenance. And low maintenance costs would leave more rental income for the company to distribute to shareholders.
Thanks to its high-quality portfolio and stable business model, Bluerock can afford to dish out generous dividends. With a monthly dividend rate of $0.0967 per share, BRG stock offers an annual yield of 10% at the current price.
Business has been growing, too. Due to significant investment activities over the past year, Bluerock has generated $27.0 million in revenue in the second quarter of 2017. That represents a 47% increase from the $18.4 million in the year-ago period. (Source: "Bluerock Residential Growth REIT Announces Second Quarter 2017 Results," Bluerock Residential Growth REIT Inc, August 8, 2017.)
As the chart below shows, the company has been delivering substantial revenue growth for quite some time.
Strong Revenue Growth ($Millions)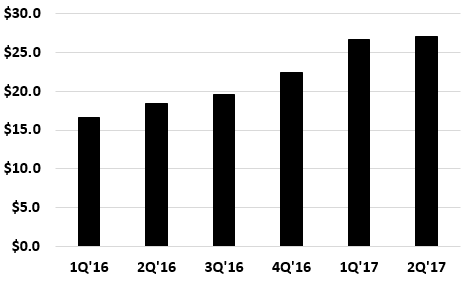 (Source: "NAREIT – June 2017," Bluerock Residential Growth REIT Inc, last accessed October 23, 2017.)
While Bluerock has been generating some stellar top-line growth, it did not forget to keep its costs down. As a matter of fact, the company recently announced a major cost-saving measure: internalizing its external manager, BRG Manager, LLC.
Since its inception, Bluerock has been paying BRG Manager to manage its portfolio of properties. By internalizing this external manager, the company expects to save approximately $3.8 million in the first year after the transaction closes. And, as Bluerock further grows in size, cost savings are expected to reach more than $10.0 million annually. (Source: "Bluerock Residential Growth REIT (BRG) Announces Agreement to Internalize Management," Bluerock Residential Growth REIT Inc, August 4, 2017.)
The transaction has already been approved by Bluerock's special committee and board of directors. The deal is expected to close shortly after the company's annual shareholder meeting, which is being held this month.
With a growing revenue stream and substantial cost savings on the way, more cash could be left for Bluerock's shareholders. As it stands, BRG stock could represent an opportunity for investors looking for monthly dividend stocks.